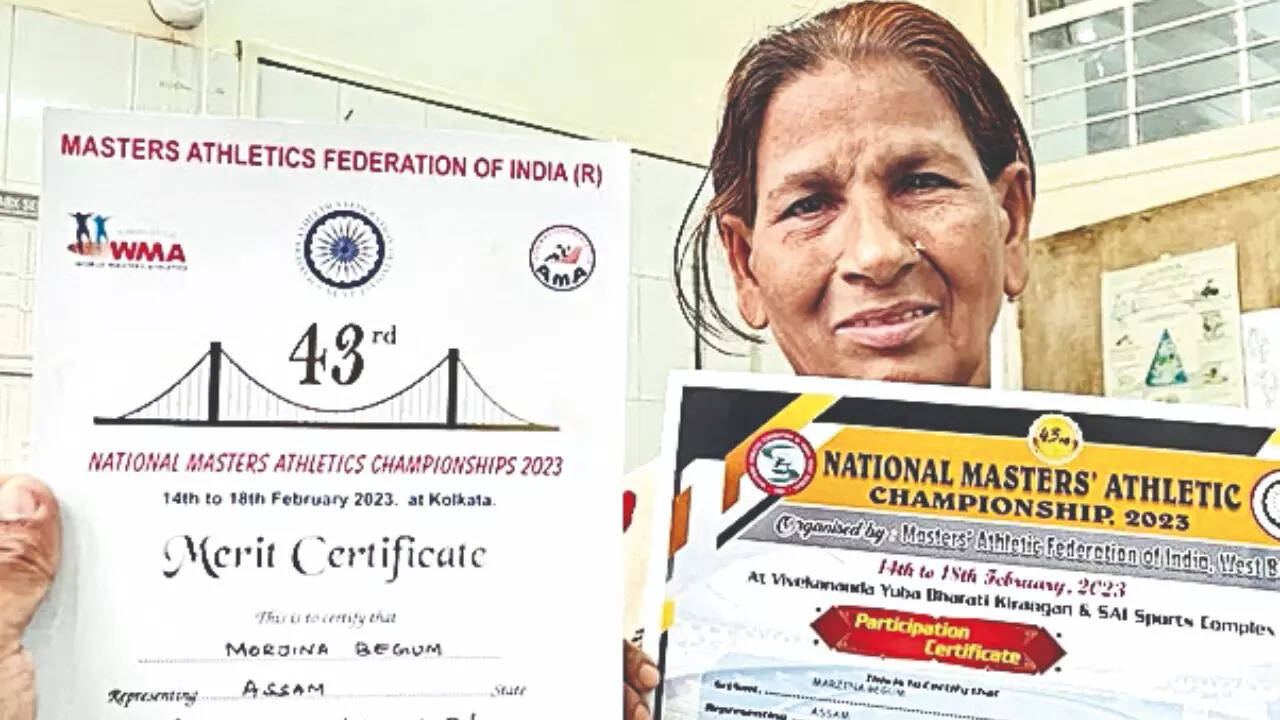 GUWAHATI: When masters athlete Morjina Begum (63) was diagnosed with breast cancer five years ago, some told her that she didn't have much time left. After surgery in 2018, she remained in hospital till 2020 battling to get better. But amid the pandemic last year, she had a relapse and was again brought under strict medication.
A year later, however, Morjina — a resident of Baladmari village in
Assam
's Goalpara district — has become an inspiration for others by winning a silver in the 4×100 metres relay at the National Masters Athletics Championship 2023 held in Kolkata from February 14 to 18. The event was organised by the Master's Athletic Federation of
India
.
Morjina became an athlete after 35 years of age. Since 2010, she has participated in multiple national and international events. After the operation at a Guwahati hospital, she was further treated with chemotherapy and radiation therapy at B Borooah Cancer Institute (BBCI). Even as doctors gave her the go-ahead to enter the sports arena, Morjina was dissuaded by federation officials from participating as they were apprehensive about her fitness and health. "Despite all the challenges, I went ahead and filled up the form for participation," she said on Wednesday.
Before her diagnosis in 2018, Morjina was trained by her own daughter, also a sportsperson, and won prizes at both national and state-level events. Her zeal was relentless even as some of her close ones who could not believe she would be back on track. But after the completion of treatment, Morjina was doubly motivated.
Morjina was provided financial aid and motivation by BBCI doctors to participate in the event. "Morjina had received cardiac toxic chemotherapy. Despite that she not only participated in an athletic event but also won, which shows what true determination can achieve," said Munlima Hazarika, professor of medical oncology at BBCI.
Dr Manigreeva Krishnatreya, medical officer at BBCI, said Morjina's story needs to be told many times. "She is a true source of inspiration for millions of women who are diagnosed with breast cancer."