Tel Aviv
CNN
 — 

The last glimpse Adina Moshe's family saw of her shows the 72-year-old woman on a motorbike, wedged between two Hamas fighters who are kidnapping her from the Nir Oz kibbutz near Gaza.
Moshe looks terrified, but is holding her head high.
The horrifying picture is featured on a missing person notice that has been posted alongside dozens of others on the wall of HaKirya, the government and military quarters in Tel Aviv.
"First, I couldn't look at it because it's so shocking, you can see the kidnappers who killed her husband and put her on a motorcycle … and she has to hold onto him so she doesn't fall," Moshe's niece Einav Moshe Barda told CNN during a gathering outside HaKirya.
Moshe Barda said the family was told by authorities that Moshe is believed to be among the people that have been taken to Gaza. The Israel Defense Forces (IDF) said on Friday that it notified the families of 120 people taken captive, but did not release any other information.
A week after the attack, those families are still stuck in agonizing limbo.
"All we have been told is that her phone is in Gaza," Meirav Gonen, whose daughter Romi was kidnapped from the Supernova dance festival, told CNN.
"I know she was shot. She called me at 10:15 and I was on with her until 10:58, she was fading away and I heard shooting around her coming closer to the car and then people shouting in Arabic… shouting she was alive and that they need her," she said.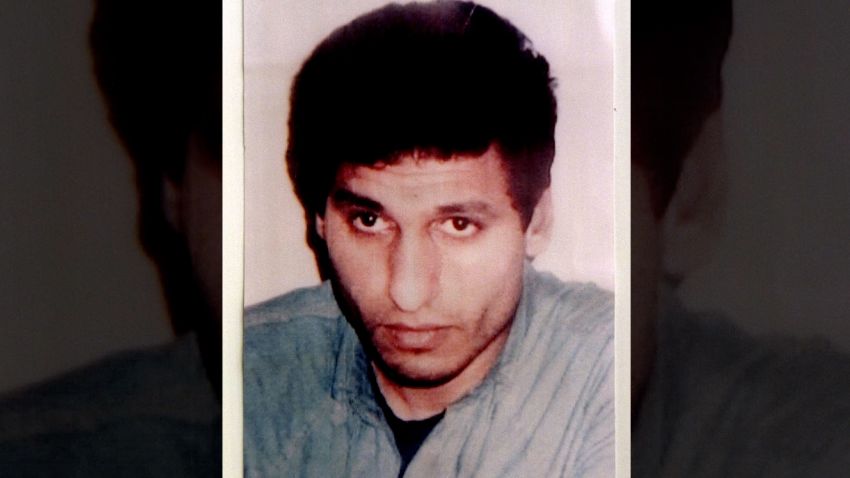 CNN looks at 'the Guest,' the shadowy mastermind behind the Hamas attacks
Hamas gunmen murdered at least 260 people at that music festival. Throughout their rampage they killed around 1,300 people.
Gonen was speaking to CNN at the makeshift headquarters of the Families of Hostages and Missing Persons Forum in Tel Aviv, a group that was formed to provide support to those affected by the crisis.
The forum has put together teams tasked with speaking to the government and lobbying foreign diplomats. It has a PR team that is spreading awareness of the individual cases, as well as a group of negotiators who are trying to come up with a strategy on how to secure the release of the hostages.
"First and foremost it's for the families, to support each other," Gonen said. "So that you know you're not alone. It's so, so lonely. All the thoughts and feelings that you have once you stop for a minute to listen to them," she said, adding that she has "locked all the thoughts away behind a door."
While the families are mostly focused on spreading information about their loved ones, many others are getting increasingly angry about the government's response to the crisis.
The October 7 attack by Hamas was the single most deadly attack by Palestinian militants in Israel's 75-year history and exposed an astonishing intelligence failure by Israel's security forces.
Across the street from where Moshe Barda and other family members were gathering, a much angrier protest was taking place on Friday.
The target: Prime Minister Benjamin Netanyahu and his government.
"It's a dysfunctional government, all these extremist parties, they should leave and let capable people handle this terrible thing," said Daphna Cohen, who carried an Israeli flag and a banner calling for Netanyahu's resignation.
She told CNN that while she has been attending protests against the prime minister for years, this time feels different.
"I have never felt such rage and hatred towards a person since I was born. And I'm 66 I don't remember myself feeling what I feel about this person, the f****** Bibi, there is no other word for him," she said.
"He doesn't take responsibility and I don't believe he cares but for himself, even in those difficult times. He's the criminal who's capable to take us to the drain," she said.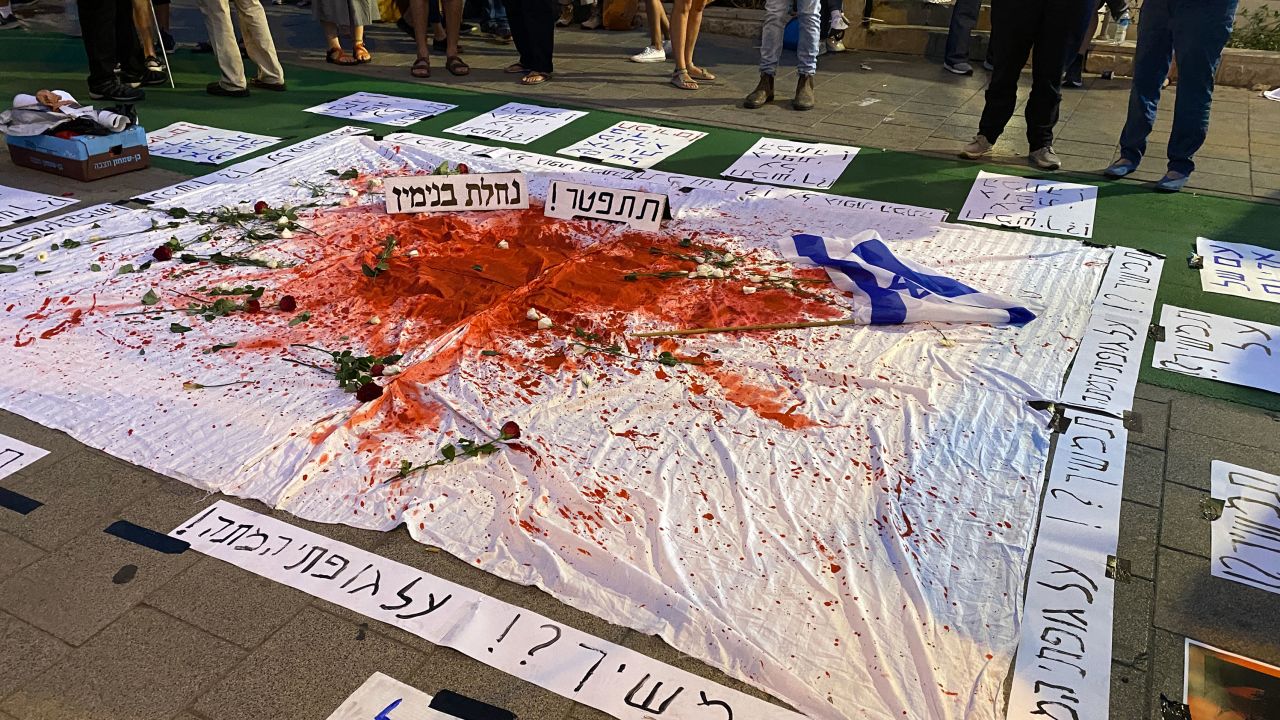 Israel was deeply divided before the October 7 attacks. There have been months of protests against Netanyahu's right-wing coalition, particularly over a controversial law that curbs the power of Israel's top court.
Netanyahu and his supporters say the courts were in need of reform, his opponents have described the move as an assault on Israel's democracy.
Netanyahu has also faced multiple corruption charges and accusations over recent years, allegations he denies.
Hamas' atrocities have sparked some level of political unity with Netanyahu this week forming an emergency government with opposition leader Benny Gantz.
He also appointed a retired IDF general Gal Hirsch as the government's hostage co-ordinator. Hirsch said his team was "investigating every piece of information" to help find the people who have been taken.
But there is still palpable anger towards Netanyahu's government for failing to see Hamas' attacks coming – and the unprecedented hostage crisis this country now faces.
At the protest on Saturday, a protester laid down on a large sheet splattered with red paint resembling blood, with a sign that said: "Continue in power? Over my dead body."
Israel has formally declared war on Hamas and the IDF has for days been hammering the Gaza Strip with air strikes and shelling.
In the first six days of the latest conflict Israel dropped about 6,000 bombs on Gaza – as many as they did during the entire 50-day Gaza-Israel conflict in 2014.
Minister of Defense Yoav Gallant said he has ordered a "complete siege" on Gaza – where more than 2 million people live – blocking delivery of electricity, food, fuel and water. Energy Minister Israel Katz has said supplies will remain cut off until the hostages are freed.
More than 2,100 people, including 724 children and 458 women, have been killed in Gaza, according to the Palestinian health ministry.
Gaza's humanitarian crisis is spiraling, with warnings people are at risk of starvation, hospital generators on the verge of running out of fuel and whole streets reduced to rubble.
The Israeli military has warned people living in northern Gaza to evacuate south for their safety ahead of an expected surge in operations, including a possible ground invasion. UNICEF says that amounts to 1.1 million people, roughly half Gaza's population and adds there is "nowhere safe for civilians to go."
Meanwhile, several foreign governments have gotten involved in the efforts to free the hostages. Qatar has been in talks with Hamas and the US has been coordinating with the Qataris as they play a key mediating role with Hamas, a senior US official and another person familiar with the discussions told CNN.
Mark Regev, a senior adviser to Netanyahu, warned Hamas of repercussions if any of the hostages were harmed in any way.
"If any harm comes to these hostages, we will find those responsible and we will bring them to justice, and they will pay. And if it takes a year, or five years or 25 years, if they are involved in harming those hostages, Israel will find them and there will be retribution," he told CNN.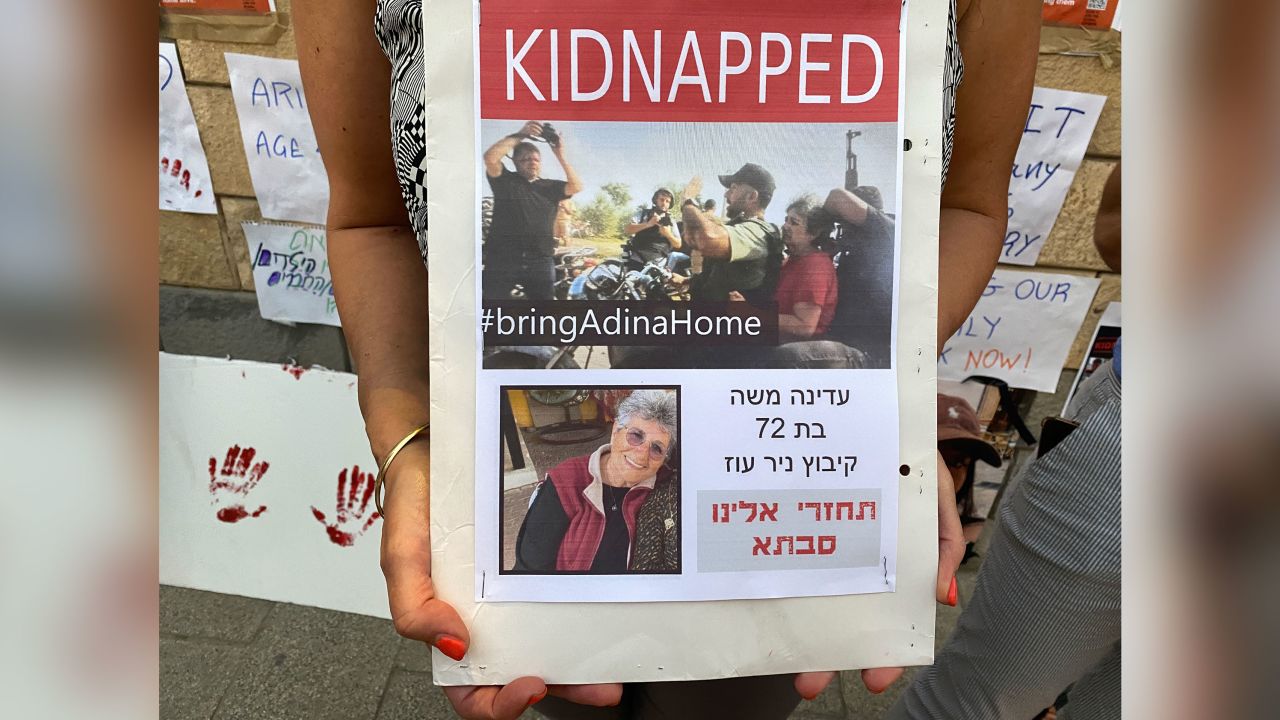 Back in Tel Aviv, the mood among families of those taken hostage was sombre. Many of the families of those that have been kidnapped are reluctant to criticize the government, focusing all their efforts into campaigning for the release of their loved ones.
"I want to believe that the government is not talking about it because they are putting all their effort to bring them back … we have to be united," Moshe Barda told CNN.
"I want the government, the world, everyone to come together and bring them back. This is children without a mother, mothers without their children, grandmothers, grandfathers."
Moshe Barda said she is finding comfort in the knowledge that her aunt is a strong woman.
If she is held with others, Moshe Barda said, she is likely to be taking care of everybody. At the kibbutz, Moshe was a childminder for many years, taking care of many children born and raised in the community.
"She is a very strong woman. Look at the picture, she is sitting on the motorcycle with her back straight … and she just saw her husband being murdered," Moshe Barda said.