CNN
 — 

A ceasefire has been agreed in the disputed region of Nagorno-Karabakh, a day after Azerbaijan launched a military offensive against ethnic Armenian forces.
Whether this leads to a lasting peace is not yet clear. Armenia and Azerbaijan have already fought two wars over Nagorno-Karabakh since the collapse of the Soviet Union.
The flare-up – which killed dozens of people – alarmed the international community and raised questions over Russia's ability to maintain its long-term role as power broker in the region.
Nagorno-Karabakh, known as Artsakh to Armenians, is a landlocked region in the Caucasus Mountains and lies within Azerbaijan's borders. It is internationally recognized as part of Azerbaijan but is home to around 120,000 ethnic Armenians, who make up the majority of its population and reject Azerbaijani rule.
The region has its own de facto government which is backed by Armenia, but it is not officially recognized by Armenia or any other country.
Under the Soviet Union, of which Azerbaijan and Armenia are both former members, Nagorno-Karabakh became an autonomous region within the republic of Azerbaijan in 1923.
Karabakh officials passed a resolution in 1988 declaring its intention to join the republic of Armenia, causing fighting to break out as the Soviet Union began to crumble, in what became the First Karabakh War. About 30,000 people were killed and hundreds of thousands were displaced when the Armenian side gained control of the region and seven surrounding districts in Azerbaijan.
After years of sporadic clashes between the two sides, the Second Karabakh War began in 2020. Azerbaijan, backed by its historic ally Turkey, won a crushing victory in just 44 days, reclaiming the seven districts and about a third of Nagorno-Karabakh.
The war ended after Russia, a longtime ally of Armenia but with growing ties to Azerbaijan, negotiated a ceasefire. The Moscow-brokered deal provided for about 2,000 Russian peacekeepers to deploy to the region to prevent further Azerbaijani encroachments and guard the Lachin corridor, the only road connecting the enclave to Armenia.
Despite Russia's peacekeeping presence, Nagorno-Karabakh has been under blockade for nine months. In December 2022, Azerbaijan-backed activists established a military checkpoint along the Lachin corridor, preventing the import of food and prompting fears that residents were being left to starve.
In the days leading up to the strikes on Stepanakert, the Karabakh foreign ministry warned that "the Azerbaijani side has been carrying out daily troop transfers and stockpiling of various weapons… preparing the ground for large-scale aggression."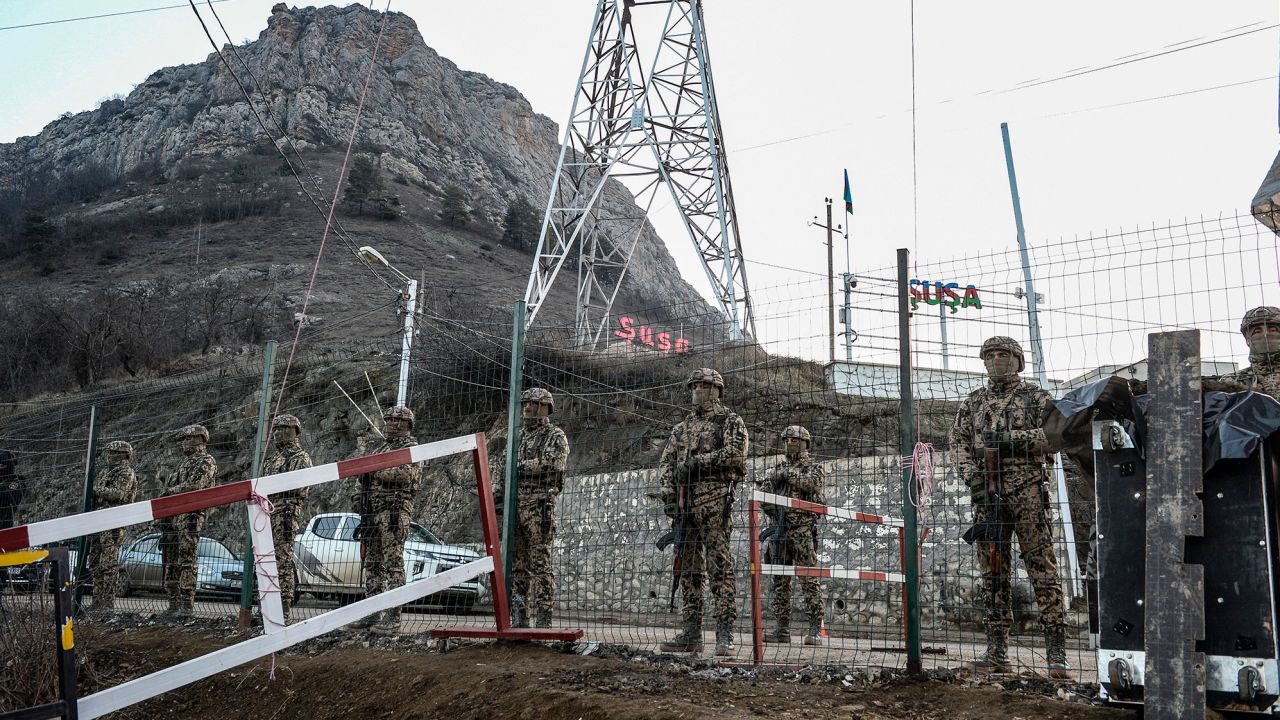 Despite the tensions, Tuesday's escalation was sudden. Justifying its strikes on Stepanakert, Azerbaijan's defense ministry said an Azerbaijani vehicle had struck a mine that had been planted in previously de-mined areas, killing two civilians.
Azerbaijan also said its army had come under "systematic shelling" from Armenia's armed forces in Nagorno-Karabakh.
But Armenia's foreign ministry rejected claims that its armed forces were in Nagorno-Karabakh, which instead is protected by the Artsakh Defense Army. "Armenia's assistance to Nagorno-Karabakh is of a humanitarian nature" due to the ongoing blockade, it said in a statement.
CNN was not able to independently verify either side's claims.
By the time Karabakh officials agreed to the ceasefire, at least 32 people were reported to have been killed and 200 others wounded. The Nagorno-Karabakh presidency said its forces were outnumbered by Azerbaijani forces "several times over."
The ceasefire came into effect at 1 p.m. local time Wednesday, after the Karabakh presidential office agreed to "the dissolution and complete disarmament of the armed formations."
What are Azerbaijan and Armenia's positions?

Armenia no longer disputes that Nagorno-Karabakh is part of Azerbaijan's territory.
After the 2020 war exposed Armenia's military inferiority, Prime Minister Nikol Pashinyan conceded in April this year that his government is willing to relinquish its claims on the region. He argued "peace is possible" only if Armenia limits its territorial ambitions to the borders of the former Armenian Soviet Socialist Republic – that is, excluding Nagorno-Karabakh.
Now, Azerbaijan's longtime President Ilham Aliyev is seeking to press home what he sees as his advantage. His rhetoric has grown increasingly aggressive in recent months. In a speech delivered in May, Aliyev said of Karabakh Armenians: "Either they will bend their necks and come themselves, or things will develop differently" – a veiled threat of military action.
Azerbaijan's position on Tuesday was uncompromising, as it called for "the unconditional and complete withdrawal of the Armenian armed forces" and "the dissolution of the puppet regime" in Nagorno-Karabakh.
Under the terms of Wednesday's ceasefire, Nagorno-Karabakh has dissolved its army, while Armenia has continued to insist that it did not have a military presence of its own in the region. How far Azerbaijan is willing to go in insisting on the dissolution of the de facto government is not yet clear.
How are Russia and Turkey involved?

Russia is a historic ally of Armenia's, while Turkey has long provided support to Azerbaijan.
Turkish President Recep Tayyip Erdogan said Turkey supports "the steps taken by Azerbaijan, where we act with the motto of one nation, two states, to protect its territorial integrity," during his speech at the 78th session of the United Nations General Assembly on Tuesday.
Turkey has itself launched a campaign of ethnic cleansing against Armenians, in a genocide of the Armenian subjects of the Ottoman Empire during World War I.
Kremlin spokesman Dmitry Peskov expressed "concern about the sharp escalation of tensions and the outbreak of hostilities."
However, the latest violence came during what some analysts have argued may constitute a fracture in the close relationship between Armenia and Russia.
Armenia has for decades trusted Russia as the sole guarantor of its security, which Moscow purports to provide through the Collective Security Treaty Organization (CSTO), a military alliance of post-Soviet states that includes Armenia but not Azerbaijan.
But Armenia has grown frustrated by Russia's unwillingness or inability to defend it against Azerbaijani aggression, as ties between Moscow and Baku have grown.
With Russia failing to deliver on its commitments, analysts told CNN that Armenia has felt it had little choice but to diversify its security apparatus.
This month, Armenia sent humanitarian aid to Ukraine for the first time. It then hosted joint military training exercises with the US. Its parliament is also set to ratify the ICC's Rome Statute – meaning it would be obliged to arrest Russian President Vladimir Putin if he were to set foot in the country.
Pashinyan criticized Russia on Tuesday for not alerting his government about Azerbaijan's plans to launch military action: "We haven't received any information from our partners in Russia about that operation," he was quoted by Armenpress as saying.
The news of fresh strikes on Nagorno-Karabakh sparked cryptic reactions from prominent Russian figures showing little sympathy for Armenia. Margarita Simonyan, editor-in-chief of state-owned Russia Today, said the news was "tragic, hopeless and predictable," adding "the fate of Judas is unenviable."