CNN
 — 

When the call came in, the staff at Animals Asia jumped into action. A bear in Vietnam's northeastern Haiphong region had been kept captive for years, her bile harvested in painful and invasive ways – and the farmer was finally giving her up.
The team found a familiar scene when they arrived at the farm, early on a recent morning. The bear, named Sunset, was caged in a dark and dingy room, the narrow metal bars rusted through, her paws covered with pus, her fur missing clumps and her claws so overgrown they dug into her flesh.
This is the condition of many bears after years of captivity, kept alive so their bile – a gold-colored liquid secreted by the liver – can be extracted and used in traditional medicines, from topical lotions to eye drops and injections.
The trade of these products is forbidden in most Asian countries, and activists are trying to end what they see as a cruel and unsustainable practice. But international experts say it remains a lucrative industry in China, where domestic sales of bear bile remain legal.
Jill Robinson has seen many cases like Sunset's since she founded Animals Asia in the 1990s. In recent years, the organization has rescued nearly 680 bears from bile farms across Vietnam and China, many showing signs of extreme trauma.
"They have no free access to food or water. They have no outside stimulation. They haven't even seen the sunshine," she said. "They've got massive hair loss, they've often got broken teeth from (biting the bars of their cages) in frustration and pain."
But eliminating bile farming has proved difficult. It's a profitable business for farmers, and while scientists are working to develop synthetic alternatives, many consumers prefer the real thing. During its heyday in Vietnam, just one milliliter of bile could sell for $10, Robinson said.
In Vietnam, taking bears from the wild or extracting their bile has been illegal since 2005, when there were thought to be around 4,000 bears in captivity. That figure has since dropped, but there are still roughly 300 bears kept on farms, due to a legal loophole that allows farmers to keep their existing bears if they claim not to be extracting bile – even though the poor health of rescued bears makes it "obvious" the extraction continues, according to Robinson.
David Garshelis, co-chair of the International Union for Conservation of Nature's (IUCN) Bear Specialist Group, estimates there are still about 300 bile bears in South Korea, and about 100 in Laos and Myanmar each. But China is "the biggest market for bear bile products by far," with roughly 15,000 bile bears in captivity and plenty of demand, he said.
Traditional Chinese medicine is the main driver for the trade, with bear bile prescribed for epilepsy, hemorrhoids, heart disease, cancers, colds and hangovers.
The first reference to bear bile used in this context appeared in a Tang Dynasty medical text in 659 A.D., since when use of the ingredient has spread across Asia.
Ursodeoxycholic acid, one of the main components in bear bile, has been medically proven to help dissolve gallstones and treat liver disease. But this component can be synthetically produced, without the need for bear extraction. And there's no internationally recognized scientific evidence showing bear bile can cure other ailments promoted in TCM.
The use of traditional Chinese medicine is still debated in China, where it has both adherents and critics. Abroad, these remedies face even more skepticism from Western medical experts, who have long questioned their safety and effectiveness.
Asiatic black bears, also known as moon bears, are the preferred species for bile harvesting. They have traditionally been poached in Southeast Asian countries like Vietnam, Cambodia, Laos, Myanmar, Indonesia and Malaysia, where their populations have declined dramatically due to overhunting, according to NGOs.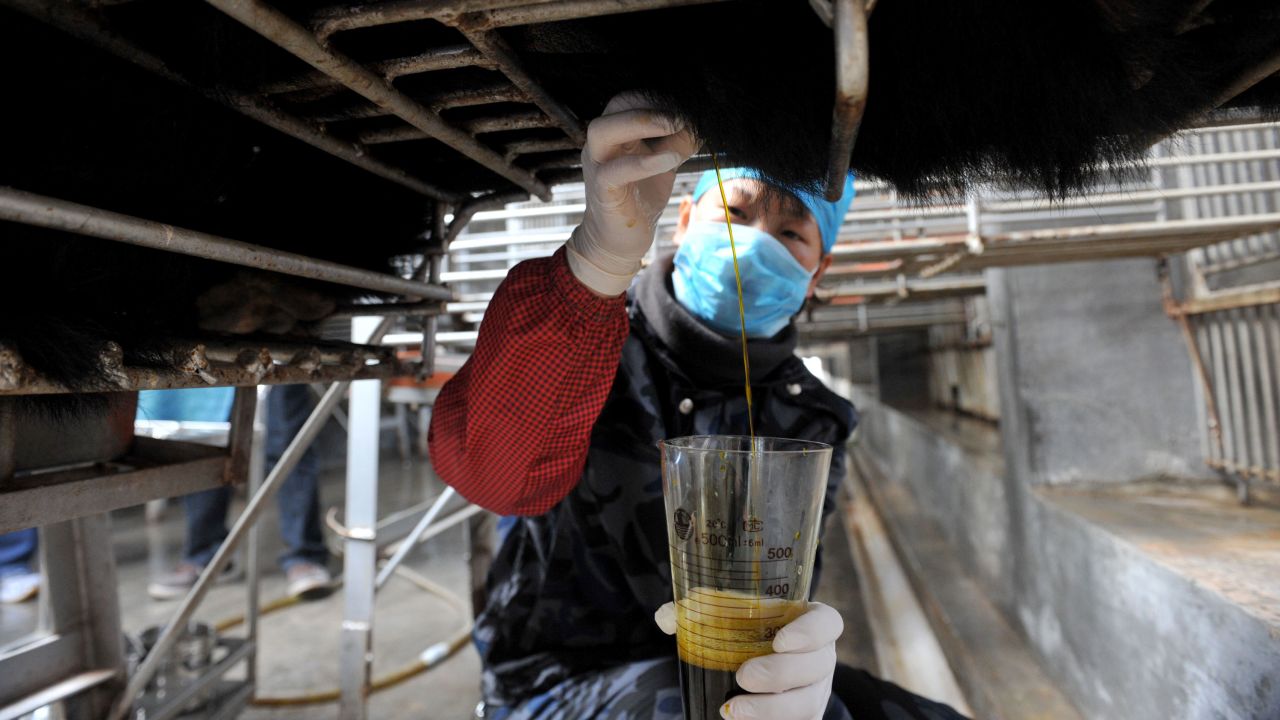 Harvesting techniques differ from country to country, with some more controversial than others.
In the 1990s, Vietnamese farmers would extract bile by cutting into the bears' abdomens and gallbladders then stitching them back up, Robinson said. But bears could survive only a few such procedures.
After that, farmers began giving bears the drug ketamine, a powerful anesthetic, before "stabbing around where they thought the gallbladder might be situated" with a needle, often hitting organs like the spleen, kidneys and liver, before using a mechanical pump to extract the bile, she said.
In some cases, bears undergo surgery to create a permanently open duct from the gall bladder to the abdomen, from which bile drips freely, causing infections and abscesses, according to Animals Asia.
In South Korea, farmers aren't allowed to extract bile from living bears – but are allowed to kill farmed bears over 10 years old, and sell their gall bladders to be milked for bile, Garshelis said.
In China, farmers in decades past kept bears in metal jackets to restrict their movement and used harmful extraction techniques, Garshelis said. But regulations in 1996 mandated minimum cage sizes and approved only one method of bile extraction, to be used on bears above three years old.
This method involves surgery to create a "tube out of the animal's own tissue" through which bile can be extracted, Garshelis said. In a 2016 report, China's State Forestry Administration and the IUCN's Species Survival Commission described the bears' newly healed tissue as a "natural sphincter that effectively prevents any leakage of bile."
Farmers then insert a hollow probe through that "sphincter" to collect bile while the bear is distracted by food. The report claims the bear "does not experience any ill effects," and that no bears showed "any obvious, overt sign of stress or disturbance" during demonstrations.
Garshelis described the method as "less invasive." But some activists say the old methods of farming and extraction still continue in pockets of the country.
CNN has reached out to China's National Forestry and Grassland Administration, formerly known as the State Forestry Administration, to request comment on claims of ongoing bear abuses.
in Vietnam, the legal loophole allowing farmers to keep existing bears makes it "almost impossible" to shut down farms unless authorities catch people in the act of extracting bile, Robinson said.
Instead, activists and authorities have been trying a softer approach – working with local communities, schools and tourism boards to convince farmers to voluntarily surrender their bears.
One immediate obstacle is the sheer wealth bile farming can bring in.
"The bear farming community is normally one of the richest communities in the village," Robinson said. During one recent rescue near Hanoi, "when we went into the village, we saw the biggest, flashiest house, and that was the bear farmer's house. Over the years, (farmers) have made millions of dollars in this industry."
But she's hopeful the tide could turn – especially now that the remaining bile bears are growing older and sicker, which could mean less quality bile left to extract. The diminishing returns could make it "in the bear farmers' best interest to relinquish these bears anyway," she said.
For Robinson and Animals Asia, that would mean being able to "give them the last few years at our sanctuary to, at last, finally live as bears," she said. The organization operates an 11-hectare sanctuary in Tam Dao National Park near Hanoi – where Sunset now lives – and are building a second sanctuary in Bach Ma National Park.
In contrast to the clampdowns in countries like South Korea, which vowed last year to fully ban bear bile farming from 2026, China's trade is booming. Garshelis estimates there are 50 million consumers of bear bile products in the country.
QY Research, a China-based market research firm, estimated in a 2022 report that the Chinese market for bear bile powder was worth nearly $62 million, making up for nearly 97% of the global market – and its value is only expected to increase in the coming years. China sold 44.68 tons of bear bile powder in 2021, according to the report.
China's bear bile industry is different in that it's legal, regulated and commonplace. Whereas bear bile products in Vietnam are illegally distributed underground and could be fake or tainted, Chinese products come with "a stamp to tell you it's legitimate," Garshelis said.
People can get cheap bear bile medications over the counter, by prescription, in hospitals, and "it's all approved, so you feel safe getting this as a real medicine," he added.
In 2020, the Chinese government even endorsed Tan Re Qing – an injection containing bear bile – on a list of recommended medicines to treat Covid-19 patients.
And the number of bile bears is only increasing, Garshelis said. While China forbids the capture of wild bears for bile farming purposes, its farms can contain up to 5,000 bears in a single site and run breeding programs.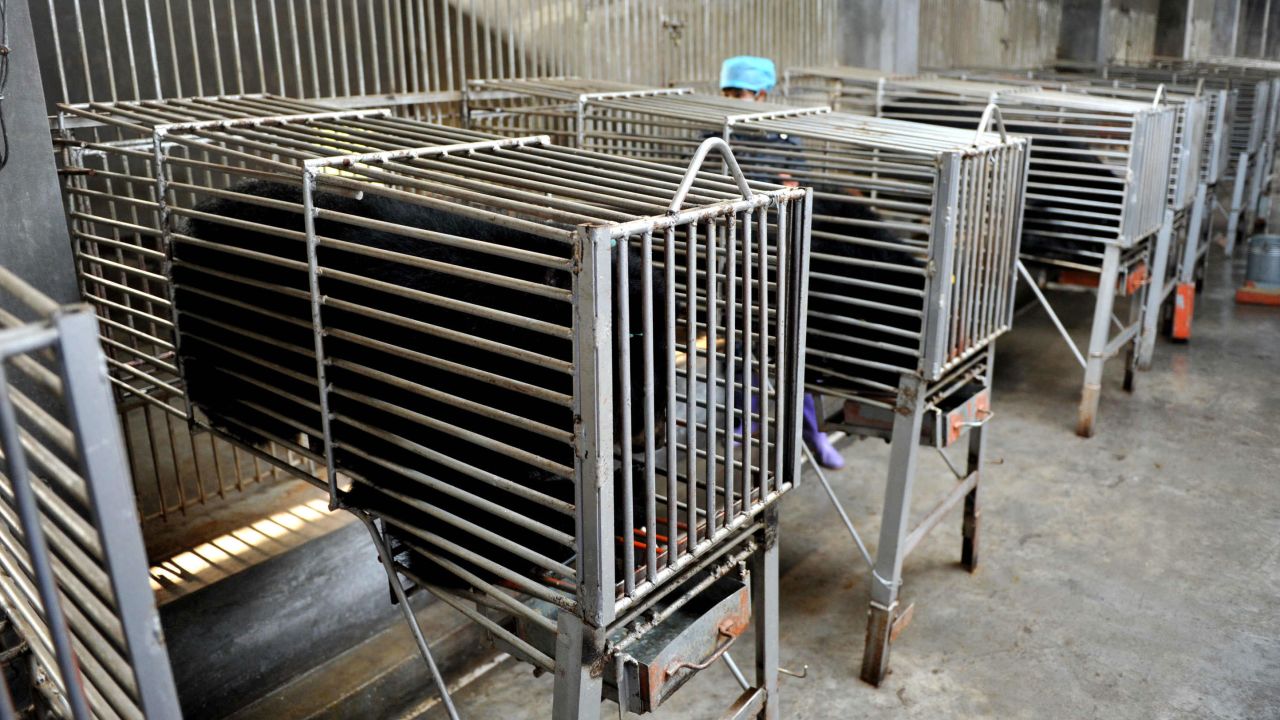 Chinese authorities claim the farms discourage the poaching of wild bears, thus benefiting wildlife conservation efforts.
Many activists question this logic, but some experts say it is hard to disprove China's claims.
Garshelis is part of a years-long study on the impact of bile bear farming, done in collaboration with Chinese researchers, international experts and IUCN members. After a decade of research, the only consensus they reached was that it is "impossible to conclude definitively how farmed bile influenced the overall consumption of wild bile."
Due to factors such as reforestation and anti-poaching enforcement, "it's hard to then say that farming has done anything" – or whether the population would be growing even faster if the farms were gone, Garshelis said.
"We don't know whether it's reduced the demand for wild gallbladder or not … 10 years later, we never could come to an answer, truly, what the effects of bear farming are."