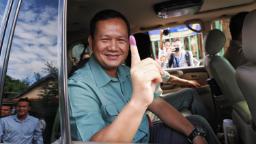 Cambodia's king has approved the nomination of the eldest son of Prime Minister Hun Sen to become the next premier, according to a decree published on Monday, confirming a long-awaited transition of power.
The decree endorsing Western-educated army general Hun Manet, 45, was shared on the Telegram channel of his father and signals the imminent end of the former Khmer Rouge guerrilla's nearly four decades at the helm of a country rebounding from decades of war and poverty.
The appointment requires the approval of the newly elected National Assembly, expected later this month, following the huge win by the ruling Cambodian People's Party (CPP) in last month's election, where it won 120 of 125 parliamentary seats in a contest in which all viable opposition was sidelined.
Hun Sen last month said he would step down and hand over power to his son in August, ending a 38-year rule during which he established stability after years of war but stifled democracy in the process.
He will however maintain important posts in the legislature and the ruling party.
Hun Manet, 45, was educated in the United States and Britain, where received a master's degree and doctorate respectively, both in economics.
He is also a graduate of the prestigious West Point military academy in the United States and has served as Cambodia's deputy armed forces commander-in-chief.
Hun Manet has said little of his vision for the country. He won a seat in the capital, Phnom Penh, in the election.