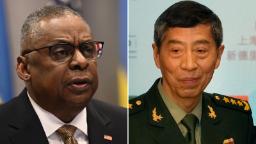 CNN
 — 

China has rejected a United States proposal for Defense Secretary Lloyd Austin to meet with his Chinese counterpart Li Shangfu at the Shangri-La Dialogue Security Forum in Singapore this week, according to a Pentagon statement.
China's opposition to the meeting comes amid strained relations between the two countries following former House Speaker Nancy Pelosi's trip to the self-governing island of Taiwan last August and the US' decision to shoot down a Chinese spy balloon that transited over sensitive US military sites in February.
In the statement, the Pentagon said China had declined an invitation extended in early May for a meeting, but said the refusal would not deter the US from seeking better lines of communication.
"The PRC's concerning unwillingness to engage in meaningful military-to-military discussions will not diminish the Department of Defense's commitment to seeking open lines of communication with the People's Liberation Army (PLA) at multiple levels as part of responsibly managing the relationship," Pentagon Press Secretary Brig. Gen. Patrick Ryder in the statement.
In response, the Chinese Embassy in the US questioned the sincerity and significance of the invitation, pointing to US sanctions imposed on Chinese officials, institutions and companies.
The statement did not specifically call out US sanctions against Li, which were imposed in 2018 by the administration of former president Donald Trump over China's purchase of Russian weapons, including a Su-35 combat aircraft and a S-400 surface-to-air missile system.
The US has imposed a range of sanctions on China in recent years for a variety of reasons including alleged human rights abuses in Xinjiang and restrictions on political freedoms in Hong Kong.
In the statement, Chinese Embassy spokesman Liu Pengyu said "China always firmly opposes illegal unilateral sanctions and has made clear its stern position to the US side."
"The US side should immediately lift sanctions and take concrete actions to remove obstacles, create favorable atmosphere and conditions for dialogue and communication," he added.
The Wall Street Journal first reported China's refusal to participate in a meeting between the defense chiefs.
Austin told CNN earlier this year that he had not spoken to his Chinese counterpart in "months," and China has continued to rebuff requests for meetings and phone calls, defense officials said.
"This is far from the first time that the PRC has rejected invitations to communicate from the Secretary, the Chairman of the Joint Chiefs of Staff, or other Department officials," a defense official said.
"Frankly, it's just the latest in a litany of excuses. Since 2021, the PRC has declined or failed to respond to over a dozen requests from the Department of Defense for key leader engagements, multiple requests for standing dialogues, and nearly ten working-level engagements," he added.