Taipei, Taiwan
CNN
 — 

When the Honduran President announced last week her country planned to establish diplomatic ties with China, the ripples were felt far beyond this Central American country of population 10 million. To many, it was the latest confirmation of China's growing clout on the world stage.
The decision by President Xiomara Castro means Honduras will have to sever its relationship with Taiwan, the island democracy that for much of the past 50 years has been locked in a battle for diplomatic recognition with China, its far larger Communist-ruled neighbor.
China claims Taiwan as its territory, and has repeatedly refused to rule out taking the island by force, but the pressure it heaps on Taiwan is not limited to threats about invasion.
It also exerts diplomatic pressure, by insisting that any country wanting official ties with the world's second largest economy must at the same time refuse to recognize Taiwan.
As a result, a dwindling pool of nations are willing to hold diplomatic relations with the island democracy of 23.5 million.
Before Castro's announcement, Taiwan had just 14 diplomatic allies – down from the 56 it had in 1971, when it lost recognition from the United Nations, and down from 22 when its President Tsai Ing-wen took office in 2016.
And given that most of Taiwan's remaining allies are small nations in Latin America and the Pacific – with all of the world's powerful economies having switched decades ago – it would be easy to paint Castro's announcement as the latest nail in the coffin for Taiwan's aspirations for relevance on the world stage.
That's the narrative China might like to believe – and the version of events that is often repeated in the international media every time Taiwan loses another diplomatic ally.
But a growing body of experts are challenging that received wisdom.
Yes, they say, officially Taiwan may appear to be losing the diplomatic battle, constantly waving goodbye to yet another diplomatic mission. But look deeper and Taiwan has been increasing its influence across the globe by developing close – though unofficial – ties with western countries.
As Lev Nachman, an assistant professor in politics at National Chengchi University, put it, "Taiwan's diplomatic allies do offer meaningful support for Taiwan, such as allowing official visits to happen. But we often ask, if one day Taiwan has zero formal diplomatic allies, what would really change? And the answer is not that much."
Take for instance the island's relationship with the United States.
The US may have withdrawn its diplomatic recognition of Taiwan back in 1979, yet today its unofficial relationship appears as strong as it has been in decades.
The lack of diplomatic ties did not put off then-House Speaker Nancy Pelosi from making a controversial visit to Taipei in August – a visit China responded to angrily by holding unprecedented military drills and firing missiles over the island.
Nor has it dissuaded incumbent US House Speaker Kevin McCarthy from planning to meet Tsai in early April, when she plans to transit the United States en route to Central America, in another trip that is widely expected to raise China's hackles.
Then there are the advances Taiwan has been making in Europe in recent months – breakthroughs that seem "diplomatic" in all but name.
Accelerated by Russia's unprovoked invasion of Ukraine and fears about another autocracy's designs on democratic Taiwan, various European countries have acted in ways suggesting they are supportive of China's smaller neighbor, even if the Vatican City is its only official ally on the continent.
This month, a minister from Germany, Europe's biggest economy, became the first in 26 years to visit Taiwan in a trip Berlin billed as an effort to enhance science and technological cooperation – and which it undertook despite Beijing's protestations.
In January, Taiwan's military disclosed an exchange with NATO in which one of its lieutenant colonels was sent on a six-month academic training program at an international military college in Italy.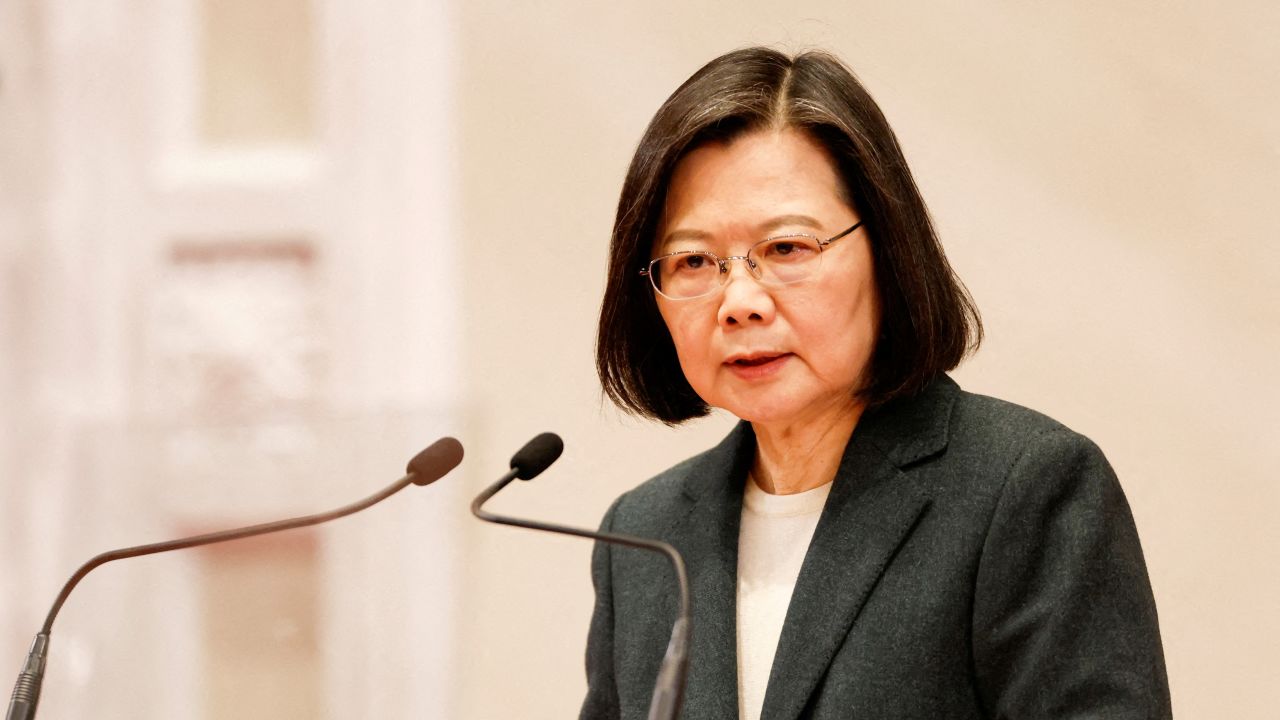 Experts point out that the United States remains the single biggest guarantor of the island's safety in the face of a possible invasion by China and that the US supplies weapons to Taiwan every year – both of which it does without an "official" diplomatic relationship.
They also point out that the G7 nations (the US, Canada, France, Germany, Italy, Japan and the United Kingdom) were all quick to voice concerns following China's post-Pelosi military drills.
Taiwan's role as a global leader in the supply of semiconductor chips – which are needed to power everything from laptops to advanced weapons – also makes it an important trading partner for many Western democracies.
One Taiwan company, the Taiwan Semiconductor Manufacturing Company, is one of Asia's most valuable businesses and accounts for 90% of the world's super-advanced chips, according to industry estimates cited by Reuters.
Such shows of support from Taiwan's "unofficial relationships," they say, are far more important to the island's safety and economy than its formal alliances with smaller nations.
The struggle between China and Taiwan dates back to the end of the Chinese civil war. The Chinese Nationalist government – or Kuomintang – fled to Taiwan following its defeat by Mao Zedong's Communists in 1949.
Having set up a government on the island just four years earlier, it continued to call itself the Republic of China in Taiwan and for decades claimed itself as the legitimate representative of not only Taiwan but the Chinese mainland too. The Communist authorities on the Chinese mainland, meanwhile, created the People's Republic of China, and also claimed to be the legitimate representative of both sides of the Taiwan Strait.
Taiwan, as the ROC, was represented in the United Nations until 1971, when the general assembly passed a resolution to recognize the Communist regime in Beijing as the "only lawful representatives of China to the United Nations." The United States switched its recognition to Beijing in 1979, and most countries – many of them under pressure from Beijing – have followed suit.
But since Taiwan's transition into a democracy in the 1990s, the island has downplayed its territorial claims over mainland China. Tsai, the current president, has said the future of Taiwan can be decided only by its people.
But while Taiwan's economy and safety are not reliant on its official allies, experts and lawmakers say official relationships are still valuable – to a point.
"(It helps) undermine Beijing's legal claim of sovereignty over Taiwan," said J. Michael Cole, a Taipei-based senior adviser with the International Republican Institute.
These countries also help to provide a voice for Taiwan in the international community, he said. Last October, for instance, 10 of Taiwan's diplomatic allies co-signed a letter to United Nations Secretary General Antonio Guterres to criticize the UN's exclusion of Taiwan.
But Cole noted that all these allies were "small and not particularly influential".
"They do provide a voice at the UN General Assembly, but their numbers are insufficient to sway the rest, who often vote in Beijing's favor," he said.
Wang Ting-yu, an MP from Taiwan's ruling Democratic Progressive Party, said the core issue was that Beijing is attempting to "demolish the symbol of sovereignty in Taiwan".
"China claims to have sovereignty over Taiwan, but they have no control over us," Wang said. "For us, we can accept that you have diplomatic relations with Taiwan, while also having diplomatic relations with China. The only issue is China is blinding their own eyes in saying that Taiwan doesn't exist."
But that symbol of sovereignty is coming at a growing cost for Taiwan's government due to a pressure campaign by Beijing that many experts label as "dollar diplomacy."
Using China's huge market as both a carrot and a stick, Beijing has managed to peel away many smaller countries, while punishing those who refuse to budge.
When the Solomon Islands switched diplomatic recognition to Beijing in 2019, the Pacific country was offered $8.5 million in development funds by China to do so, according to Reuters.
Paraguay, the biggest country among Taiwan's remaining diplomatic allies, has on the other hand faced restrictions in exporting soy and beef to China. Its president, Mario Abdo Benítez, openly called on Taiwan to invest $1 billion in his country last year so that it could continue to resist the "enormous" pressure on it to abandon the alliance.
Paraguay is holding its presidential election next month, and the opposition candidate has vowed to cut diplomatic ties with Taiwan if they are elected.
Johnny Chiang, an MP from Taiwan's opposition Kuomintang party and a member of the parliament's Foreign and National Defense Committee, said Taiwan is spending roughly $100 million every year in infrastructural aid and development projects for its diplomatic allies.
"The rise of China has become a very big challenge for our diplomacy," said Chiang, who served as the chairman of the Kuomintang between 2020 and 2021.
Wang, who is also a member of the Foreign and National Defense Committee, added that Taiwan is increasingly choosing not to match China's "dollar diplomacy" – preferring instead to underline shared values, like democracy.
"We are using our diplomatic resources to help our official diplomatic allies. We offer humanitarian and training programs to benefit their people directly, but we never give cash to the officers or the policy-makers," he said.
"We especially cherish our partnership with our allies – in areas such as women's empowerment and vocational training, but we don't give money to governments," he added.
While the value of official allies may in many ways be largely symbolic to Taiwan, there is one area that losing friends – even symbolically – can come back to bite Taipei: in the court of public opinion.
When Taiwan's public vote for their next president in January next year, opposition parties are likely to seize on every loss of diplomatic recognition as ammunition.
"Domestically within Taiwan, you'll see political parties using Taiwan's losing of its diplomatic allies as a way to show how whatever party is in power is bad for Taiwan," said Nachman, the political scientist.
"It will be a hard look for the government both internationally and domestically to take these kinds of blows, because they do have symbolic value for a lot of people in Taiwan, and a lot of other countries also see this as a sign of weakness," he added.
Still, in the court of public opinion, China's increasing assertiveness toward smaller nations can also backfire.
Earlier this month, the outgoing president of Micronesia – which China has tried to woo as part of its plan for a security pact with Pacific nations – accused China of engaging in "political warfare."
In an explosive 13-page letter advocating the dissolution of diplomatic ties with Beijing, David Panuelo alleged China was preparing to invade Taiwan and had engaged in bribery, political interference and even "direct threats" to ensure the Federated States of Micronesia remains neutral in the event of war.
China dismissed the letter's contents as "smears and accusations."
Chiang, the opposition MP with the Kuomintang – a party widely seen as more friendly to Beijing – said the key to reducing China's growing pressure on Taiwan's diplomatic recognition was to improve communication across the Taiwan Strait and reduce hostility.
He pointed out that during the eight-year term of former President Ma Ying-jeou, also from the Kuomintang, only one country severed diplomatic relations with Taiwan.
"If you can manage the relationship between Beijing and Taipei well, then that will – to some extent – reduce the pressure from that kind of dollar diplomacy," he said. "If both sides can reach some sort of tacit understanding … then we will avoid that kind of bad situation."