Diwali 2023: Diwali is right around the corner, and the festive fervour is at an all-time high. We are all geared up to celebrate the festival by decorating our house, putting up lights, and making traditional delicacies at home. During this time, many people also like to host Diwali parties at home. It's a good way to catch up with friends and family and get in the festive mood together. And it goes without saying that yummy snacks are a must at such gatherings. If you're on the hunt for Diwali-special snacks, your search ends here. We have compiled a list of scrumptious kebabs that you can treat your guests to. They taste incredibly divine and are sure to set the tone of your party.
Also Read: When Is Diwali 2023? Date, Puja Timings And Delicious Foods To Celebrate The Festival
Diwali Snacks: Here Are 7 Delectable Kebabs To Treat Your Guests With:
1. Chicken Malai Kebab
This classic chicken kebab is the go-to non-vegetarian starter for all special occasions. Succulent pieces of chicken are marinated in cream along with spices and then grilled to perfection. Top it with a generous squeeze of lemon juice and fresh coriander leaves for garnishing. Click here for the complete recipe for Chicken Malai Kebab. 
2. Chana Dal Seekh Kebab
This unique seekh kebab recipe is made using chana dal instead of minced meat. To make it, all you have to do is combine chana dal and green moong with some veggies and masalas. Shallow fry them until lightly browned, and serve hot along with pudina chutney and onion rings. Find the complete recipe for Chana Dal Seekh Kebab here.
3. Hara Bhara Kebab
Hara bhara kebab is another top pick for vegetarians. It is prepared with a stuffing of spinach and peas, which makes it a healthy addition to your snack menu. It's perfect for those who are conscious of their snacking choices during festivals. The best part? You can prepare this snack in an air fryer as well. Click here for the complete recipe for Hara Bhara Kebab.
4. Chicken Galouti Kebab
Talking of kebabs, how can we not mention the quintessential galouti kebabs? This one features minced chicken and is made in true Nawabi style. They are quite aromatic and offer a melt-in-the-mouth texture. Serve hot with spicy chutney or a crispy paratha, and you're good to go. Find the complete recipe for Chicken Galouti Kebab here.
Also Read: These 7 Last-Minute Dessert Recipes Will Make Your Task Easy For Diwali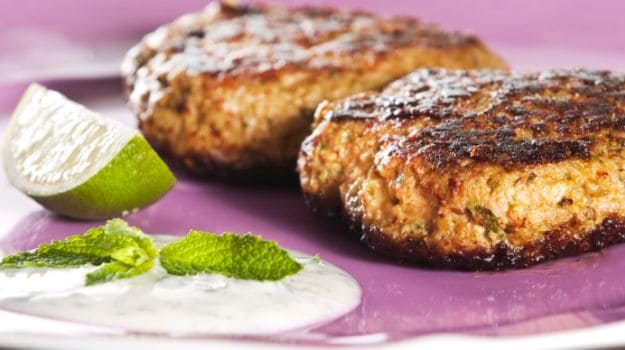 5. Mutton Shami Kebab
Next up, we have a delicious kebab recipe for all the mutton lovers in the house. It is made using minced lamb and chana dal and has a spicy filling inside. The outside of the kebab offers a crispy texture and will make you fall in love with it at the first bite. Want to give it a try? Click here for the complete recipe for Mutton Shami Kebab.
6. Peshawari Chicken Kebab
While all chicken kebabs taste equally good, this Peshwari chicken kebab stands out with its distinct taste. Made with spices such as cumin, coriander, black pepper, and pomegranate seeds, it is sure to surprise your taste buds. This yummy kebab will definitely take your Diwali party a notch higher. Find the complete recipe for Peshwari Chicken Kebab here.
7. Dahi Anjeer Kebab
You must've tried dahi kebab several times, but this one is quite unique. The creamy texture of it remains the same, but it is packed with the goodness of anjeer (figs). They help add a slight sweetness to the kebab, making it an ideal choice for those who have a lower spice tolerance. Try it now, and we are sure you won't regret it. Click here for the complete recipe for Dahi Anjeer Kebab.
Make these scrumptious kebabs for your Diwali party and let us know which one turned out to be your favourite in the comments below. 
Happy Diwali 2023!