Gaza and Jerusalem
CNN
 — 

Aid agencies are calling for a ceasefire in Gaza as doctors warn an Israeli blockade on fuel means many more vulnerable babies and wounded people in hospitals will soon die. One agency says at least 2,000 children in Gaza have been killed in the past few weeks.
Israel has intensified its bombing campaign in the besieged strip as its defense minister Yoav Gallant said Monday the country is preparing for a "multilateral operation" on the militant group Hamas that controls Gaza from the "air, ground, and sea."
Israel's leadership has vowed to wipe out Hamas in response to its October 7 deadly terror attacks and kidnap rampage in which 1,400 people, mostly civilians, were killed and more than 200 taken hostage.
On Monday, Hamas freed two Israeli citizens – both elderly women – amid growing international pressure to secure the release of the rest of those abducted and taken to Gaza.
Video shows release of women abducted by Hamas
Inside Gaza, cut off from the world by a near total blockade, Israeli airstrikes have decimated entire neighborhoods, leveling homes, schools and mosques. CNN drone footage from Monday showed the level of destruction across parts of the strip, with whole streets flattened in the al-Rimal neighborhood in Gaza City and a row of destroyed buildings known as al-Zahra towers in central Gaza.
CNN drone footage shows widespread destruction in Gaza
Save the Children said Monday that over 1 million children are "trapped" in Gaza with no safe place to go and warned of the devastating impacts of lacking medication and electricity to power vital health infrastructure in the enclave.
"At least 2,000 children have been killed in Gaza over the past 17 days, and a further 27 killed in the West Bank," the aid agency said on Monday.
"We call on all parties to take immediate steps to protect the lives of children, and on the international community to support those efforts," Save the Children said, adding that Israeli airstrikes are "killing and injuring children indiscriminately."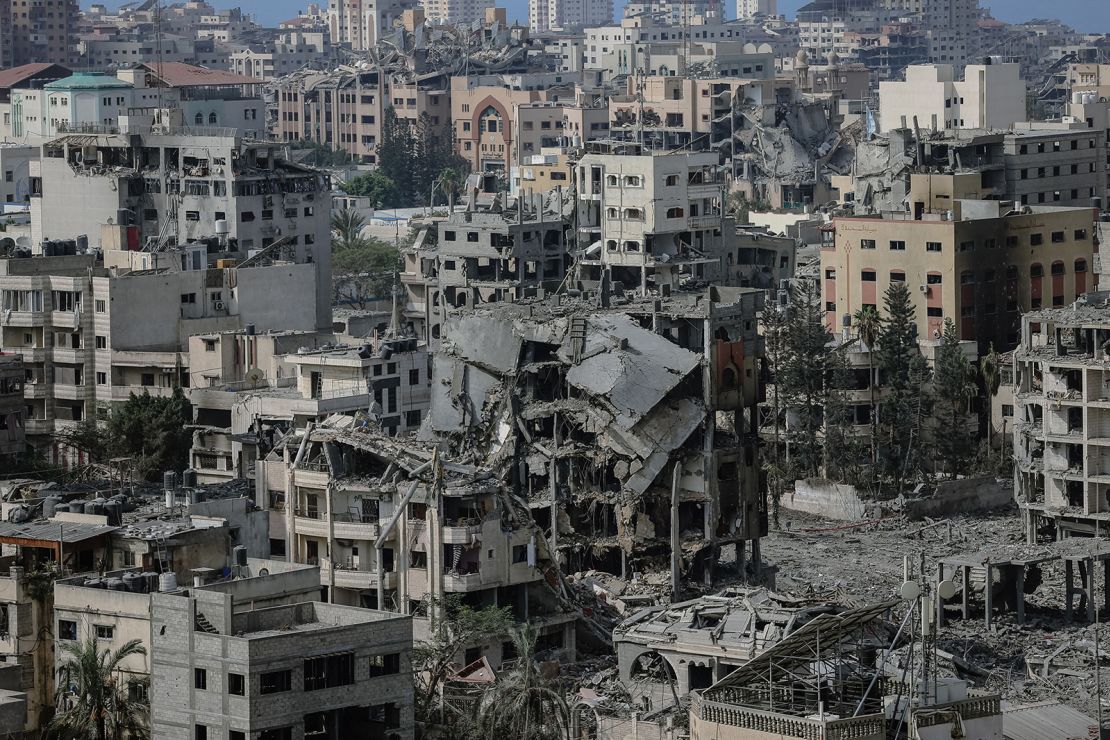 Latest figures from the Hamas-controlled Palestinian Ministry of Health in Gaza said the death toll resulting from Israeli strikes on the strip has reached at least 5,087, including 2,055 children.
"The health system [in Gaza] has reached the worst stage in its history," said health ministry spokesperson Ashraf Al-Qudra in a statement early Tuesday.
Fuel means life in Gaza. Without fuel, water cannot be pumped or desalinated, generators that power hospitals – that keep incubators, ventilators and dialysis machines running and to sterilize surgical equipment – will fail.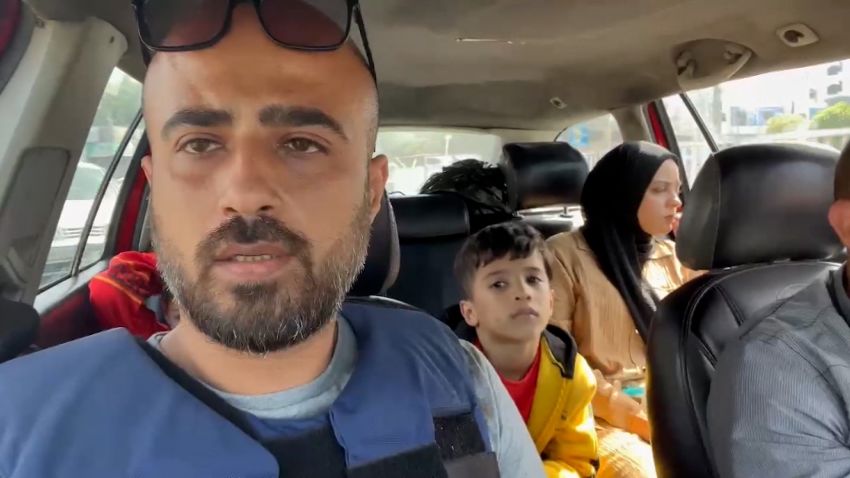 CNN producer tried to flee Gaza with his family. Hear why he had to turn back
Twelve hospitals and 32 medical centers are now out of service after Israeli strikes and fuel depletion, according to the Palestinian health ministry in Gaza. Early Tuesday, the Indonesian Hospital in northern Gaza had no electricity due to the fuel shortage, Hamas said.
Despite the urgency, no fuel trucks have entered Gaza as part of a humanitarian aid convoy from Egypt's Rafah border crossing over the weekend, according to Israeli and UN authorities.
Israel has repeatedly said fuel would be purloined by Hamas for its own war effort, including rocket attacks.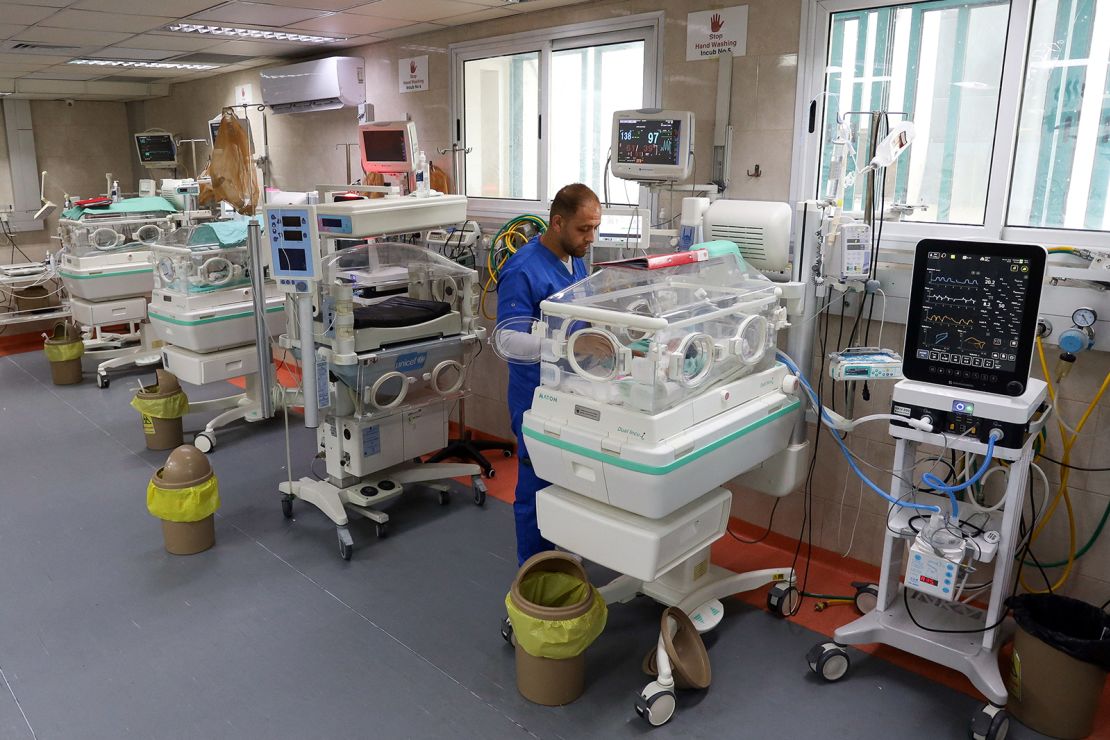 On Monday, Mark Regev, senior adviser to Prime Minister Benjamin Netanyahu, told CNN that Israel would not allow fuel into Gaza even if all hostages were released.
"At the moment we have no interest in more fuel going to the Hamas military machine and we have not authorized fuel, we have authorized medicine, we have authorized water. We've authorized foodstuffs, we've not authorized anything else," Regev said.
"The government decision is that fuel doesn't go in because it will be stolen by Hamas and it'll be used by them to power rockets that are fired into Israel to kill our people."
However, US State Department spokesperson Matt Miller said Monday that while the UN is "watching closely" for signs that Hamas is diverting humanitarian aid meant for civilians in Gaza, they have not reported any such signs to date.
In pictures: The deadly clashes in Israel and Gaza
In Gaza, outbreaks of smallpox, scabies, and diarrhea have emerged due to the deteriorating health environment, lack of sanitation, and consumption of water from unsafe sources, according to the Palestinian Authority Ministry of Health based in the occupied West Bank.
Hospitals are nearing collapse, operating at more than 150% of their capacity and situations have become so dire that surgeries are being conducted without anesthesia, and in some cases, under the illumination of phone lights, the Palestinian Authority health ministry added.
Around 50,000 pregnant women are struggling to access health care, with about 166 unsafe births happening daily, and more than 5,000 women due to give birth in the next month, it said.
The Al-Shifa Hospital in Gaza City – the largest hospital in the enclave – has enough fuel to last a maximum of two days, according to senior surgeon Marwan Abusada on Monday.
Conditions in Al-Shifa are dire, with another doctor saying that without electricity, the hospital "will just be a mass grave" and "there's nothing to do for these wounded."
British-Palestinian surgeon Ghassan Abu-Sittah told CNN overnight that the "system is disintegrating" and without a ceasefire and a proper humanitarian corridor, "there's going to be an even larger catastrophe that the one that already exists here."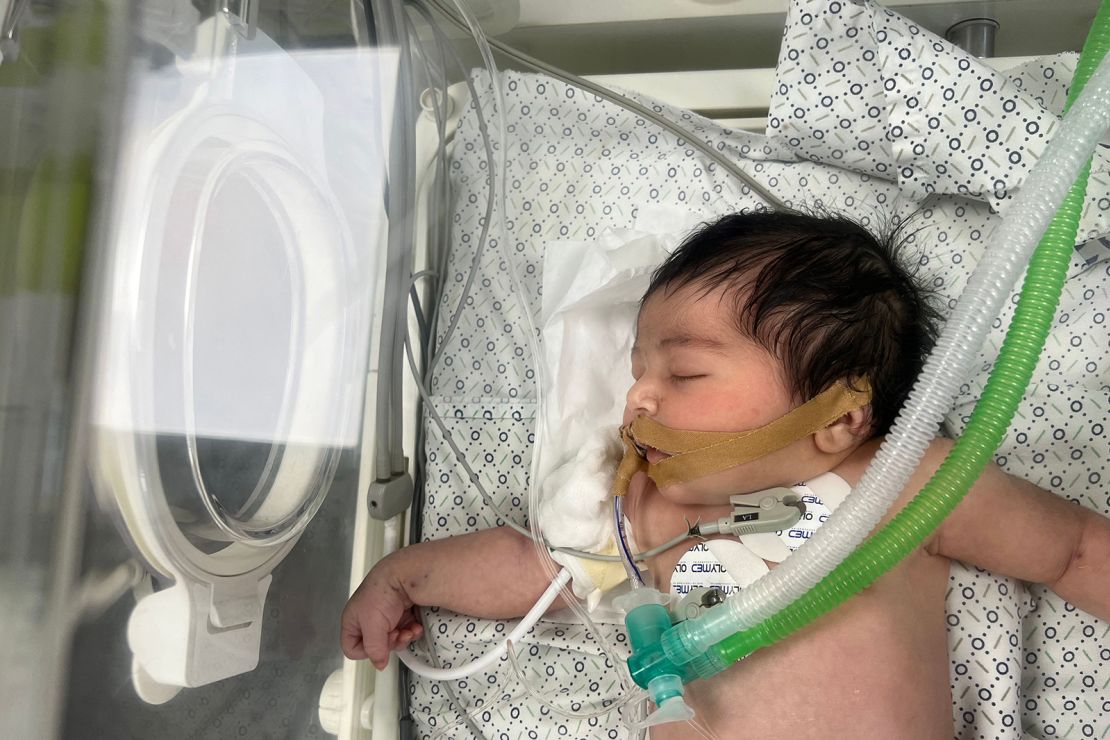 The overwhelmed hospital has run out of burns dressings for the more than 100 patients in the facility with burns covering over 40% of their bodies, Abu-Sittah said. More than 150 patients on ventilators with critical injuries are relying on electricity to stay alive, he said.
Hospitals across Gaza are facing similar situations.
Gaza hospital has over 130 newborn patients but is about to run out of fuel
A neonatal doctor working in a hospital in southern Gaza told CNN Monday that premature babies relying on oxygen supplies will die if fuel is not urgently delivered into the enclave.
Hatem Edhair, head of Neonatal ICU at Nasser Medical Complex, said all non-emergency facilities have been turned off, as well as lights and air conditioning.
He said 11 babies – most weighing under 1.5 kilograms – are in his neonatal intensive care unit, with admission rates rising as residents from northern Gaza flee south.
Twenty more trucks carrying vital relief aid crossed into Gaza Monday, but aid agencies warn that the current rate of delivery will do little to address the needs of more than 2 million people living in the enclave.
The territory normally receives 455 aid trucks per day, according to the United Nations. That means that with the weekend deliveries, Gaza is more than 7,200 truckloads of aid short of what would normally have been received between October 7 and October 22, CNN calculations suggest.
That's half of 1% – or one two-hundredth – of the amount of aid it ordinarily receives.
Family members welcomed the release of two elderly hostages from Hamas custody Monday, while relatives of the hundreds of others captives in unknown conditions in Gaza face an agonizing wait for news of loves ones being held at gunpoint.
Israeli citizens Nurit Cooper, 79, and Yocheved Lifshitz, 85, were released following Qatari and Egyptian mediation, according to two Israeli officials and two other sources briefed on the matter.
The women were abducted from their homes in Kibbutz Nir Oz on October 7, a statement from Israel's prime minister's office said. Their spouses – Cooper's 85-year-old husband Amiram and Lifshitz's 83-year-old husband Oded – were kidnapped alongside them and are still held by Hamas, it added.
Around a quarter of residents from Nir Oz were killed or taken hostage in Hamas' onslaught.
Their release follows that of two American hostages, Judith Tai Raanan and her 17-year-old daughter, Natalie Raanan, who were freed on Friday.
Speaking to CNN Tuesday, a grandson of Lifshitz said she "can hug her grandchildren."
"She is talking, she can walk, she can hug her grandchildren, which we are very happy from that," Daniel Lifshitz said after meeting his grandmother in Tel Aviv.
Asked about the fate of his grandfather held by Hamas, Lifshitz said, "now my grandmother is back but still now I'm more afraid about my grandfather that he's still there, and still no men being released."
On Monday, White House National Security Council spokesperson John Kirby rebutted calls for a ceasefire between Israel and Gaza, telling CNN that Hamas must first release hostages.
"We don't believe that this is the time for a ceasefire. Israel has a right to defend themselves. They still have work to do to go after Hamas leadership, we're going to keep supporting them or giving them more security assistance," Kirby said.
This is a developing story and will be updated.