CNN
 — 

The main United Nations agency working in Gaza said it will be forced to halt its operations by Wednesday evening due to a lack of fuel, exacerbating a humanitarian crisis, as Israeli airstrikes on the besieged strip killed more than 700 people in 24 hours, according to Palestinian officials.
Vital fuel supplies needed to run hospitals, pump and desalinate water and power bakeries are on the verge of running out, prompting the UN Secretary General to call for an immediate ceasefire Tuesday, sparking a fierce row at the United Nations and calls for his resignation by Israel.
Doctors in overwhelmed hospitals on the brink of shutting down have repeatedly warned that waves of new patients injured in the daily bombings and babies relying on oxygen supplies will die if fuel is not brought in.
The deteriorating health environment, lack of sanitation, and consumption of dirty, salty water is raising fears of a health crisis in which people could start dying from dehydration as the water system collapses while bombs continue to rain down.
"If we do not get fuel urgently, we will be forced to halt our operations in the #GazaStrip as of tomorrow night," the UN Relief and Works Agency for Palestine Refugees in the Near East (UNRWA) wrote on social media Tuesday. Gaza needs at least 160,000 liters (42,267 gallons) of fuel a day for basic necessities, UNRWA spokesperson Juliette Touma said.
Just eight out of 20 aid trucks scheduled to cross into Gaza on Tuesday made the journey, UNRWA said. No specific reason was provided as to why the other 12 trucks didn't make it through the Rafah crossing.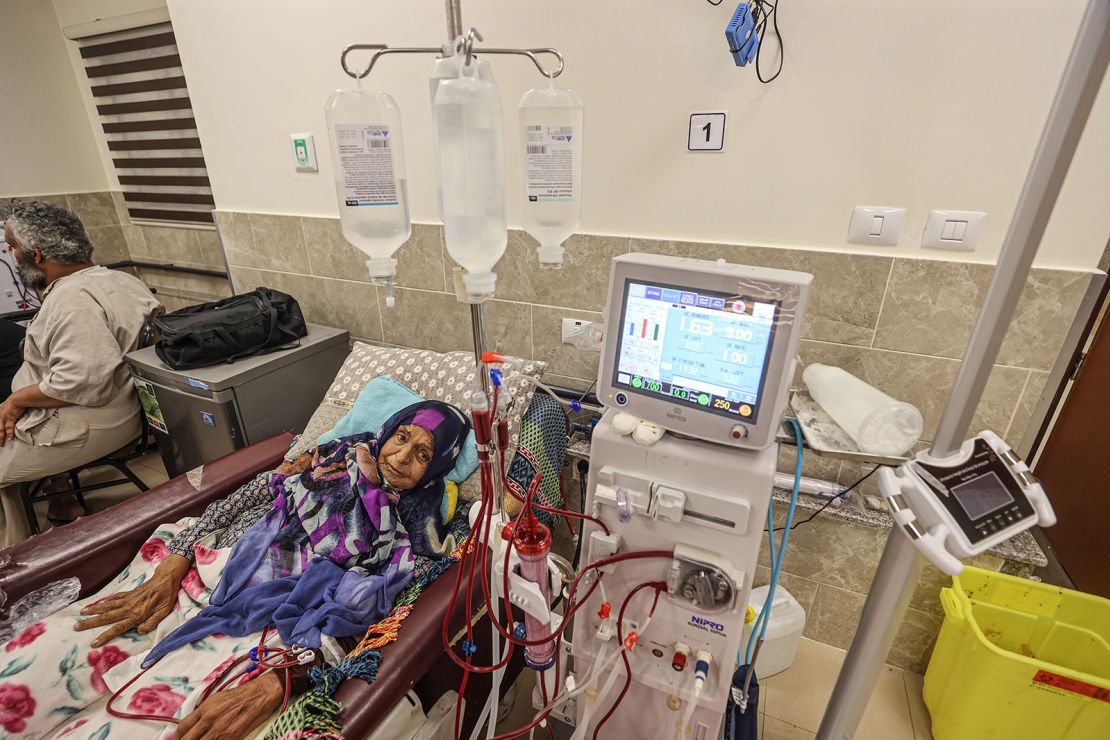 Since the start of the Israeli siege two weeks ago, six hospitals in Gaza have been forced to close due to a lack of fuel, the World Health Organization said on Tuesday.
Among those at risk of dying or suffering medical complications are "1,000 patients dependent on dialysis" and "130 premature babies" and other vulnerable patients "who depend on a stable and uninterrupted supply of electricity to stay alive," WHO said in a statement.
The Israel Defense Forces (IDF) on Tuesday ruled out any fuel being allowed to enter Gaza, saying Hamas would co-opt fuel for its operational infrastructure and to continue its rocket attacks.
Those comments were at odds with earlier remarks from the IDF Chief of Staff Lt. General Herzi Halevi, who said: "We will make sure there will be fuel in places where they need fuel to treat civilians. We will not allow the fuel for Hamas so they can continue fighting against the citizens of Israel."
Israel's leadership has vowed to wipe out Hamas in response to its October 7 deadly terror attacks and kidnap rampage in which 1,400 people, mostly civilians, were killed and more than 200 taken hostage.
In the wake of the assault, Israel launched a sustained aerial bombardment of Gaza that Palestinian health officials say has now killed more than 5,000 people.
More than 700 of those were killed in Gaza in the previous 24-hour period, the highest daily number published since Israeli strikes against what it called Hamas targets in Gaza began two and a half weeks ago, according to the Palestinian Ministry of Health in Ramallah on Tuesday.
Those killed included 305 children, 173 women and 78 elderly individuals, the ministry said.
Some two million people are crammed into the 140 square mile coastal strip that makes up Gaza, half of whom are children.
Emotions ran high at the UN Security Council on Tuesday after Secretary General António Guterres appealed for "an immediate humanitarian ceasefire" saying "the clear violations of international humanitarian law" are witnessed in Gaza.
"Protecting civilians does not mean ordering more than one million people to evacuate to the south, where there is no shelter, no food, no water, no medicine and no fuel – and then continuing to bomb the south itself," Guterres said.
"It is important to also recognize the attacks by Hamas did not happen in a vacuum," Guterres said. "The Palestinian people have been subjected to 56 years of suffocating occupation. They have seen their land steadily devoured by settlements and plagued by violence; their economy stifled; their people displaced and their homes demolished."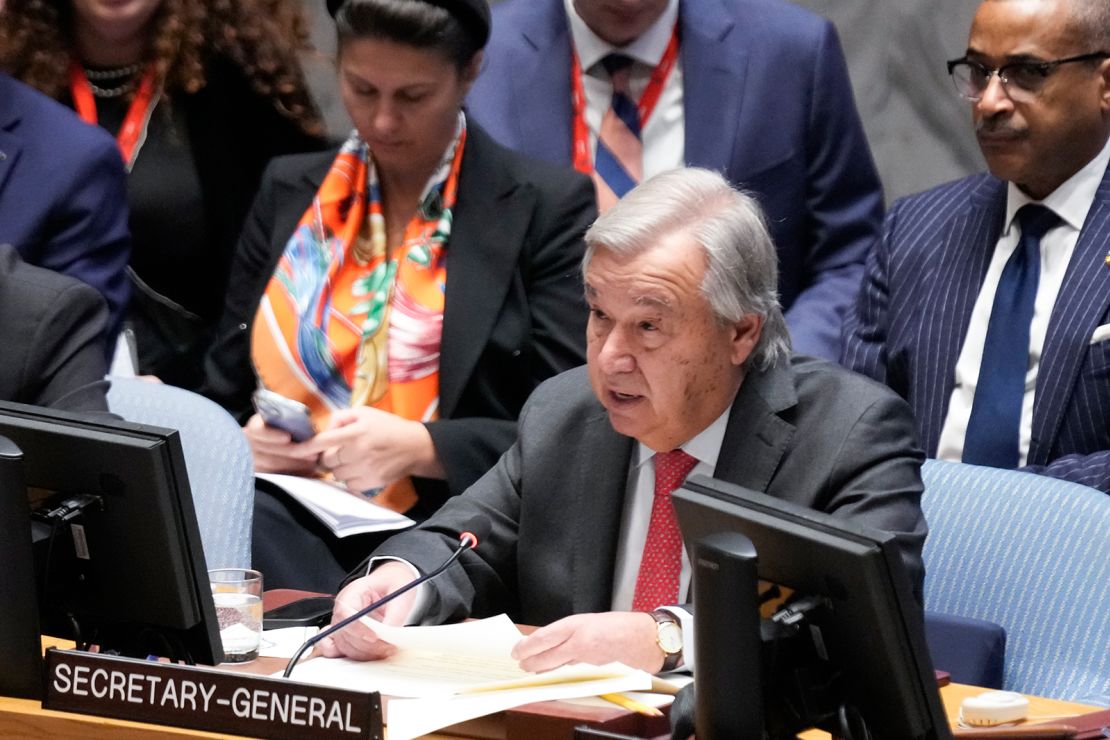 He called Hamas' October 7 murder and kidnap rampage "appalling" but said it "cannot justify the collective punishment of the Palestinian people. Excellencies, even war has rules."
The backlash from Israeli diplomats was swift.
Ambassador to the UN Gilad Erdan called on Guterres "to resign immediately" after his remarks and said he was "not fit to lead the UN," writing on social media. And Israeli Foreign Minister Eli Cohen, who was at the United Nations on Tuesday, said he would not meet with Guterres and that "there is no place for a balanced approach."
"Hamas must be erased off the face of the planet!" Cohen wrote on X, formerly known as Twitter.
As the humanitarian crisis in Gaza deepens, the international community has struggled to find consensus.
The US has rebutted calls for a ceasefire between Israel and Hamas, with National Security Council spokesperson John Kirby telling CNN on Monday that Hamas must first release hostages held in Gaza.
Talks to secure the release of a large number of hostages being held by Hamas in Gaza are ongoing, CNN reported Tuesday, citing two sources familiar with the matter and one Western diplomat familiar with the deliberations, but the talks are being complicated by a number of factors.
The United States, Israel, Qatar, Egypt and Hamas are engaged in the ongoing deliberations. Four hostages – two American and two Israeli – have been freed so far. But the hope now is to reach a deal for a bigger group of hostages to be released at once.
Israel has so far held off on making a ground incursion into Gaza, and the US has pressed Israel to further delay to allow for the release of more hostages held by Hamas.
Foreign Minister Cohen said outside the UN Tuesday it was Israel's mission to bring the hostages home.
"While we are still here, there are babies that are in captivity, twins, holocaust survivors, and we have one mission: To bring them home," Cohen said.
US military advisers have also urged Israelis to avoid an all-out ground assault in Gaza, and steer Israel away from the type of brutal, urban combat the US engaged in against insurgents during the Iraq War, in an effort to keep the Israelis from getting bogged down in bloody, house-by-house fighting, multiple sources familiar with the matter told CNN.
Israeli Prime Minister Benjamin Netanyahu appeared to tell soldiers on Tuesday a ground offensive was still on track, saying, "we stand before the next stage, it is coming."
This story is developing and is being updated.