Gurunanak Jayanti (or Gurupurab) is one of the most awaited festivals for the Sikh community. It usually falls 15 days after Diwali on Karthik Purnima; this year it happens to be on the 19th November 2021. Gurudwaras all over the world are decked up for the celebration and many Punjabi households decorate their homes with lights and diyas. And as legends say that there is no celebration without delicious food, it follows here as well. And here we are talking about the yummy langar dishes. While kadha prasad is an essential part of any langar fare, the decadent langarwali dal is not far behind when talking of an authentic Punjabi spread. Here we bring for you an easy recipe to make langarwali dal at home.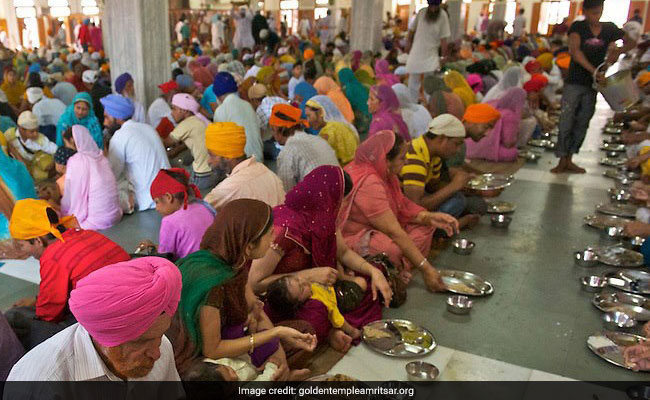 Throngs of devotees have langar especially on Gurunanak Jayanti 
(Also read: Guru Nanak Jayanti 2021: When Is Gurupurab? Date, Purnima Tithi, And Significance; Kadha Prasad Recipe)
While the choice of dishes may vary in different gurudwaras, the idea is to devour a simple home-cooked meal that is nourishing and accessible for all. The langarwali dal is served along with some soft rotis, seasonal vegetables, and some rice. What makes the langarwali dal unique is how simple the recipe is, yet it turns into one of the most luscious and velvety dal that you could dip your rotis into. With a handful of ingredients and a fairly simple recipe, now you can easily enjoy the taste of the unforgettable Langarwali dal at home.
Gurunanak Jayanti 2021: How To Make Langarwali Dal l Langarwali Dal Recipe:
Take the urad and chana dal mix and add to a pressure cooker along with crushed ginger garlic, dry spices, and bay leaf. Cook for 3-4 whistles. Make a tadka by heating oil, adding roughly chopped onions, tomatoes, ginger, garlic, and chillies. Add the pressure-cooked dal to the tadka and let this boil for at least 10 minutes. Once everything is well mixed and mushy, garnish with chopped coriander and serve hot.
Click here for the recipe of Langar wali dal.
Try out the recipe for this simple delicacy and let us know how it turns out in the comments below.