CNN
 — 

Yocheved Lifshitz, one of two hostages recently freed by Hamas, has described her ordeal after being kidnapped by the Palestinian militant group in the brazen October 7 attack, saying she "went through hell."
With her daughter kneeling by the side of her wheelchair, the frail 85-year-old grandmother on Tuesday recalled the moment she was abducted by gunmen on motorbikes after militants broke into her home in the kibbutz Nir Oz.
"It was difficult but we will get through this," Lifshitz told reporters at a news conference at the Tel Aviv hospital where she has been recovering since being freed.
Hamas released Lifshitz and her neighbor and friend Nurit Cooper, 79, on Monday, and later they were reunited with family members who rushed to their bedside at Ichilov hospital in Tel Aviv.
"She's talking, she can walk, she can hug her grandchildren … It is incredible that we see her," said Lifshitz's grandson Daniel, who heard of her release while staying at a hotel in Eilats with other evacuees from Nir Oz.
He said news of the women's release sent a jolt of joy through the hotel and hope that others may be freed soon.
"For this community to see these two old women was just an amazing thing," said Daniel Lifshitz, who took a helicopter from the hotel to see his grandmother in the early hours of Tuesday.
More than a quarter of the Nir Oz community are dead or remain missing after the Hamas terror attack on October 7, which killed more than 1,400 people in barbaric raids, triggering Israeli reprisals that threaten to tip into regional conflict.
The release of the two women takes the total number of captives freed to four, but more than 200 hostages are believed to be trapped in Gaza, some within the labyrinth of Hamas tunnels dug beneath the coastal strip.
The remaining hostages include Lifshitz and Cooper's husbands, Oded Lifshitz, 83, and Amiram Cooper, 85.
Yocheved's daughter Sharone previously told CNN she was "delighted" about her mother's release but fears for her father and others being held.
"My father is there and so many other people we know are waiting for good news about everyone," she said. "We don't know what's going on with them. Not even know if they're alive or what their situation is."
For decades, Lifshitz and Cooper lived within the close community of Nir Oz, once home to 400 people near the Gaza border. Being so close to the barrier fence, it was one of the first communities targeted by Hamas militants – and one of the worst hit.
Rows of houses now stand devoid of life, their windows broken, bedrooms torched, and residents' possessions strewn all around. Video footage shows dried blood smeared on beds and floors, the walls pocked with bullet holes.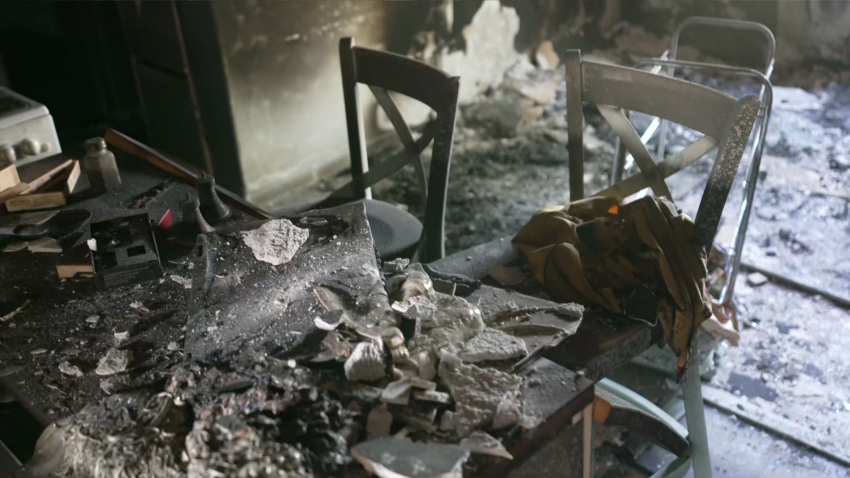 Video shows harrowing images from Nir Oz kibbutz after Hamas attack
Lifshitz is one of the community's founders and worked as a photographer and a teacher at the regional high school, according to a Nir Oz community statement.
Cooper was also a long-term resident and worked in early childhood education and at the local paint factory, the statement said.
Lifshitz and her husband had both been receiving medical care before they were taken, according to their daughter, who spoke to CNN from London's Heathrow airport as she was about to board a flight to Israel.
"They are not the kind of people who can survive without medicine," Sharone Lifschitz said.
"My mom needs oxygen when she sleeps and suffers from a lot of back pain," she said.
On Tuesday, Eti Uziel, head nurse at Ichilov hospital said both women appeared to be in "OK medical condition."
"They will stay with us tonight and tomorrow," Uziel said in a video released by the hospital shortly after the women's arrival.
"Right now, for them and family members, it is a very, very emotional situation, and we are happy that they are here with us."
Remaining hostages

The latest hostage release comes amid growing international pressure on the Israeli government to secure the release of hundreds of others still held captive in Gaza.
They include nationals from countries including Mexico, Brazil, the United States, Germany and Thailand as well as Israeli civilians and soldiers.
Israel has vowed to wipe out Hamas in response to the deadly October 7 attacks, and is starving Gaza of water, fuel and food as it pounds key targets with airstrikes.
So far, more than 5,000 people have been killed in Gaza during the relentless Israeli campaign, according to Palestinian health authorities.
The sustained bombardment of the enclave despite the presence of so many Palestinian civilians has angered Arab nations and drawn condemnation with public protests worldwide.
The US is seeking to delay an Israeli ground offensive in hopes of getting more hostages out and aid into Gaza, according to two sources briefed on discussions. However, a senior Israeli official told CNN there will be "no ceasefire."
US President Joe Biden on Monday called on Hamas to release its hostages before talks could start on a ceasefire.
For the families of those held, there's no time to waste.
Daniel Lifshitz said seeing his grandmother had shown him that other hostages need to be freed as soon as possible.
"I'm telling you we have to be fast, seeing my grandmother like that," he said.
"The clock is ticking and… bringing all those hostages back is so evident now – it's the top mission now for everybody."
This is a developing story and will be updated.