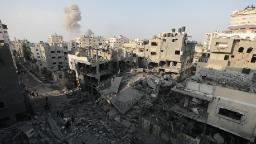 Israel has "crossed the red lines" in Gaza, which "may force everyone to take action," Iran's President Ebrahim Raisi said Sunday, while US national security adviser Jake Sullivan warned of an "elevated risk" of a spillover conflict in the Middle East.
Experts say that while Iran is wary of being dragged into the Israel-Hamas war, it may not be in full control if the militias it backs in the region — like the Lebanese paramilitary group Hezbollah — independently intervene as Hamas suffers heavy blows and the death toll in Gaza continues to mount.
"What connects all these groups to Iran is their anti-Israel policies," said Sima Shine, head of the Iran program at the Institute for National Security Studies in Tel Aviv, noting that while Iran has varying levels of influence over the groups, it doesn't dictate all their actions.
Raisi's comments were not the first warning from an Iranian official of the potential for a broader conflict.
Iranian Foreign Minister Hossein Amir-Abdollahian has also warned that Israel's bombardment of Gaza could have far-reaching consequences, saying that if Israel does not halt its airstrikes, "it is highly probable that many other fronts will be opened."
"This option is not ruled out and this is becoming increasingly more probable," he told Al Jazeera in a recent interview.
Last Monday, Abdollahian said the US has sent Iran two messages regarding escalation in the region.
"The first message said that the United States is not interested in expanding the war, and the second message asked Iran to have self-restraint and insisted that Iran should also ask other countries and other sides to have self-restraint," Abdollahian said during a news conference in Tehran, without saying how and when the messages were delivered.
He added that while the US says it wants to de-escalate, it has contradicted itself by continuing to support Israel.
Trita Parsi, vice president of the Quincy Institute in Washington, DC, said there is no appetite or desire from either Iran, the US or Israel for a wider war, but that Washington's failure to restrain Israel may inadvertently drive the region toward escalation.