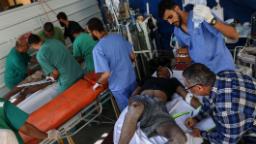 Israel will halt visas for UN officials following comments made by Secretary-General António Guterres about the crisis in the Middle East, Israel's ambassador to the UN said on Wednesday.
Among his remarks Tuesday to the Security Council, Guterres said Hamas' October 7 attacks on Israel "did not happen in a vacuum."
"As a result of this, we will refuse visas to UN representatives," Ambassador Gilad Erdan told the Israeli Army Radio on Wednesday.
Israel has already rejected a visa application by the UN Under-Secretary-General for Humanitarian Affairs and Emergency Relief Coordinator, Martin Griffiths, he said.
"It's time we teach them a lesson," Erdan added.
Guterres said Hamas' attack on southern Israel came amid years of "suffocating occupation" suffered by Palestinians at the hands of Israeli forces. They "have seen their land steadily devoured by settlements and plagued by violence," he added.
Hamas raided parts of southern Israel earlier this month, killing at least 1,400 people and abducting more than 200 others, according to Israeli authorities. It represented the most deadly attack by militants in Israel's 75-year history and represented a staggering intelligence failure by Israeli authorities.
Israeli strikes have since killed more than 5,000 people in Gaza, including 2,055 children, according to the Palestinian health ministry.
Israel's fierce bombardment and complete blockage on the Palestinian enclave have flattened entire neighborhoods, depleted the health care system and endangered the lives of civilians who face severe dehydration and starvation. Israel's "collective punishment" of Gaza civilians amounts to a war crime, Amnesty International said.
The Palestinian Ministry of Foreign Affairs said Israel's criticism of Guterres was "unjustified" and represented a "lack of respect and compliance practiced by the occupying state against the United Nations."
Griffiths, the U.N. Emergency Relief Coordinator, has been unequivocal in his call to help Palestinian civilians in Gaza.
"I reiterate the Secretary General's call for an immediate humanitarian ceasefire to ease the epic human suffering in #Gaza," he said on Tuesday.
"If we are to prevent any further descent into this humanitarian catastrophe, dialogue must continue," he wrote on X, formerly known as Twitter.
CNN has reached out to the UN for comment.
CNN's Mariya Knight and Richard Roth contributed reporting.