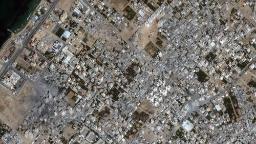 The Israel Defense Forces will continue ground raids into Gaza in the coming days to prepare for the next stages in Israel's war against Hamas, IDF spokesperson Rear Adm. Daniel Hagari said Thursday in a televised news conference.
The purpose of Israel's ground operations is to kill Hamas militants, lay the foundations for an all-out invasion and neutralize explosive devices and reconnaissance posts, according to Hagari.
Hagari's comments come after the IDF said it carried out a "targeted raid" overnight in northern Gaza using tanks.
Hagari also said the IDF continues its strikes against Gaza from air and sea, and is focusing on killing senior Hamas commanders and destroying Hamas infrastructure.
When asked about US involvement in the Israeli forces' decision-making related to ground operations, Hagari said, "We're constantly in touch with the US. The IDF chief of the General Staff speaks almost on a daily basis with the commander of the US Centcom."
"It is true that US advisers arrived. … They have a lot of experience. We're listening, it's good to learn and to listen. But our war is right in our borders, not thousands of miles away," Hagari added. "We also know Gaza very well. Eventually, this is Israel's decision. And Israel understands that it needs to fulfill the aims of the war."
On Gaza's dwindling fuel supplies: Hagari also reiterated that Israel would not allow fuel into Gaza for now, saying that Hamas' arrays are "struggling to function" without fuel and blaming Hamas for stealing fuel from a facility belonging to the main United Nations agency aiding Palestinians, UNRWA.
Israel has also disputed that there are fuel shortages in Gaza. Responding to a post from UNRWA about low supplies, the IDF on Tuesday posted an aerial photo of what it said were fuel tanks in Gaza, claiming they held more than 500,000 liters of fuel. CNN is unable to verify the IDF claim.
"The facility that was posted (on Tuesday) is located in Rafah and belongs to UNRWA. … We supervise it aerially and together with UNRWA. Again, we're not striking UNRWA. On the contrary, we're making an effort along with the international community to ensure that south of Wadi Gaza, there will be conditions that allow the civilian population to access water, food and drugs," he said.
UNRWA said Thursday that its operations are being "paralyzed" in Gaza due to the lack of fuel.
CNN cannot independently verify the amount of fuel in Gaza.