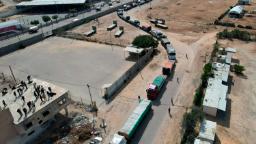 China's top diplomat Wang Yi told Israeli Foreign Minister Eli Cohen in a phone call on Monday that "all countries have the right to self-defense, but they should abide by international humanitarian law."
Wang had previously accused Israel of going "beyond the scope of self-defense."
"The current top priority is to prevent tensions from escalating further and leading to a more serious humanitarian disaster," Wang told Cohen, according to a readout posted by China's foreign ministry on Tuesday.
In the call, Wang said the "two-state solution" is the international community's consensus and urged both the Israelis and the Palestinians to resume peace talks for "peaceful coexistence."
"China has no selfish interests on the Palestinian issue. We sincerely hope that the Palestinian issue can be fairly and comprehensively solved on the basis of the 'two-state solution,'" Wang added. 
Some context: Although China has developed close economic ties with Israel in recent years, its support for Palestinians dates back decades to the Mao era. Beijing was one of the first countries to recognize the Palestinian Authority and has repeatedly backed the Palestinians in votes at the UN.
Wang's call with Cohen comes after Yuval Waks, Deputy Chief of Mission of the Israeli Embassy in Beijing, said last week that the sentiment in China has been "very anti-Israeli and, in many cases, antisemitic."
China has condemned "all acts that harm civilians," but it has not explicitly targeted that condemnation at Hamas, nor named the group in its statements, contrary to many Western nations.