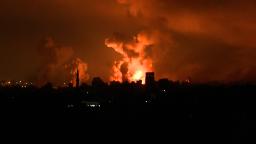 A new, exclusive CNN analysis, aided by artificial intelligence (AI), has identified a significant amount of the destruction across Gaza in satellite imagery. 
Large swaths of buildings around Gaza City, Beit Lahya and Beit Hanoun have been destroyed. A big amount of the damage that CNN was able to confirm is in northern Gaza.
Hundreds of craters across northern Gaza have also been identified.
CNN was able to identify the areas of destruction in Gaza through satellite imagery from Planet Labs, and by working with Synthetaic — a company that utilizes AI to identify and classify data, including satellite imagery.
Using imagery of the entire Gaza Strip from Planet Labs, Synthetaic is analyzing and comparing it through its proprietary AI-driven Rapid Automatic Image Categorization (RAIC) system, looking for destruction such as damaged and destroyed buildings, as well as impact craters. Aided by what RAIC identified as destruction, CNN is taking the Planet Labs imagery and conducting its own analysis to independently confirm the destruction.
The result is a snapshot of the destruction that's occurred across Gaza.  
CNN's analysis is continuing, and is expected to identify other areas of destruction across Gaza, especially as the Israel Defense Forces continues to expand its ground operations there. It also differs from CNN's previously analysis, which used Sentinel-1 synthetic aperture radar to determine damage.
A total, comprehensive map of the destruction in Gaza is impossible without an on-the-ground survey.