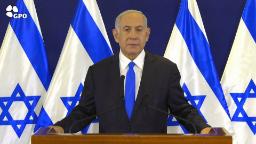 CNN
 — 

In his more than three decades in politics, Benjamin Netanyahu has accrued almost as many nicknames as he has election wins.
There's "The Magician" for his uncanny ability to grab victory from the jaws of defeat. "King Bibi" for staying atop Israeli politics longer than anyone else. And, universally, though not necessarily affectionately: plain old "Bibi". But there is another one he revelled in, and which now appears in tatters: "Mr Security." How did it all go so wrong?
It remains unclear as to how more than 1,000 Hamas militants managed to take Israel by such devastatingly deadly surprise, murdering – as President Isaac Herzog wrote – more Jews in one day than at any time since the Holocaust.
And for now, Netanyahu's opponents are not calling for Netanyahu to step down. "I'm not dealing now with who is to blame or why we were surprised," said former Prime Minister Yair Lapid, now leader of the opposition. "It's not the time, it's not the place."
But that time and place will come. Indeed, according to Amit Segal, chief political commentator for Israel Channel 12, the surprise would be if Bibi's prime ministership survives this war. "It would set a national precedent," he told CNN. "Israeli history has taught us that each and every surprise and crisis led to the collapse of the government. That was the case in 1973 [after the Yom Kippur War] with Golda Meir, in 1982 with Menachem Begin in the first Lebanon war, and in 2006, with Ehud Olmert, in the second Lebanon War. The clock is ticking."
History certainly provides a useful comparison: the last time Israeli intelligence failed to anything like this degree – and with so many casualties – was almost 50 years ago to the day, when Egypt and Syria invaded Israel on Yom Kippur.
That, though, was a war "that followed some kind of logic of norms and rules", said Yohanan Plesner, president of the Israel Democracy Institute. "We negotiated peace with [Egyptian] President Sadat a few years later, with majority support of the Knesset. We're not going to negotiate any peace with Hamas. It's a different ballgame altogether."
Some kind of negotiation – probably through intermediaries, such as Egypt – is inevitable. Even as Israel pummels Gaza with airstrikes, imposes a "complete siege" on the enclave, and prepares for a possible ground invasion to decimate Hamas, Netanyahu also needs to find a way to free the 150 or so hostages being held by the militants inside Gaza.
This would have been a tall order in Netanyahu's prime. But after 10 months of facing down protests against his controversial and divisive judicial overhaul, his corruption case – and a near-death experience – this is battered and beaten Bibi, not the vintage version.
It may come as scant consolation to him that Hamas has managed to reunite Israel. Or that, as Plesner told CNN, "The last thing Israelis care about right now is Netanyahu's political career," said Plesner, who also serves in the reserves of the Israeli special forces, where he is a major.
It's also worth remembering that Bibi has been written off countless times before – only for him to return, Terminator-like, to trounce his opponents. This time, though, feels different. This time, he's been forced into a war he didn't choose when he may have been distracted by other things.
Focusing on the judicial overhaul "didn't help", said Channel 12's Segal. But this invasion by Hamas, he says, would have been planned 12 to 18 months ago – when Netanyahu was in opposition. The miscalculation, he said, was that Hamas was after economic concessions, and a softening of Israel's blockade on Gaza. "At the end of the day it's a Nazi regime looking to destroy us all. And you can't live with a monster in your backyard."
Whether Netanyahu and the Israel Defense Forces IDF is able to slay the monster may become clearer in the coming days and weeks. He might succeed in forming a national unity "emergency" government that would insulate him from any calls to step down. In the short term, this could marginalise what Lapid describes as the more "extreme" and "dysfunctional" elements of Netanyahu's coalition. But even if they do move to the sidelines, their ideas may live on.
Such has been the shock and anger over Hamas' spectacular assault that Israeli voters may ben open to more extreme ideas. "A certain portion of the population will expect a very, very harsh response," says Plesner, "and it will be based on a zero-sum game: it's either us or them." And this time, "Mr Security" may fail to deliver.