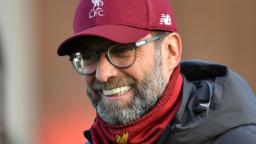 The striker came on in the second half of Wycombe Wanderers' 2-1 victory over Oxford United in the League One play-off final, a result which means Wycombe will be playing in the Championship next season for the first time in the club's history.
And in the post-match interview, Liverpool fan
Akinfenwa
asked Klopp "to hit him up on WhatsApp" so that they could "celebrate together." The German duly obliged.
"Hello big man. Congratulations. I watched the game but I didn't see the post-match interviews but Hendo (Jordan Henderson) or my players told me to get in contact with you on WhatsApp so here we go," Klopp
said
in a video posted by Akinfenwa on social media, which has been viewed over a million times.
"Congratulations! I'm pretty sure your whole life you wanted to be at least a Championship player and now, finally, you are there. Well done. Great, great victory. Even in these strange times I hope you celebrate appropriately."
In the video Akinfenwa posted on Twitter, he is watching the video still in his Wycombe kit and replied to the video saying: "Come on! Klopp you're a legend! We did it, I told you it would be up on WhatsApp, we celebrate together. You'll never walk alone! Beast mode!"
Akinfenwa was out of contract at the end of that season in 2016 and had been told before the League Two play-off final that his contract wouldn't be renewed, so he said he was "technically unemployed."