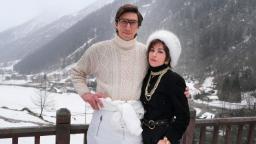 As well as whetting appetites for the upcoming production, the photo captured imaginations on social media thanks to the retro outfits worn by the singer and her co-star Adam Driver, who play Patrizia Reggiani and her fashion mogul ex-husband Maurizio Gucci, respectively.
Based on the novel "The House of Gucci: A Sensational Story of Murder, Madness, Glamour, and Greed," the crime movie is about the famous family dynasty and recounts the real-life downfall of Reggiani, who was convicted of plotting Gucci's murder. The fashion boss was shot outside his office in Milan in 1995, with his ex-wife sentenced to 29 years in prison for orchestrating the assassination.
Wearing a white fur hat, and draped in gold jewelry, Gaga casts a striking resemblance to the Italian socialite. She simply captioned the image "Signore e Signora Gucci," or "Mr. and Mrs. Gucci."
The movie, which is currently being filmed in Italy, is set for release in November and also stars Al Pacino, Jeremy Irons and Jared Leto.
Gaga's last major on-screen role was in "A Star Is Born," which saw her win an Academy Award for best original song and a nomination for the best actress Oscar.