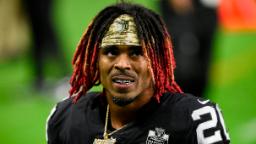 The 25-year-old Arnette, who has been on injured reserve since week 4 of the NFL season, was a Raiders' first-round pick out of Ohio State in 2020. He leaves the team having played 13 games over two seasons.
"Today, we waived Damon Arnette — a very painful decision," Raiders General Manager Mike Mayock said on a conference call on Monday.
"We spent significant time, effort and resources trying to help him in all facets of his life. There have been a series of bad decisions over the last year or so, but we can't stand — we cannot stand — for the video of Damon with a gun, threatening to take a life."
The decision to waive Arnette means the Raiders no longer have their top two picks from 2020 after wide receiver Henry Ruggs III was released last week.
"We just lost Ruggs and Arnette, our two first-round picks, in the period of seven days," said Mayock. "Am I sick to my stomach right now on a lot of levels? Yes."
Mayock added that there was "significant concern" over Arnette's character when the Raiders considered drafting him out of Ohio State and that the team spent "an awful lot of time trying to understand his behavior."
"We found the risk acceptable after doing more homework on Arnette than anybody we've done in the years I've been here, and obviously, we missed. And that is 100 percent on me," said Mayock.
Arnette is also facing a lawsuit over a 2020 traffic accident in the Las Vegas metro area, according to multiple reports. His attorney
told TMZ
that he denies the allegations.
CNN has contacted Arnette's representatives for comment.