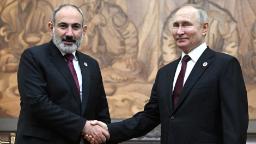 CNN
 — 

The crisis in Nagorno-Karabakh has come amid a sharp deterioration in the relationship between historic allies Armenia and Russia, and has been amplified by sometimes incendiary commentary from prominent individuals in Moscow.
Armenian Prime Minister Nikol Pashinyan and other officials in Yerevan have accused Russia of failing to deliver on its security commitments to Armenia, after Azerbaijani forces launched what it called "anti-terrorist" operations against the ethnic Armenian community in Nagorno-Karabakh, before a ceasefire was agreed Wednesday.
Pashinyan criticized Russia for not alerting him to Azerbaijan's military plans, saying it was "strange and perplexing" that his government did not receive "any information from our partners in Russian about that operation."
Armenia has for decades trusted Russia to act as its sole security guarantor, but has recently grown frustrated by what it sees as the ineffectiveness of Russia's peacekeeping force in Nagorno-Karabakh, which was laid bare on Tuesday. But Russia has in turn been angered by Armenia's attempts to forge new international partnerships, most recently through holding joint military exercises with the United States.
Armenia's Security Council Secretary Armen Grigoryan accused Russian peacekeepers of failing to protect Nagorno-Karabakh from Azerbaijani aggression, according to state media Armenpress.
The Kremlin rejected Armenia's criticisms of the Russian peacekeeping contingent. "Such accusations against us are unfounded," spokesperson Dmitry Peskov said Wednesday.
Ties between Moscow and Yerevan have been fraying for some time but in recent weeks have worsened significantly. Earlier this month, Armenia sent humanitarian aid to Ukraine for the first time, with Pashinyan's wife, Anna Hakobyan, making an official visit to Kyiv.
"We are not Russia's ally in the war with Ukraine," Pashinyan told CNN Prima News in an interview in June. "And our feeling from that war, from that conflict, is anxiety because it directly affects all our relationships."
Russian commentators and politicians have been highly critical of Armenia's leadership, at times mocking it for its inability to protect ethnic Armenians beyond its border – and expecting Russian peacekeepers to defend Nagorno-Karabakh where Yerevan cannot.
Former Russian President Dmitry Medvedev is among the most vocal critics. In a Telegram post, he derided Pashinyan. "He lost a war [a reference to the 2020 conflict between Azerbaijan and Armenia] but in some strange way stayed in place. Then he decided to shift the responsibility for his talentless defeat onto Russia. Then he rejected a piece of the territory of his own country. Then he decided to flirt with NATO."
"Guess what fate awaits him," Medvedev added.
The prominent Russian military blogger Rybar said Armenia was over reliant on Russia to provide security for Nagorno-Karabakh. "Actions are expected from Russian peacekeepers – who are consistently discredited by pro-Pashinyan nationalists," Rybar commented.
Russia purports to provide security to Armenia through the Collective Security Treaty Organization (CSTO), a military alliance of post-Soviet states that includes Armenia but excludes Azerbaijan.
Margarita Simonyan, editor-in-chief of state television network RT, wrote on Twitter "Karabakh. Tragic, hopeless and predictable. The Armenian authorities handed over the Armenian shrine with their own hands… The fate of Judas is unenviable."
Simonyan also wrote on Telegram about protests in Yerevan. "The crowd chants: 'Nikol is a traitor.' They've woken up. The Armenian, who came to power with anti-Russian slogans – is a traitor by definition. A traitor of Armenian interests, not Russian. Russia will get by without Armenia. Armenia without Russia – no."
Pashinyan came to power in 2018 on the back of Armenia's "Velvet Revolution" – an outpouring of anger against lingering corruption and cronyism in the former Soviet republic.
Vladimir Solovyov, one of the most prominent anchors on Russian television, also slammed Pashinyan's government.
"The scum that shouts something against Lavrov or Putin – why they do not want to go and die for Karabakh where Armenians always lived?… No, they want some Russian Ivan to go and die instead of them," Solovyov said.
"Where was Armenian army? They are training with Americans. So how did Americans help you?" he asked.
The independent Russian media project Meduza said it had obtained a guidance document from the Kremlin circulated Tuesday to state media outlets, which recommended blaming Armenia and Western countries for the aggravation of the conflict in Nagorno-Karabakh, rather than Azerbaijan.
Meduza said that according to the document the Kremlin also stressed that "the Armenian leadership recognized the sovereignty of Azerbaijan over Karabakh," but that Pashinyan had been pushed towards a more radical stance by his Western partners "who should fully share with him the responsibility for the consequences."
CNN cannot confirm the authenticity of the document, but its guidance appears to have been closely followed by multiple commentators.