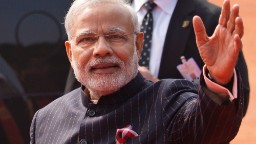 Father: Damodardas Modi
Mother: Hiraba "Heeraben" Modi
Marriage: Jashodaben (Chimanlal) Modi (1968-present, separated)
Education: Delhi University, B.A., 1978; Gujarat University, M.A., 1983
Other Facts
Left home in his late teens to travel India, stay in ashrams and wander the Himalayas.
First prime minister born in independent India.
Timeline
June 1975 – Prime Minister Indira Gandhi imposes a period of emergency as she faces a political crisis. Civil liberties are restricted, media is censored, and protesters are arrested. Modi becomes involved in the movement to restore those rights.
1987 – Enters mainstream politics and joins the Bharatiya Janata Party (BJP) as organization secretary of the Gujarat unit in western India.
October 3, 1995 – Becomes the national secretary of the BJP.
January 5, 1998 – Is promoted to become the national general secretary of BJP.
2005 – The United States declines to issue a diplomatic visa to Modi for his suspected role in the 2002 riots.
June 2013 – Modi is chosen as the BJP leader and campaigns for the 2014 general elections.
May 26, 2014 – Takes the oath of office as prime minister.
January 25-27, 2015 – Obama becomes the first sitting US president to visit India twice. During the three-day visit, Obama and Modi negotiate a civil nuclear deal, a ten-year defense cooperation agreement between the two countries.