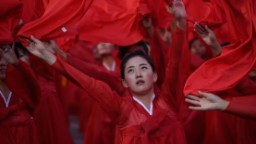 Capital: Pyongyang
Unemployment rate: 25.6% (2013 est.)
Other Facts
The United States does not have any diplomatic representation in North Korea. The Swedish Embassy represents the United States as consular protecting power.
Timeline
1910-1945 – Japan controls the Korean peninsula.
1945-1994 – Kim Il-Sung is the country's first leader.
1948 – Separate governments for the northern and southern parts of the Korean peninsula are established after an international stalemate fails to resolve the issue.
2000 – Kim Dae Jung, the leader of South Korea, and Kim Jong Il meet for the first time since the country was separated 50 years earlier.
December 11, 2007 – Freight trains begin crossing the border between North and South Korea, resuming a regular service that last ran in the 1950s.
December 28, 2008 – The freight trains that began crossing between the border of North and South Korea in December 2007 suspend service due to souring relations between the two countries, dashing hopes of reconciliation.
March 8, 2009 – The Supreme People's Assembly holds elections, delayed since August 2008. Kim Jong Il is unanimously reelected in his district, with a reported 100% voter turnout.
May 20, 2010 – South Korea formally accuses North Korea of firing a torpedo to sink the Cheonan, a South Korean Navy ship, in March, killing 46 sailors. North Korea denies responsibility and warns that any retaliation would lead to "all-out war."
September 28-29, 2010 – North Korea's ruling party, the Workers' Party of Korea, meets for the first time since 1980. Kim is reelected as general secretary of the party.
November 23, 2010 – North Korea launches artillery at Yeonpyeong Island in South Korea, killing two South Korean marines.
February 7-9, 2011 – Military officials from both North and South Korea meet at the demilitarized zone (DMZ) on the border to defuse tensions and restart international aid talks without much success.
April 29, 2011 – The UN World Food Programme announces plans to begin emergency food distribution to 3.5 million North Koreans, primarily women and children, who are starving after a harsh winter destroyed crops.
December 17, 2011 – Kim Jong Il dies at the age of 69.
January 22, 2013 – The United Nations condemns the recent North Korean rocket launch and expands existing sanctions against North Korea with Resolution 2087.
January 24, 2013 – North Korea's National Defense Commission says it will continue nuclear testing and long-range rocket launches, all of which are a part of an "upcoming all-out action" aimed at the United States, "the sworn enemy of the Korean people."
March 11, 2013 – A spokesman for the North Korean military announces the 1953 armistice agreement is being "scrapped," citing US-led international moves to impose new sanctions against it over its recent nuclear test.
March 27, 2013 – North Korea cuts its military hotline with South Korea. Earlier in the month a Red Cross hotline through Panmunjom is cut.
March 11, 2015 – The Russian Foreign Ministry announces an agreement that 2015 will be a "Year of Friendship" between the two countries and that Kim will visit Moscow.
March 26, 2015 – North Korea claims to arrest two South Korean men for "spying" and accuses them of collecting intelligence and military secrets from North Korea.