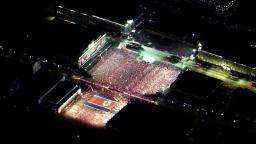 Hong Kong
CNN
 — 

North Korea displayed almost a dozen advanced intercontinental ballistic missiles at a nighttime military parade on Wednesday, in what state-run media said was evidence of the country's "largest nuclear attack capability."
The missiles were paraded through Pyongyang's Kim Il Sung square as leader Kim Jong Un, accompanied by his wife, and a young girl believed to be his daughter looked on.
The widely anticipated event, which marked the founding anniversary of the North Korean army, comes less than two months after leader Kim called for an "exponential increase" in his country's nuclear arsenal in response to what he claims are threats from South Korea and the United States.
Last year saw North Korea test more missiles than at any time in its history, including an intercontinental ballistic missile (ICBM) that could in theory strike the US mainland.
That missile, the Hwasong-17 is what analysts said was showcased in unprecedented numbers on Wednesday night.
"It looks like 10-12 Hwasong-17 ICBMs made an appearance. This is cumulatively more ICBM launchers than we've ever seen before at a North Korean parade," Ankit Panda, a nuclear policy expert at the Carnegie Endowment for International Peace, said on social media.
Before the parade, commercial satellite images from Maxar Technologies showed at least 17 of what were believed to be mobile ballistic missile launchers lined up in preparation for the parade.
Besides the ICBMs, North Korean state media said the parade featured tactical missiles and long-range cruise missiles.
The Kim regime uses its military parades to shore up domestic support for its military programs while sending a signal to the United States, South Korea and others that it is prepared to strike back at any attack.
Wednesday night's parade followed a lavish banquet a night earlier at which Kim put a girl believed to be his daughter Ju Ae in the spotlight, the latest sign the girl is possibly being groomed as his eventual successor.
Pictures published by state media showed the girl walking next to Kim and her mother as they entered the venue for the banquet while military officers applauded.
At the banquet, the girl was seated in the center of the lead table between Kim and her mother.
In a country where the Kim family and the military are all powerful, the presence of the girl at such an important event sends clear signals, said Leif-Eric Easley, a professor at Ewha University in Seoul, the Ewha University professor.
"By ostentatiously including his wife and daughter, Kim wants observers at home and abroad to see his family dynasty and the North Korean military as irrevocably linked," he said.