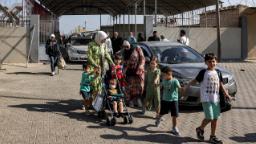 An 81-year-old Palestinian-American woman received clearance to exit the Gaza Strip – but is unable to do so without support for her medical needs, her attorney Ghassan Shamieh told CNN on Thursday.
Her grandson, Said Bsieso, says his grandmother is running out of time.
"She's probably lost like 30 pounds at least," he said at a news conference in San Francisco Thursday. "She's running out of medication and… I don't know if she can handle a trip back here by herself."  
Shamieh said the woman's son traveled from Gaza to California to escort her for the visit to Gaza in August, but since he is not a US citizen and his US visa is now expired, he is unable to escort her out. 
The attorney declined to detail the woman's ailments but said her age, combined with a lack of food, water and medication has challenged her mobility.
He is calling on the US State Department to provide the woman with the medical supervision she needs to exit Gaza safely.
"We think that the US has an obligation to evacuate its citizens safely," he said. 
Some background: Between 20 and 25 US citizens arrived Thursday on the Egyptian side of the Rafah crossing from Gaza, an Egyptian border official told CNN.
Overall, 341 foreign nationals crossed on Thursday, the official said. 
The exodus of the foreign nationals was the result of a deal announced Wednesday brokered by Qatar between Israel, Hamas and Egypt, in coordination with the US, that allows for the departure of those individuals, alongside critically injured civilians from Gaza, according to sources familiar with the talks.