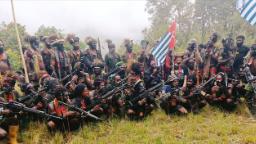 Sydney/Hong Kong
CNN
 — 

A hostage video released by West Papuan independence fighters Friday includes a warning from captive New Zealander Philip Mehrtens, saying the group is ready to kill him.
The rebels took the pilot captive in February, demanding seccession talks with Indonesia involving regional powers Australia and New Zealand.
"If it does not happen within two months then they say they will shoot me," Mehrtens says in the video released by group spokesperson Sebby Sambom.
The hostage video shows Mehrtens holding the West Papuan flag and surrounded by over two dozen fighters brandishing machine guns.
CNN has reached out to authorities in Indonesia, New Zealand and Australia for comments.
The West Papua National Liberation Army, or TPNPB, has periodically released updates about Mehrtens since it captured him after he landed a commercial Susi Air charter flight at the remote Paro Airport in Nduga regency.
But the latest footage comes in stark contrast to a previous clip released by the group in which he said he was "alive and well."
In one previous clip, the pilot urged the Indonesian authorities to stop ongoing airstrikes that put him at risk in the Nduga Regency, where he is being held.
"I am healthy. I have been eating well, drinking," he said at the time, adding: "I live with the people here – we travel together as required, we sit together, we rest together."
In a statement accompanying that video, the rebel group's spokesman said the pilot's release "must go through negotiations – not through military operations".
The group has been designated a terrorist group by the Indonesian government, which has a heavy and controversial military presence in Papua.
The region came under Jakarta's control following a widely disputed 1969 vote overseen by the United Nations.
Unrest in the impoverished but resource-rich region has escalated in recent years as separatist fighters demand independence.
Last month, the group claimed it had killed at least 13 Indonesian military soldiers after the army sent troops in search of the captured New Zealand pilot, while separately executing nine others caught in the Yal district.
Indonesia's military said one of their soldiers had been killed while combing the area near where Mehrtens is believed to be held.