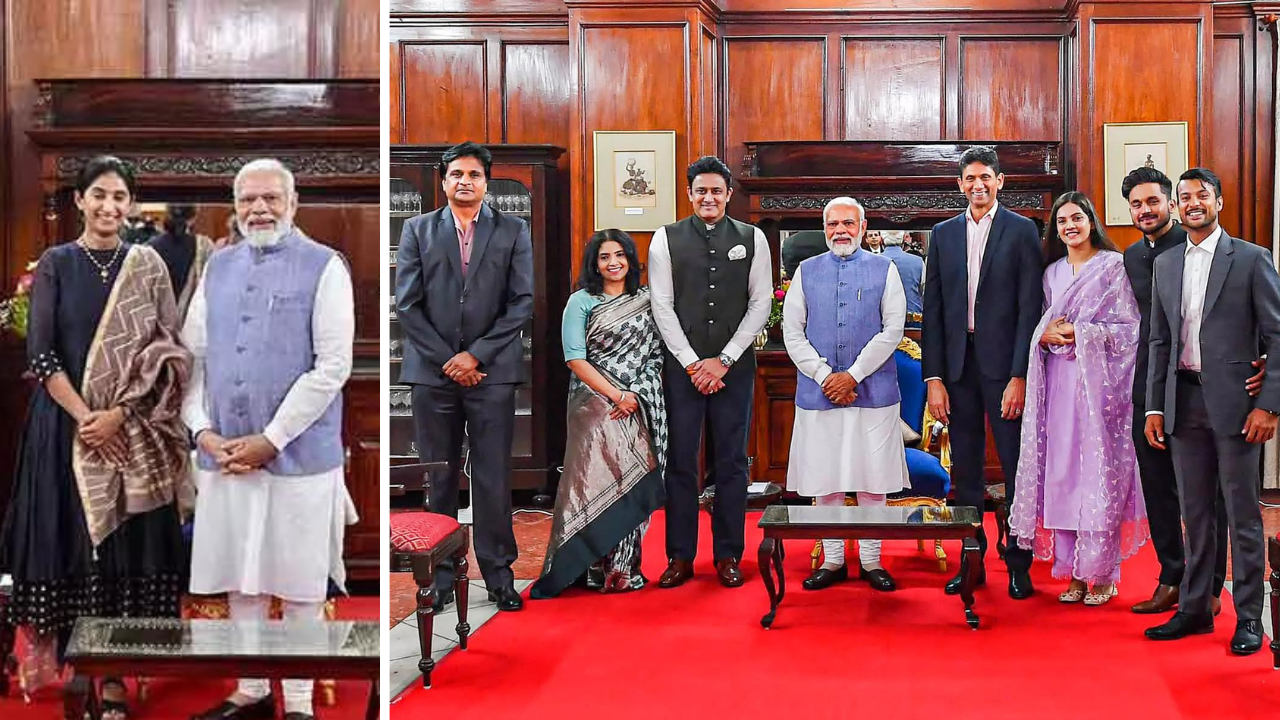 NEW DELHI: A bevy of celebrities and personalities made a beeline to the Raj Bhavan in Bengaluru on Sunday where Prime Minister Narendra Modi played the perfect dinner host and won the hearts of his guests with unparalleled charm and witty remarks.
From inviting a former legendary cricketer to click photos of cheetahs to discussing inclusion of sports in school syllabus, from praising 'Kantara' to recognising cinema as a soft power, from surprising a comedian with her popular catchphrase "Aiyyo" to talks regarding access to capital for start-ups, all were part of PM Modi's charm offensive with noted personalities from various fields.
Karnataka is headed for assembly elections in April-May, with the ruling BJP going all out to retain power in the state.
PM Modi met with Kannada actors Yash and Rishab Shetty, late actor Puneeth Rajkumar's wife Ashwini Puneeth Rajkumar, former cricketers Anil Kumble, Javagal Srinath and Venkatesh Prasad, cricketers Mayank Agarwal and Manish Pandey, comedian Shraddha (popularly known as Aiyyo Shraddha), businessmen Tarun Mehta, co-founder and CEO of Ather Energy, and Nikhil Kamath, co-founder of Zerodha, along with other noted personalities.
PM exclaims 'aiyyo' on meeting comedian
Comedian Shraddha Jain, popularly known as "Aiyyo Shraddha", said she had a wonderful chat with PM Modi. "He told us how proud he was about the way the south Indian film industry has showcased the beauty and richness of our country."
Namashkar, yes, I met the Honorable Prime Minister of our Country. His first word to me was 'Aiyyo!'. I am not bli… https://t.co/5qB8QVG10L

— Aiyyo Shraddha (@AiyyoShraddha) 1676269759000
"I am still in a daze. He met me, and we shook hands. As I entered the room, he said Aiyyo, which is a prefix to my social media handle…the fact that he remembered it, my face and said Aiyyo … I did not expect him to say that," she said.
Last month, Jain had posted a video with her funny take on layoffs in the tech sector. In the clip, Jain plays the role of a techie laid off from her job and slams the tech companies that are letting go of employees despite raking in millions in profits. The video quickly went viral.
PM hails contribution of film industries
The PM had arrived in Bengaluru on Sunday evening to participate in the inauguration of the 14th edition of Aero India on Monday.
PM Modi told the actors that the film industries of the southern states have given a great boost to India's culture and identity through their work. He particularly appreciated how they have encouraged the participation of women, said a PTI report citing sources.
The prime minister stressed the need to leverage the ITIs to provide courses related to films especially in areas needing technical expertise and also remembered late actor Puneeth Rajkumar during the interaction.
Actor Rishab Shetty of 'Kantara' fame said, meeting PM Modi was a dream come true. "He (Modi) inquired about what is happening in Indian and Kannada industry and what is required for Kannada industry here. He also informed us about what can be done in the future. We spoke at length and he too heard us," he said.
Inspiring meeting PM @narendramodi ಅವರು as we discussed role of Entertainment industry in shaping New India and Pro… https://t.co/4wFc0eTPLa

— Rishab Shetty (@shetty_rishab) 1676280732000
The actor said the PM mentioned Kantara several times. "The film is about our folklore, rituals, belief, Indian culture, for which PM Modi congratulated us. I am very happy. I was very happy listening to him."
Another leading Kannada actor Yash said he was impressed by the PM's detailed knowledge of the film industries. "He called cinema a soft power. He has big vision for the industry. It was a wonderful experience and as always he was very inspiring."
You must take photos of cheetahs: PM tells Kumble
Talking to the sportspersons, the PM highlighted measures being taken by the central government to encourage sporting talents, including through the National Education Policy.
Former cricketer Anil Kumble, who has an interest in wildlife photography, was caught by surprise when PM Modi urged him to go to Kuno National Park in Madhya Pradesh and click photos of cheetahs that have been brought from Namibia
It was an honour to meet our Hon. Prime Minister Shri @narendramodi ji yesterday at Rajbhavan, Bengaluru along with… https://t.co/unjKrZVFxN

— Anil Kumble (@anilkumble1074) 1676274470000
"It was wonderful and a great honour to meet the PM. I had met him five years ago in Chhattisgarh in an event and post that this was the personal interaction that I have had, it was wonderful. He said we have got cheetahs now, you have to come and take pictures of cheetahs," said Kumble.
Former cricketer Srinath said the PM discussed many topics with them.
"It was nice to hear from the PM that it is important to have sports as a syllabus in school. These kind of words are inspiring." The PM has a great vision towards Indian sports and also has depth of knowledge of what needs to be done to take it to the next level as well, Srinath added.
Boost for start-ups
The discussion with the start-up world focused on how to further support it and nurture an innovation ecosystem in India.
Nikhil Kamath of Zerodha said the details that the PM remembers and his in-depth knowledge across industries is "incredible".
"It was very kind of him to take the amount of time he did with us. The reason we exist in many ways, many of us, is because of the stable environment that has been created in India, the access to capital, our messaging in the world which has allowed for start-ups like us to thrive," he noted.
(With inputs from agencies)
Watch He is an inspiration to all Indians: Former cricketer Venkatesh Prasad after meeting PM Modi