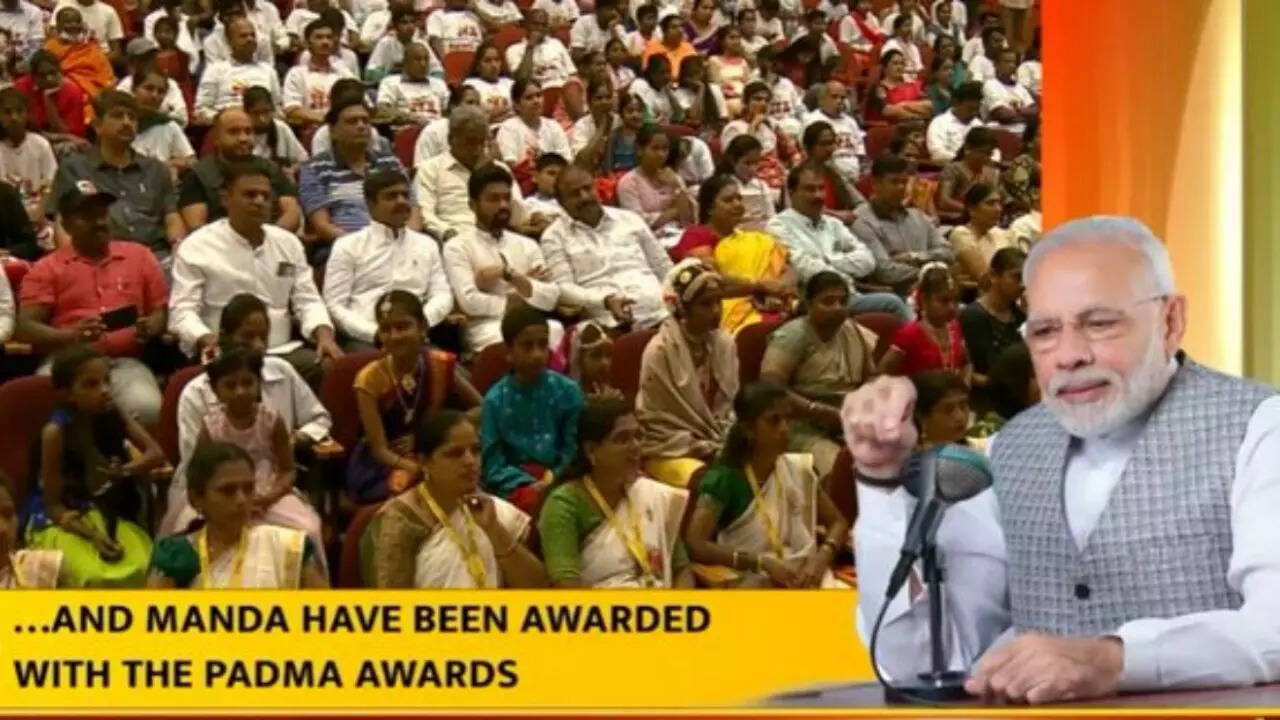 In his first 'Mann Ki Baat' address of 2023, Prime Minister
Narendra Modi
on Sunday covered a variety of topics starting from
India
's 74th Republic Day celebrations, Padma Shri awards,
India
's position in Global Innovation Index, UN's recognition of 'International Year of Millets', E-waste and wetlands among other things.
'Despite challenges, tribal societies always eager to preserve traditions'
PM Modi urged citizens of the country in the 97th edition of 'Mann Ki Baat' to read about the 'inspring' stories of this year's Padma awardees, especially the ones who have worked in tribal areas.
Padma Awards – the highest civilian Awards of the country, are conferred in three categories, namely, Padma Vibhushan, Padma Bhushan and Padma Shri. The Awards are given, every year on the Republic Day, in various disciplines and fields of activities such as art, social work, public affairs, science and engineering, trade and industry, medicine, literature and education, sports, civil service.
This year, the awards have been conferred to many tribal painters, musicians, farmers and artisans. Many dignitaries who have worked on tribal languages like Toto, Ho, Kui, Kuvi and Manda have received these awards.
"I urge all countrymen to read their inspiring stories," said PM Modi during the 'Mann Ki Baat' radio programme. "The tribal life is different from city life, it has the challenges of its own. Despite all this, tribal societies are always eager to preserve their traditions," he said. "It is a matter of pride for all of us and the fact that now the world would know them. People working with Siddi, Jarwa and Onge tribes have also been awarded this time," PM Modi said.
"This time among Padma awardees are those people who have expertise in spreading melody of our traditional musical instruments like Santoor, Bamhum, Dwitara. Ghulam Mohd Zaz, Moa Su-Pong, Ri-Singhbor Kurka-Long, Muni-Venkatappa and Mangal Kanti Rai are being discussed all around," he said.
He also underlined the efforts of the North east people who are continuously thriving to preserve their culture and have been awarded with the Padma awards.
'India's dream of 'techade' will be fulfilled by innovators, their patents'
Underscoring the country's increasing scientific capabilities, Modi said that domestic patent filings have outscored the country's foreign patent filings, adding that
India
's dream of 'techade' will be fulfilled on the strength of its innovators.
He said India's rank in patent filling is seventh globally while it is fifth in trademark registration. India's patent registration has risen by 50 per cent in the last five years, the prime minister said, noting that its ranking in the global innovation index has surged to 40 from below 80 in 2015.
Watch
E-waste, wetlands, tribals & purple fest – PM Modi addresses diverse aspects in first 'Mann Ki Baat' of 2023