INDORE:
Rohit Sharma
2.0, or Rohit Sharma the ODI opener, celebrated his 10th birthday on Monday. Exactly 10 years earlier, Rohit opened for the first time in ODIs and scored 83 against England in Mohali, completely transforming his white-ball career.
Till Jan 23, 2013, Rohit had struggled to bridge the divide between potential and performance. His ODI CV made for ordinary reading: two hundreds against Zimbabwe in one series and a few fifties here and there. That inconsistency saw him dropped from
India
's 2011 ODI World Cup team. Eighteen months later, the then Indian captain MS Dhoni asked the Mumbaikar to take on the new ball in ODIs and Rohit found his true calling.
His ODI profile now reads at par with all-time greats in this format: 240 matches, 9681 runs, average 48.65, highest score 264, 29 hundreds, 48 fifties. Three double hundreds. A total of 267 sixes, the most.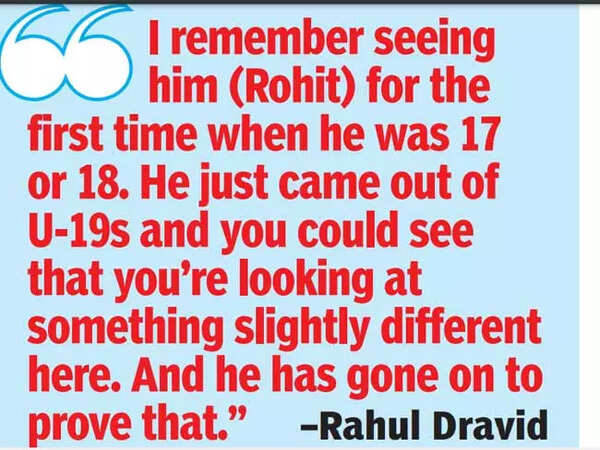 India coach Rahul Dravid said, "He's been a phenomenal cricketer. He obviously started off as this really precocious talent and I remember seeing him for the first time when he was 17 or 18. He just came out of under-19s and you could see that you're looking at something slightly different here. And he has gone on to prove that. You look at a lot of kids who look different at 19, but not all of them go on to actually achieve their potential.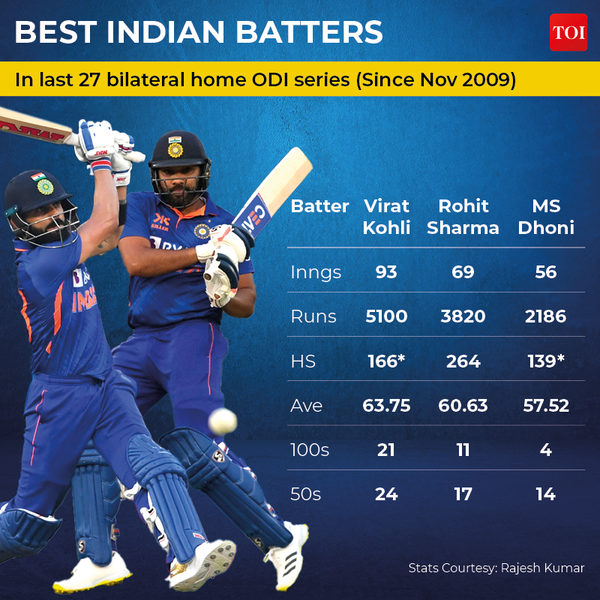 "What Rohit has done over the last 15 years, he's been a great servant for Indian cricket. The turning point was when 10 years ago he got the opportunity to finally open and really, his hallmark has been obviously his performances in ICC tournaments and his ability to score big runs. Someone who has got three double hundreds in this format, it's is an absolutely phenomenal achievement."
Decoding why Rohit has been super-successful as a white-ball opener, Dravid said, "He has an all-round game."