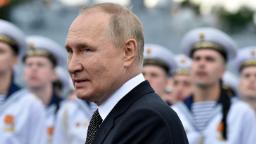 CNN
 — 

Russia's Pacific Fleet fired a pair of supersonic missiles at a mock target in waters off Japan's coast on Tuesday morning, the Russian Ministry of Defense said.
"A team of two missile boats carried out a joint missile strike against a sea shield simulating a simulated enemy warship," the ministry said in a Telegram post. "The target was successfully engaged at a distance of 100 km (62 miles) by a direct hit from two Moskit cruise missiles."
The missiles are capable of destroying a ship within a range of up to 120 kilometers (75 miles), according to Reuters.
The maneuver on Tuesday comes after Russia conducted drills earlier this month in the Sea of Japan, also known as the East Sea, with a submarine hitting a land target over 1,000 kilometers (621 miles) away with a Kalibr cruise missile – the same type of missile Moscow regularly uses in its war in Ukraine.
Tuesday's exercise also comes a week after Japanese Prime Minister Fumio Kishida made a surprise visit to Ukraine. That same day, two Russian strategic bomber planes, capable of carrying nuclear weapons, flew over waters off the Japanese coast for more than seven hours in what Moscow said was a "planned flight," Reuters reported.
Kishida has previously spoken out forcefully against Russia's invasion of its neighbor, warning last year that "Ukraine today may be East Asia tomorrow."
And last month, after pledging additional aid to Ukraine on the eve of the invasion's first anniversary, Kishida said, "Russia's aggression against Ukraine is not just a European matter, but a challenge to the rules and principles of the entire international community."
Japan and Russia are also embroiled in a decades-long territorial dispute.
Japan lays claim to the Russian-held southern Kuril islands, which Tokyo calls the Northern Territories, a dispute that dates to the end of World War II, when Soviet troops seized them from Japan.