MUMBAI: Markets regulator
Sebi
on Wednesday slapped a penalty of Rs 7 crore on the NSE,
India
's largest stock exchange, for irregularities in the dark fibre (server co-location) case. In that decade-old case, select brokers were given preference to use high-speed optical fibre lines to connect to the bourse's trading servers to get data ahead of others and make huge illegal profits.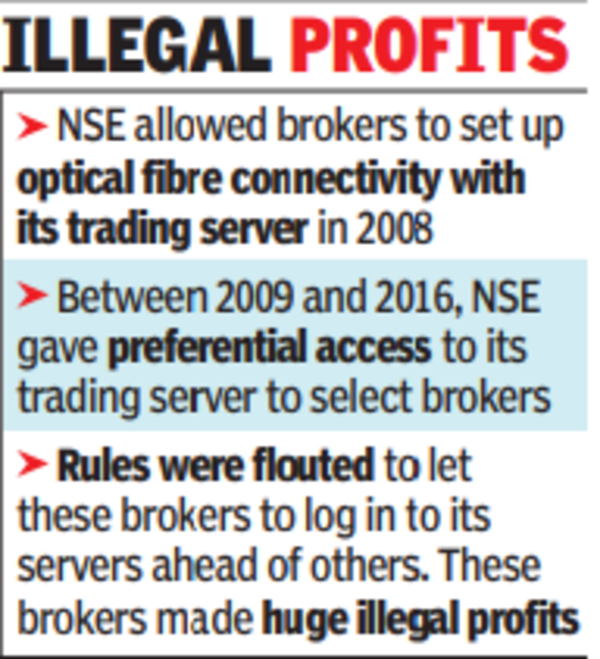 Sebi also fined Rs 5 crore each Chitra Ramkrishna, a former managing director of the NSE, Anand Subramanian, its former chief business officer & an adviser to Ramkrishna, and Ravi Varanasi, the exchange's current business development officer. In total, 18 entities were fined with the aggregate amount at Rs 44 crore.
Among the 18 people, Nagendra Kumar S R V S and Deviprasad Singh, along with Varanasi, are still with the NSE, sources said. In addition to several former and current NSE officials, two brokers – Way2Wealth Brokers and GKN Securities – and Sampark Infotainment, a software vendor that operated within NSE premises without proper permission, were also fined by Sebi.
In 2008, the NSE had decided to allow its members (brokers) access to its trading servers through high-speed optical fibre cables so that they could get trading data faster. Christened co-location (co-lo) facility, this is a global practice that was adopted by the NSE for traders and investors in the Indian market.
However, between 2009 and 2016, a few NSE officials connived with some brokers and software vendors to set up a system that allowed preferential access to these brokers. At that time, the system was such that whoever logged into the servers first got the data first.
Sampark Infotainment, the technology vendor with deep connections with NSE officials, played an important role in setting up this system. Since a select few brokers got the trading data ahead of all others, they employed high-speed computers to profit from it. However, some traders, notably one unnamed Singapore-based trader, complained to Sebi about this, supported by trading data.
Sebi had received some other complaints also.