PRAYAGRAJ: In a strange development, an order assigning day-wise duties of as many as seven veterinary doctors for a week for taking care of a sick
cow
at the District Magistrate's residence in
Fatehpur
was issued by the office of the chief veterinary officer.
The order, issued on Thursday (June 9) had been recalled the next day. However, a copy of the order went viral on social media on Sunday.
DM
Apurva Dubey termed the incident as a conspiracy against her.
The official letter signed by officiating chief veterinary officer Dr SK Tiwari, dated June 9, had asked seven veterinary doctors in the district to take care of Fatehpur DM's cow suffering from mastitis.
The veterinarians, posted at Bhitaura, Erayan, Ukathu, Ghazipur, Malwa, Asothar and Haswa, were asked to examine the sick cow twice a day, in the morning and evening, and submit a report to the chief veterinary officer on a daily basis.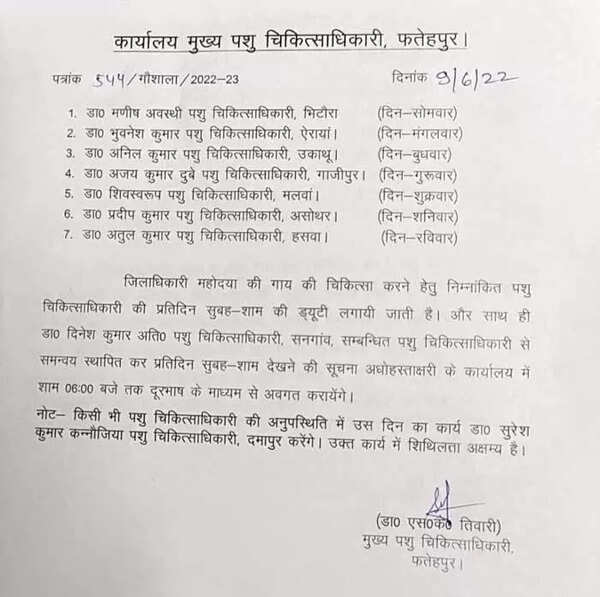 The letter also stated that if any veterinarian on duty takes leave, the veterinary doctor posted at Damapur would fill in and 'no laxity would be tolerated'.
However, in a signed clarification issued on Sunday, DM Dubey said she had never asked for any services and alleged that the officiating CVO had issued the letter in an arbitrary way.
"If I would have been involved or requested, a copy of the issued letter or order would have been marked to me as per the protocol," she added.
When the dispatch letter records were checked, the officiating CVO had issued the order (letter) number 544 on June 9 and cancelled it through entry no. 545 dated June 10, indicating indiscipline and conspiracy, she said.
"I am working in Fatehpur for the past one and half years and I have been continuously monitoring straw collection, water arrangements and adequate medical assistance at the cow shelters in summers and had found laxities on the part of the CVO and deputy CVO and have already written to seniors recommending action against them," the DM added.
When TOI contacted the Chief Veterinary Officer (Fatehpur) Dr R D Ahirwar, he said, "I am on leave since May 28 and my deputy Dr SK Tiwari is officiating."
Ahirwar claimed that he had no idea about the letter signed by his deputy that went viral on social media. Repeated calls made to Dr SK Tewari went unanswered.