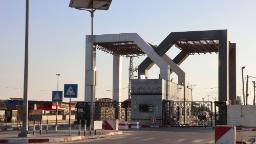 Editor's Note: A version of this story appears in CNN's Meanwhile in the Middle East newsletter, a three-times-a-week look inside the region's biggest stories. Sign up here.


CNN
 — 

Egypt is facing mounting pressure to act as neighboring Gaza gets pummeled by Israeli airstrikes after last weekend's brutal assault on Israel by Hamas.
In the wake of the Hamas attacks, Israel closed its two border crossings with Gaza and imposed a "complete siege" on the territory, blocking supplies of fuel, electricity and water.
That has left the Rafah crossing between Gaza and Egypt as the only viable outlet to get people out of the enclave and supplies into it. But it's unclear if even that crossing is operational.
The Egyptian side of the crossing is open, but the Palestinian side is "non-functional" following multiple Israeli airstrikes earlier this week, a senior Jordanian official told CNN Thursday, adding that "the Jordanians and Egyptians are waiting for security clearance from the Israelis to allow (aid) trucks to cross without threat of another airstrike."
Egypt's foreign ministry on Thursday denied reports of the crossing being closed, saying it has sustained damage due to repeated Israeli airstrikes on the Palestinian side. CNN could not independently verify whether the crossing is open.
US Secretary of State Antony Blinken said Wednesday that the Biden administration is in talks with Israel and Egypt about creating a humanitarian corridor through which civilians can cross.
But Egypt is uneasy about the prospect of hundreds of thousands of Palestinian refugees crossing into its territory. More than two million Palestinians live in the densely packed coastal enclave that is under intense Israeli bombardment.
Israel's military overnight Thursday called for residents of northern Gaza to evacuate their homes and move southwards as it amassed 300,000 reservists on the border in apparent preparation for a ground incursion. That would amount to the mass displacement of 1.1 million people, the UN said, adding that it would be "impossible" to do in 24 hours.
Saturday's attack on Israel killed 1,300 people, prompting retaliation against Hamas that has killed 1,799 in Gaza. As attacks intensify, rights groups have raised concerns about a potential humanitarian catastrophe.
Speaking at a military graduation ceremony Thursday, Egyptian President Abdel Fattah el-Sisi compared the situation in his country to a lone house in a neighborhood that's on fire. He said that rumors about Egypt not seeking to help its Palestinian neighbors are not true.
"We are making sure that aid, whether medical or humanitarian, at this difficult time, makes it to the strip," Sisi said, adding that "we sympathize."
But he warned that Egypt's ability to help has limits.
"Of course we sympathize. But be careful, while we sympathize, we must always be using our minds in order to reach peace and safety in a manner that doesn't cost us much," he said, adding that Egypt hosts 9 million migrants already. The largest groups in the country's migrant population are from Sudan, Syria, Yemen and Libya, according to a 2022 report by the UN's International Organization for Migration.
Egypt's foreign ministry warned Friday against Israel's call for evacuation, calling it "a grave violation of international humanitarian law" that would put the lives of more than 1 million Palestinians in danger.
The Jordanian official told CNN Thursday that Jordanian and Egyptian officials are applying "diplomatic and political pressure on the Israeli government to allow for the safe passage of aid into Gaza through the Rafah crossing."
A plane carrying medical aid for Gaza from Jordan arrived Thursday in the Egyptian city of Arish, approximately 45 kilometers (23 miles) away from Rafah, and aid was loaded onto Egyptian Red Crescent trucks that have not yet been able to advance towards the border, the official said.
But Egyptian media outlets have sounded alarms about the prospect of allowing Palestinian refugees into the country, warning that it may forcefully displace Gazans into Sinai.
Sisi echoed those sentiments on Thursday. "There is a danger" when it comes to Gaza, he said – "a danger so big because it means an end to this (Palestinian) cause… It is important that (Gaza's) people remain standing and on their land."
Jordan's King Abdullah, who met with Blinken Friday, warned against "any attempt to displace Palestinians from any Palestinian territories or to cause their displacement."
The vast majority of Gaza's residents today are Palestinian refugees from areas that fell under Israeli control in the 1948 Arab-Israeli war. That war marked Israel's creation, but it is also lamented by Palestinians as the Nakba, or "catastrophe," as more than 700,000 Palestinians were either expelled or forced to flee their homes in what is now Israel.
Tens of thousands of Palestinians took refuge in Gaza, which fell under Egyptian control after the war. Israel captured the territory from Egypt in the 1967 war and began settling Jews there, but it withdrew its troops and settlements in 2005.
Additional reporting by CNN's Celine Alkhaldi and Caroline Faraj