Haifa and Jerusalem
CNN
 — 

When 20-year-old Aya Najame, an Arab Muslim, was a little girl growing up in the northern Israeli port city of Haifa, she would go on cultural exchange trips to Jewish schools to learn about the Jewish way of life. Jewish children would do the same, visiting Najame's school to learn about her life.
Arab citizens and permanent residents in Israel make up just over 20% of the country's population. The roughly 2 million people are distinct from Palestinians living in the occupied West Bank and Gaza – but they are far from a uniform group.
Most are Muslims, but there is also a large Christian Arab minority. And while around 1.5 million hold Israeli citizenship, many of those living in Jerusalem have only permanent residency status and are not full citizens. Some identify as Arabs, some as Palestinians, some as Druze, a religious sect spread throughout Israel, Lebanon and Syria.
Some speak fluent Hebrew and live in mixed communities such as Haifa, while others reside in segregated towns and say they feel like second-class citizens due to discrimination from Israeli authorities. Several hundred chose to serve in the Israeli military each year, even though they are exempt from compulsory service. Many have family in the West Bank and Gaza.
Haifa is not like the rest of Israel, Najame says.
"We live together here, Arab people and Jewish people. We work together, we go to the same places," she told CNN.
"Haifa is the most comfortable place," Najame said. "As soon as you leave Haifa you start feeling more uncomfortable, it's (a) little hard to describe it, it's just an uncomfortable feeling."
Ashraf Ashkar, a 35-year-old Arab Israeli, works in a restaurant in Haifa's Arab Wadi Nisnas neighborhood. He said he has friends who serve in the Israel Defense Forces (IDF) and friends who were in the areas of Israel that the Palestinian militant group Hamas brutally attacked earlier this month. "I speak to them all the time, I have a friend, an Arab, who joined the reserves last week," Ashkar said, adding that Israel is his home.
But he is also acutely aware of his own family history. His ancestors were evacuated from Iqrit, a village north of Haifa, by Israeli forces during the 1948 war. They were told they would be able to come back in a few weeks, but ultimately were not allowed to, Ashkar said. Israel's Supreme Court later ruled the eviction was illegal and said the families of Igrit should be allowed to return to their land – but before they were able to do so, the IDF razed the village to the ground in the 1950s.
"It's complicated when you are not sure where you belong. I try to avoid thinking about it too much," Ashkar said.
The Hamas terror attacks, which Israeli officials say killed more than 1,400 people in Israel on October 7, and the subsequent heavy Israeli bombardment of Gaza, which Palestinian officials say has killed more than 4,100 in the enclave so far, have significantly ramped up tensions at a time when relationships between some groups were already fraught.
Since December, Israel has been governed by the most right-wing government in its history. Last Wednesday, Prime Minister Benjamin Netanyahu and some opposition leaders joined an emergency war cabinet to manage the war. The government's national security minister Itamar Ben Gvir is an extremist who has been convicted for supporting terrorism and inciting anti-Arab racism. The finance minister is Bezalel Smotrich, who supports abolishing the Palestinian Authority and annexing the West Bank – neither are part of the war cabinet, although they are maintaining their ministerial roles.
B'Tselem, the Israeli Information Center for Human Rights in the Occupied Territories, said that the rhetoric from Gvir and Smotrich has emboldened extremists and led to an increase in attacks on Palestinians, especially by right-wing groups and Israeli settlers. As of mid-September, the United Nations Office for the Coordination of Humanitarian Affairs (OCHA) reported 216 attacks by Israeli settlers against Palestinians in the West Bank that resulted in injuries, and 582 incidents that resulted in property damage.
CNN has asked the IDF for comment on the rise in the violence, but has not received an answer.
"The settlers have been making it clear that they want to go after us. The general environment is one in which we're always made to feel as though we're the next target. And to be honest, we are the next target," said Diane Buttu, a Palestinian-Canadian lawyer who lives in Haifa and has previously served as a legal adviser to the Palestinian side in peace negotiations.
She said that after the Hamas attacks, hate speech towards Palestinians reached new levels. "You hear statements like 'people are human animals and they should be finished off,'" she told CNN.
Buttu said that as a Palestinian in Israel, she feels like she is by default considered a threat. "The only way that I'm not part of the human animal group is if I denounce (terrorism) first. I have to prove my humanity to them… but I never ask Jewish people to denounce the settlers' violence, to denounce those attacks," she said. "I never ask them to prove that they are not settlers."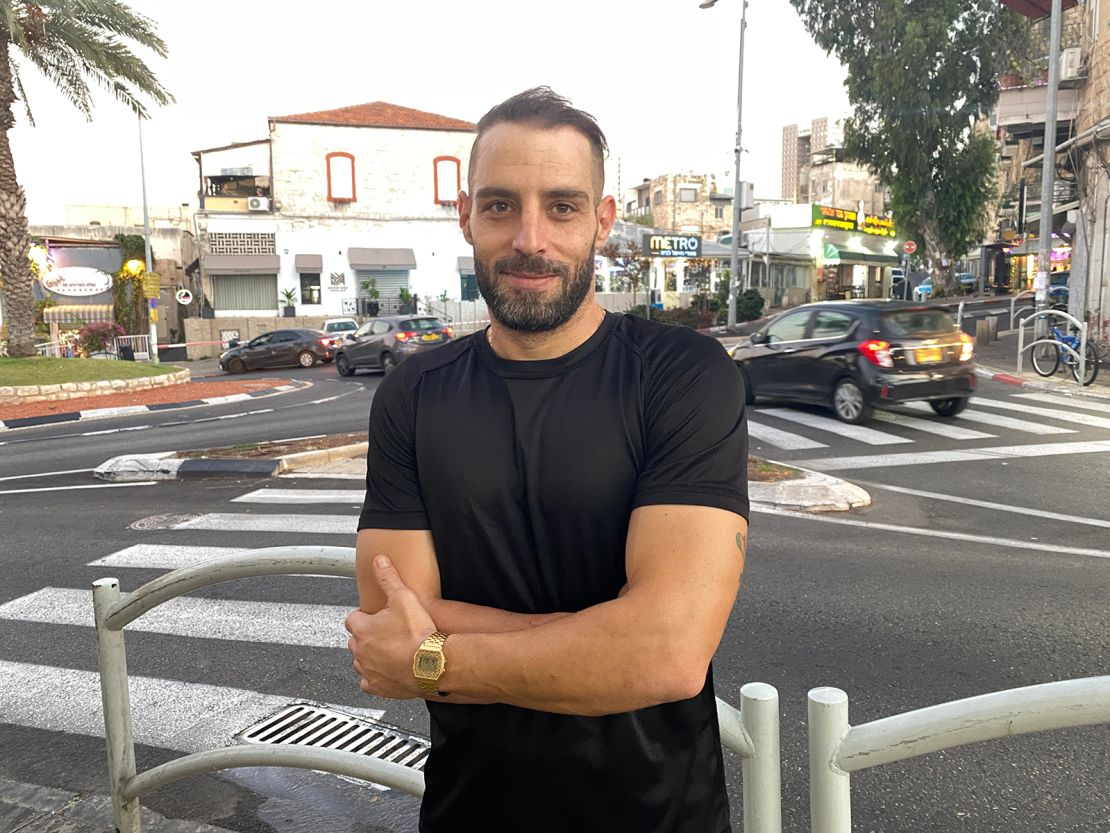 Naim Khoury can relate to a feeling of being watched with mistrust. The 39-year-old lawyer, who lives in Haifa, said the fallout from the brutality of October is being felt even there, in a city usually considered a case study of successful coexistence.
"Some people look at us with suspicion now because we are Arabs. And being an Arab means being a terrorist," he told CNN. "But we condemn terrorists, we condemn everything they have done and we (mourn) every life lost."
Khoury said that he has many friends who serve in the military and the police, and yet even they sometimes face similar suspicion.
"In Haifa, we always try to preserve the good relations and to have this coexistence and so it's very sad that every time anything to do with security happens, Jews are automatically asking me, 'What do you think about it as an Arab, are you okay with this?'" he said.
Abu Nader has been running a small cafe in Jerusalem's Old City for 49 years, in the same building where he was born and has lived his entire life.
Like many Palestinians here, he is a permanent resident of Israel, but not a citizen. He told CNN he was never interested in getting citizenship. "What for? Rights? What rights?" he told CNN.
Nader has seven children – five daughters and two sons – and 24 grandchildren, some of whom live in other parts of the city, which means they are sometimes not allowed to come and visit him. When tensions rise, as they often do in Jerusalem, Israeli police sometimes restrict access to the Old City, only allowing in Palestinians who have a permanent address there or are over a certain age.
Buttu said that the restrictions on the movements of permanent residents are just one example of discrimination — adding that even those who hold citizenship can be targeted.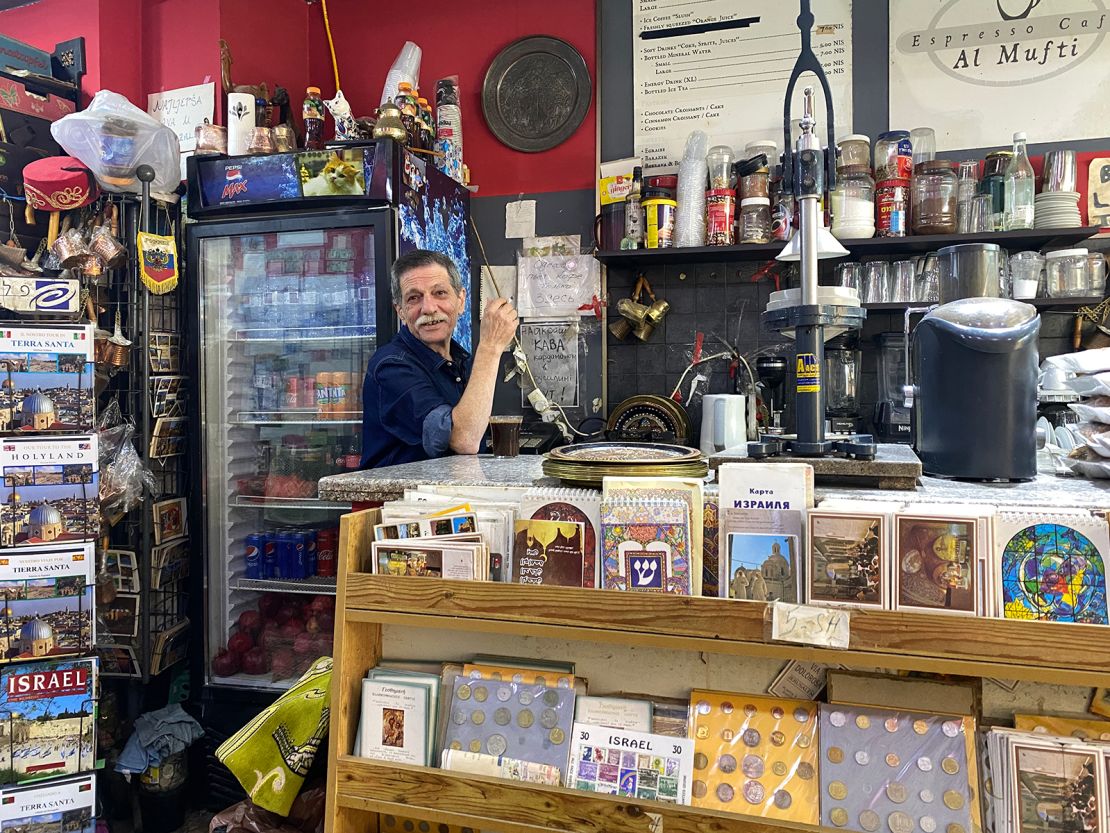 "There are all these laws that either directly or indirectly discriminate against Palestinians who hold Israeli citizenship, including laws that prevent me and others from moving into certain towns," she said, referring to an Israeli law that allows villages and towns in certain regions to operate "admission committees." They have the power to bar people from moving in if they are deemed to be "not suitable" to the community's "social-cultural fabric."
The law was expanded this year and now applies to settlements of 700 households, up from 400 previously. Adalah, an NGO that focuses on the rights of the Arab minority in Israel, said the expanded version of the law covers 41% of all localities and 80% of the state's territory.
"As a Palestinian living in this country, your whole existence is either carving out a safe space where you live and work in an area that you know, where you're safe, where you can speak Arabic, where your political views are known and where you don't have to measure your words, or you totally assimilate to the other side. Anywhere in between is the space of total discomfort," Buttu said. "But even when you totally assimilate, there's still a question mark."
The coffee Nader serves in his cafe is strong and very sweet, made in cezve, traditional long-necked copper pots.
"Some people call it Turkish coffee, some call it Jerusalem coffee or Palestinian coffee or Israeli coffee … when I am in the mood, I call it Palestinian coffee," he said, watching a spoonful of sugar bubble up from the bottom of the pot. "When I am not in the mood, I call it Jerusalem coffee … to avoid the politics"