Weekends are all about unwinding and savouring delightful treats, and what better way to do that than with a plate of scrumptious seekh kebabs? Since many of you may be avoiding non-vegetarian food because of Navratri, we brought a special recipe for delicious seekh kebabs that you can easily make at home. The twist here is that these kebabs are Navratri-friendly, so if you are also observing fasting during this auspicious time, you can still whet your cravings! So, this weekend, invite your loved ones home and serve these delicious seekh kebabs that everyone can have and enjoy.
Also Read: 11 Best Kebab Recipes | Easy Kebab Recipes | Kabab Recipes
What is veg seekh kebab made of?
Seekh kebabs can be made with any ingredients of your choice. The vegetarian seekh kebabs recipes allow you to use potatoes, peas, spinach, paneer and a wide variety of other vegetables. This special seekh kebabs is made with vrat-frendly kuttu flour, paneer, and potatoes. They offer a burst of flavours and healthiness for your weekend indulgence. The recipe was shared on Instagram page 'somewhatchef'.
Are seekh kebabs healthy?
Seekh kebabs, when prepared thoughtfully, can indeed be a healthy option. The choice of ingredients and cooking methods play a crucial role in determining their healthiness. If you skip splattering them with oodles of butter and pick healthy ingredients to make them, they are great for your diet, and in this case, a fasting diet. These vrat-friendly veg seekh kebabs offer several health benefits:
While potatoes are often seen as starchy, they are an excellent source of important nutrients, including vitamin C, vitamin B6, and potassium. They also provide dietary fiber and help keep you full.
Paneer, or cottage cheese, is a good source of protein and calcium. It adds a creamy texture to the kebabs and makes them more filling.
Buckwheat (kuttu flour) is a gluten-free whole grain that's high in fibre and protein. It's also a good source of essential minerals like manganese and magnesium.
These kebabs are pan-fried, which reduces the need for excessive oil, making them a healthier alternative to deep-fried options.
Also Read: Yummy Vegetarian Kebab Recipes That You Can Rustle Up In 30 Minutes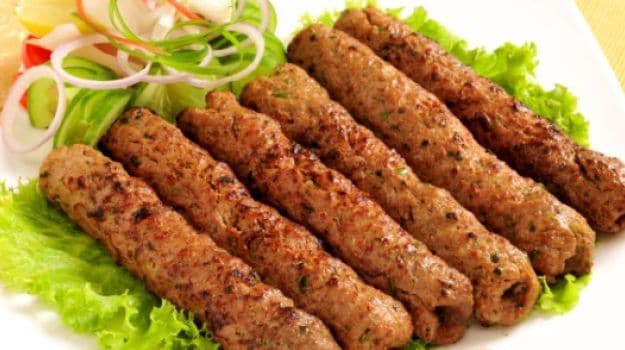 How To Make Veg Seekh Kebabs I Vrat-Friendly Veg Seekh Kebabs Recipe
Start by boiling the potatoes until they're soft. Allow them to cool and then mash them up. Take paneer and crumble it into small pieces. In a mixing bowl, combine the mashed potatoes and crumbled paneer. Add kuttu atta (buckwheat flour) to the mix for that perfect binding. Spice things up with dry spices like jeera powder, chilli powder, and a dash of pepper. Don't forget to season it with sendha namak (rock salt). To bring it all together, add 1 tbsp of oil and knead the mixture into a smooth dough. Grease your palms with a bit of oil, take a small ball of the dough, and knead it into a cylindrical shape, like the seekh kebabs we adore.
Now thread each kebab onto a stick, shaping them evenly and securely. Heat up a non-stick tawa and cook the kebabs from all sides until they achieve a lovely golden-brown hue. Enjoy healthy kebabs for weekend indulgence. 
Watch the complete recipe for vrat-friendly veg seekh kebabs here:
Are you someone who enjoys the thrill of trying something new, especially when it comes to food? If so, then you must try this unique seekh kebab recipe.