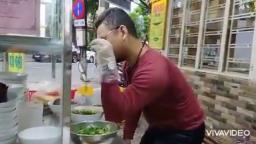 CNN
 — 

A noodle vendor in Vietnam famous for imitating celebrity chef "Salt Bae" to allegedly mock a top government official was sentenced to five and a half years in prison on Thursday, police said, after a court found him guilty of anti-state propaganda.
The conviction is the latest in what rights groups say is the government's wide-ranging attempt to silence voices critical of the ruling Vietnamese Communist Party.
A video of Bui Tuan Lam, 39, went viral in November 2021 when it was posted days after a top Vietnamese official was caught on camera eating gold-encrusted steak at the London restaurant of the Turkish chef whose real name is Nusret Gökçe.
Lam, who described himself in a Facebook post uploaded alongside the video as "Green Onion Bae," was arrested late last year. On Thursday he was convicted of "making, storing, distributing, or disseminating information, documents, and items against the state," the Danang police department said after a one-day trial.
Alongside running a beef noodle stall in the city, Lam had publicly advocated for democracy in Vietnam and participated in many anti-China and pro-environment protests.
The Danang police department also cited Lam's indictment as saying he had posted 19 articles and 25 videos on social media to "distort and smear the state."
Lam's lawyer could not immediately be reached for comment.
Phil Robertson, deputy Asia director at Human Rights Watch, called on the Vietnamese government to stop prosecuting Lam and others for criticizing the Vietnamese Communist Party.
"The list of posts and videos listed as 'evidence' of Bui Tuan Lam's 'crimes' shows the extreme lengths to which the Vietnamese go to block any sort of online criticism of the government," Phil said.
"For the Vietnamese leadership, even songs are a threat to their monopoly of power," he added.