Every year on September 17, Hindus observe Vishwakarma Day. The auspicious day commemorates the birth of Lord Vishwakarma, who is believed to be the creator of the universe. The festival falls on the last day of the Bhadra month of the Hindu calendar. On this day, industrial and factory workers pray to the Lord for a safe working environment and success in their work. Devotees gather together at their places of work and worship the idol of Lord Vishwakarma. Also known as Biswakarma Day and Vishwakarma Jayanti, the festival is observed mostly in the states of Karnataka, Assam, West Bengal, Uttar Pradesh, Jharkhand and Bihar. 
Vishwakarma 2022: Date And Puja Timings: 
Vishwakarma Puja Date on Saturday, September 17, 2022 –  
Vishwakarma Puja Sankranti Moment – 07:36 AM 
Kanya Sankranti on Saturday, September 17, 2022 
(Source: drikpanchang.com) 
Vishwakarma Day 2022: History And Significance 
As per Hindu mythology, Lord Vishwakarma was the architect of the world, who also created the city of Dwarka, which was ruled by Lord Krishna. Lord Vishwakarma is known to be the power behind engineering and mechanics, and that's why people operating machineries celebrate this festival to seek Lord Vishwakarma's blessings. Offices, shops and factories remain closed, machines are cleaned and the workers place the idol of the Lord Vishwakarma in workplaces and offer him a bhog of water and sweets that are also distributed among the devotees followed by a grand meal.  
(Also Read: 17 Best Indian Dessert Recipes | Popular Indian Dessert Recipes)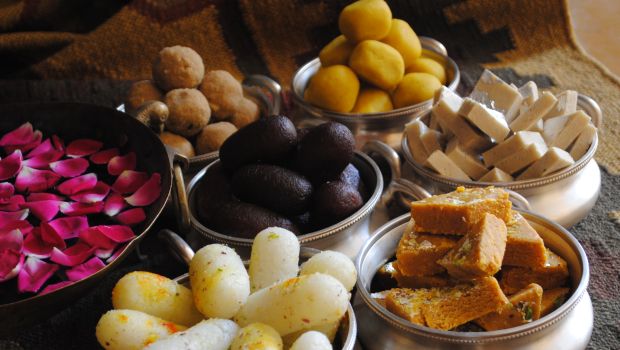 Vishwakarma Day 2022: 5 Indian Sweets Recipes You Can Make For Bhog 
A variety of sweets can be offered to Lord Vishwakarma during the puja. Here are some recipes of home-made mithai you can try.  
1. Peda: 
This sweet is commonly made in Uttar Pradesh for Vishwakarma Day. A simple concoction of khoya, milk, cardamom and sugar gives a delightful sweet treat, which can be offered as bhog and enjoyed by all. Click here for the recipe.  
2. Meethi Boondi: 
The tiny stark red balls of sweetness warm up of our hearts every time we have them. You can easily make this delicacy at home with besan, kesar food colour and sugar syrup. Click here for the recipe. 
3. Motichoor Ladoo 
Made with small boondis of besan and milk, motichoor ladoo is one of the favourite mithais of Indians. Here is an easy recipe to make this ladoo for Vishwakarma special feast. 
4. Petha 
The soft, chewy candy-like Indian sweet is loved by both adults and kids. Made with ash gourd vegetable (or white pumpkin), this treat is easily available in stores but there's a different charm in enjoying the home-made one. Here's the recipe. 
5. Kheer: 
Kheer is probably one of the easiest Indian sweet recipes to make. You just need rice, milk, sugar and elaichi to make this heavenly delight. Try this recipe to make the perfect kheer for this auspicious occasion. 
Happy Vishwakarma Day 2022!