CNN
 — 

Humanitarian aid supplies destined for Gaza civilians remain in limbo, as concerns rise about the rapidly worsening conditions for the population stuck in the besieged enclave. Multiple sources told CNN on Thursday that the critical Rafah Crossing is no longer expected to open Friday for a first convoy of aid.
"I would not put money on those trucks going through tomorrow," one source familiar with the discussions told CNN, explaining that the situation was "volatile."
The situation remains fluid, US officials said. Road repairs are needed on the Egyptian side of the crossing and there are concerns about making sure the deliveries can be sustained, and are not a one-off.
The entire population of Gaza has been cut off from supplies of electricity, food, fuel and water for over a week under a "complete siege" ordered by Israel in the wake of Hamas' October 7 terror attacks.
Israeli warplanes' relentless bombardment has left hundreds of thousands homeless and sparked growing protests across the Middle East, heightening fears that the war could spiral into a wider regional conflict.
A deal between Egypt and Israel to allow some aid into Gaza was struck by US President Joe Biden on Wednesday. Speaking on his way back from visiting Israel, Biden said his Egyptian counterpart Abdel Fattah el-Sisi had agreed to open the Rafah Crossing into Gaza for humanitarian aid – the only one not controlled by Israel.
Up to 20 trucks of aid would be allowed into Gaza, Biden said.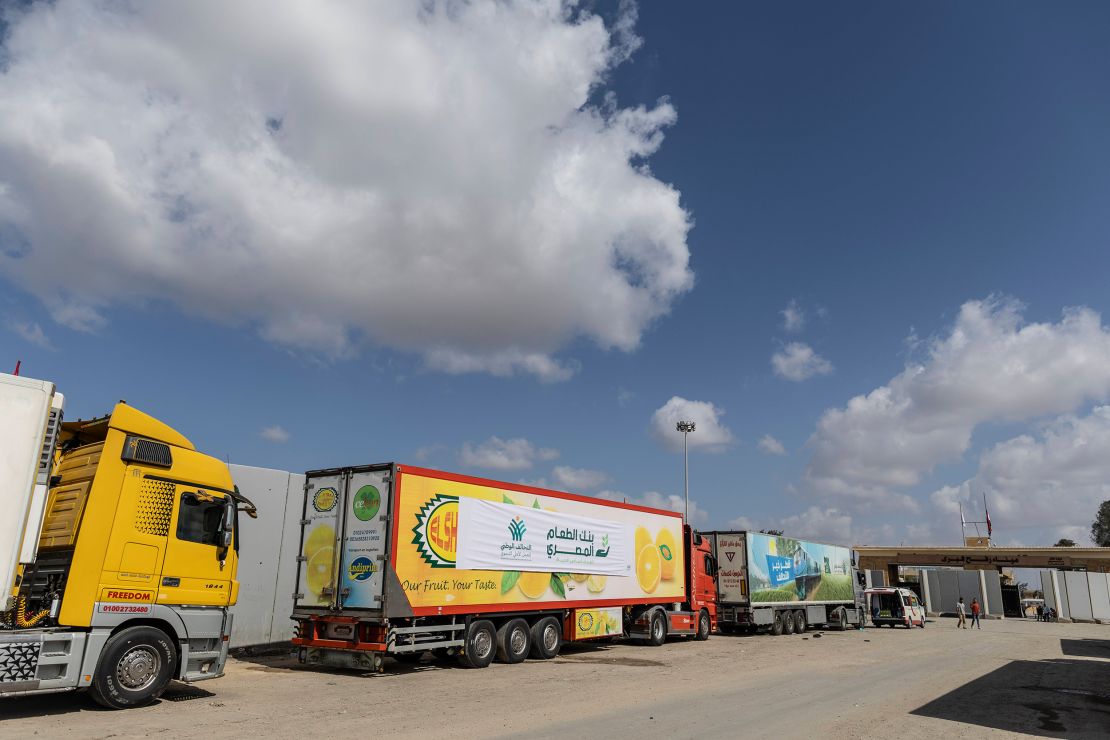 He also said the first deliveries were expected on Friday, though that date now appears unclear. US officials still say that the first convoy of trucks carrying humanitarian aid into Gaza from Egypt will cross the border this weekend, possibly by Saturday.
David Satterfield, the US special envoy for Middle East humanitarian issues, was "on the ground negotiating with the Israelis" about the aid delivery, US State Department spokesperson Matt Miller said at a briefing Thursday afternoon.
But it is not clear how much of an impact the initial delivery can make.
Rushing aid into Gaza will be "an absolute marathon," Dr. Richard Brennan, the World Health Organization's Regional Emergency Director for the Eastern Mediterranean Region, told CNN, adding that there are "a lot of complexities to getting this aid operation going."
The aim is to get up to 100 trucks of aid distributed per day, he said.
Fuel is not included among the supplies, WHO Director General Tedros Adhanom Ghebreyesus told a press conference.
"Fuel is also needed for hospital generators, ambulances and desalination plants – and we urge Israel to add fuel to the life-saving supplies allowed to enter Gaza," Tedros added.
Speaking from Egypt, UN Secretary General Antonio Guterres called for a humanitarian ceasefire, calling on Hamas to release the 200 hostages it seized during its attack on Israel. He also called on Israel to allow the "immediate unrestricted access of humanitarian aid to respond to the most basic needs of the people of Gaza."
Israel remains at a war footing as it prepares for a possible ground operation. Israeli Defense Minister Yoav Gallant told troops gathered not far from the Gaza Strip on Thursday that they will "soon see" the enclave "from the inside," according to a press release from his office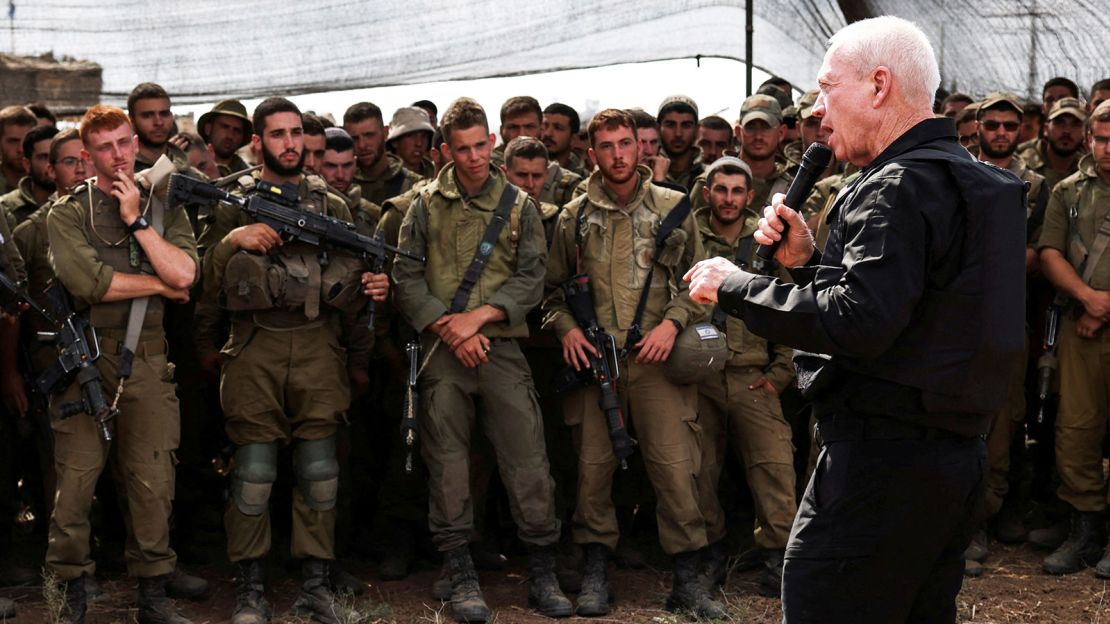 Israel has maintained an air, land and sea blockade on Gaza for nearly 17 years, meaning the strip has been almost totally isolated from the rest of the world. Conditions were already dire before the war – and are rapidly worsening after Israel cut off electricity, food, water and fuel supplies to Gaza following the attack by Hamas, the Islamist militant group that controls the strip.
That murder and kidnapping rampage killed an estimated 1,400 people in Israel, mostly civilians, in what has been described as the worst massacre of Jews since the Holocaust.
In the days since, Israeli airstrikes have killed more than 3,700 people in Gaza, according to the Health Ministry in Gaza, which is controlled by Hamas. Over 1,000 children among the dead.
The enclave's only power station stopped working over a week ago, forcing civilians and hospitals to rely on power generators for electricity. But fuel supplies are running dangerously low.
In central Gaza, CNN footage showed long lines outside a gas station in Deir Al-Balah on Thursday. The gas station had tapped into its petrol reserves for residents to fill their gas cans. The owner told a CNN producer on the ground that when the reserves run out there will be no more fuel.
Residents have also said many supermarkets can no longer provide food, since they have no way of replacing the products they have already sold.
"There is no life now… It's just trying to survive. That's it," a Palestinian man living in Gaza, who wished to remain anonymous, told CNN.
He explained how grueling everyday tasks have become for residents. Many have wait in line for up to five hours to receive bread – although it's not enough to feed a family, he said.
UN agencies have warned that stores in the enclave are days away from running out of food and that Gaza's last seawater desalination plant has shut down, bringing the risk of further deaths, dehydration and waterborne diseases.
As near-constant airstrikes pound the area, overwhelmed hospitals are running out of medicine and fuel to keep the lights on as stretched medics struggle to save lives.
UN human rights experts on Thursday warned Israel's actions in Gaza were "resulting in crimes against humanity."
"There is an ongoing campaign by Israel resulting in crimes against humanity in Gaza. Considering statements made by Israeli political leaders and their allies, accompanied by military action in Gaza and escalation of arrests and killing in the West Bank, there is also a risk of genocide against the Palestine people," the statement read.
Located in Egypt's north Sinai, the Rafah Crossing is the sole border crossing between Gaza and Egypt. It falls along an 8-mile (12.8-kilometer) fence that separates Gaza from the Sinai desert, and has been tightly controlled on each side of the border for years.
The decision to open the crossing followed several days of deliberations.
Egypt has repeatedly denied that the crossing was closed on its end of the border, saying the aid has been waiting for guarantees that trucks entering will not be targeted by Israel.
Biden said the crossing would only be open for aid, not for evacuations – leaving an uncertain fate for the 2.2 million Palestinians with no way out of Gaza, including foreign nationals and dual citizens.
Israel said it will not block humanitarian aid going into Gaza from Egypt, according to a statement from the office of Prime Minister Benjamin Netanyahu. But it will not allow supplies into Gaza from its own territory until Hamas releases all hostages.
On Thursday morning, at least 30 people were killed in Israeli airstrikes on several areas in Rafah, according to the official Palestinian press agency WAFA, an indication of the difficulties of rushing aid through the area.
In pictures: The deadly clashes in Israel and Gaza
Preparations for its opening appeared to be underway on Thursday as Egyptian authorities were seen removing cement blocks at the crossing's entrance, several drivers at the crossing told CNN.
Aid trucks were also seen by a journalist lining up on the highway close to the border in Egypt.
Calls for aid have grown increasingly desperate over the past week as Palestinians in Gaza fled south, heeding Israel's warnings to evacuate from the north – though many soon found that nowhere was safe in the densely packed strip of land.
Public fury had already been building, particularly in Arab nations, over the conditions in Gaza. But it erupted after a deadly blast tore through Al-Ahli Baptist Hospital in Gaza on Tuesday, which Gaza authorities said killed hundreds of civilians.
Palestinian officials have accused Israel of hitting the hospital, a claim Israel denies. Israeli and US intelligence have each assessed that the blast was caused by another Gaza-based militant group's misfired rocket.
The blast, which took place hours before Biden was set to leave the White House for his trip to the Middle East, set off a furious scramble inside his administration – and caused the postponement of a highly anticipated summit with Arab leaders in Jordan.
With anti-Israel protests rising across the Middle East there are fears other fronts could open up, particularly on Israel's northern border with Lebanon where Hezbollah dominates and has increasingly clashed with Israel's military over the last week.
The Iran-backed Lebanese militant group said it attacked five Israeli military posts on the Lebanese-Israeli border with "direct and appropriate weapons" destroying part of their technical capabilities, in a statement Thursday.
Israel Defense Forces spokesperson Lt. Col. Jonathan Conricus told CNN on Thursday that there was a "significant escalation" by Hezbollah, saying the group had fired numerous anti-tank missiles from Lebanon and had tried unsuccessfully to infiltrate into Israel.
"What some Hezbollah is doing now is dragging Lebanon into a conflict that it has no business to be in, and it surely won't benefit from," Conricus said.
This is a breaking news story and will be updated.