Who doesn't enjoy the weekend? After a long and tiring week, we finally get to unwind and spend quality time with our loved ones. And if you're a foodie, just like us, you know that your weekend is going to be all about trying out new food and experimenting with recipes. Guilty pleasures during the weekends are usually something indulgent. And what better than crispy and greasy snacks to satisfy your foodie cravings? In this article, we have curated a list of 5 non-vegetarian snacks that are super crispy and are ideal for weekend indulgence. The best part is you can make them in just under 30 minutes.
Also read: 5 Delicious Indo-Chinese Non-Veg Snacks To Try Over The Weekend
Here're 5 Crispy Non-Veg Snacks You Must Try:
1. Chicken Pakoda (Our Recommendation)
This chicken pakoda is made with marinated pieces of chicken that are dipped in a spicy batter and deep-fried until golden brown. It makes for a perfect tea-time snack to savour in the evening. Click here for the recipe of Chicken Pakoda.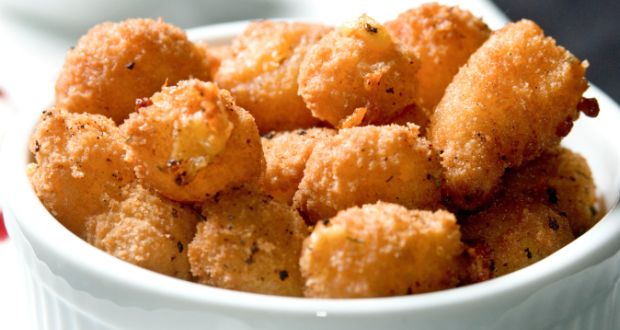 2. Chicken Spring Rolls
Crispy on the outside and juicy on the inside, these chicken spring rolls spell indulgence in every bite! Make this popular Asian snack at your home in just 30 minutes! Click here for the recipe of Chicken Spring Rolls.
3. Keema Samosa
Traditionally called Patti samosa, this dish has its roots in Parsi cuisine. Dough pockets are stuffed with a delicious keema masala mixture and fried until crispy. Serve with a refreshing hung curd dip. Click here for the recipe of Keema Samosa.
Also read: Chicken Samosa, Mutton Samosa And More: 5 Delicious Non-Veg Samosa Recipes For Your Weekend Indulgence
4. Prawn Pakoda
This recipe is for all the seafood lovers out there! Prawns are marinated in a mix of chickpea flour, mango powder and a host of flavourful spices. Serve this crispy snack at your next dinner party. Click here for the recipe of Prawn Pakoda.
5. Chettinad Fish Fry
This dish is drier and tastier than other fish fry recipes because of the mouth-watering Chettinad flavours. It is spicy, crunchy, and makes for a yummy snack to pair with your evening cup of tea. Click here for the recipe of Chettinad Fish Fry.
So, what are you waiting for? Try out these snacks and let us know which one was your favourite in the comments below.
Featured Video Of The Day
Hot Toddy Recipe | How To Make Hot Toddy