Editor's Note: A version of this story first appeared in CNN's Meanwhile in the Middle East newsletter, a three-times-a-week look inside the region's biggest stories. Sign up here.

Abu Dhabi, UAE
CNN
 — 

This month, 145 American Jewish leaders publicly distanced themselves from a member of the Israeli government, saying Finance Minister Bezalel Smotrich was not welcome in the United States.
It was a rare public rebuke of a sitting Israeli minister that brought together individuals from across the Jewish-American political spectrum. Smotrich "has long expressed views that are abhorrent to the vast majority of American Jews, from anti-Arab racism, to virulent homophobia, to a full-throated embrace of Jewish supremacy," they said in a statement.
The comments came after the minister called for a Palestinian town in the occupied West Bank to be "erased" after two Israeli brothers were shot and killed there, prompting a rampage through the area by Israeli Jewish settlers.
The episode is a symptom of the widening gap of values between many American Jews and Israel as the Jewish state shifts to the right. In December, Israel swore in the most right-wing government in its history, bringing in extremists known for controversial views. The cabinet has also pushed forward a plan to weaken the judiciary that has brought hundreds of thousands of Israeli protesters to the streets as well as criticism from Israel's closest allies.
The government of Benjamin Netanyahu has become the target of near-regular criticism by the Biden administration. In its latest move, the US State Department on Tuesday summoned Israeli Ambassador Michael Herzog after Israel's parliament passed legislation that allows Jewish settlements to be rebuilt in parts of the occupied West Bank. It was the first summoning of an Israeli ambassador in the US in over a decade.
"The reality… is that the interests of American Jews and Israel have been diverging for many years, but it's been papered over," Thomas Friedman wrote in the New York Times (NYT) this month. He called on the community to shun Netanyahu, citing the prime minister's deployment of the "Trumpist playbook" by courting ultranationalist and ultrareligious parties.
American Jews recognize that the current Israeli government represents "a deeper struggle" between competing visions of whether the country wants to be a liberal democracy that is willing to make peace with the Palestinians or an "authoritarian, illiberal and ultra-nationalist" nation, said Logan Bayroff, vice president of communications at J Street, a left-leaning pro-Israel lobby group.
"That dynamic is something that American Jews are becoming increasingly familiar with from our own country," he told CNN. "We've seen that play out in American politics as well, and more and more Jewish Americans have become politically engaged in pushing back against Trump."
Despite the growing outrage against Israeli actions, however, American Jews aren't united on the Israeli government. The American Israeli Public Affairs Committee (AIPAC), the most influential Jewish group in the country, didn't meet Smotrich during his visit to the US but it also didn't put its name on the petition to deny him entry, and has been largely silent on his extremist rhetoric.
AIPAC didn't respond to CNN's request for comment.
Writing in the Jewish Chronicle, US-based British historian Dominic Green argued that boycotting Smotrich risked hastening "the splitting of the Jewish people."
"The major Jewish organizations could have followed the American tradition of 'salute the uniform, not the man'," he wrote. "Instead, (they) have publicly aligned against Israel's democratically elected government."
Polling of American Jews from 2020 suggests that younger Jews had less attachment to Israel and were likely to be more critical of it than earlier generations. A survey by the Jewish Electorate Institute in 2021 found that a quarter of American Jews considered Israel to be an apartheid state. For those under the age of 40, the number climbed to 38%. It also showed that 34% believed Israel's treatment of the Palestinians is similar to racism in the US (43% for under 40s).
Growing apathy for Israel among American Jews is new, says Jodi Rudoren, editor in chief of the Forward, a Jewish news outlet, and former NYT Jerusalem bureau chief. "I don't think our parents' generation felt the freedom to not care about Israel more than other countries."
Netanyahu is likely unfazed by the outrage against his government among American Jews, analysts say, having recognized that most of them have a liberal worldview that is at odds with Israel's rightwing trajectory.
The six-time prime minister has instead sought the support of evangelical Christians for years, having declared that "Israel has no better friend in America" than them.
"Netanyahu and his allies have mostly given up on the majority of America Jews," said Bayroff. "They see that the majority of American Jews are liberal, they're Democrats, they want a two-state solution."
Rudoren says it's short sighted of Netanyahu to ignore the community. While the US-Israel alliance isn't rooted in American Jewish attitudes, she says, "the vast philanthropy, tech investment and tourism supported by American Jews is pretty important to Israel's economic and civic health."
Israel is the largest recipient of cumulative US foreign aid, to the tune of $3.8 billion in the current fiscal year.
The growing voices of American Jewish opposition to Israeli policies could help embolden policymakers to take a tougher stand on Israel, says Bayroff, particularly among those who refrained from rebuking Israel for fear of a backlash from their Jewish electorate.
American rebukes of Israel could also become more common among Democratic administrations as their constituencies' views on Israel shift. Support for Israel had long been a bipartisan matter, but a Gallup poll released last week found that Democrats' sympathies have shifted to the Palestinians for the first time in the period the question has been tracked, starting in 2001.
The poll found that 49% of Democrats sympathized more with Palestinians versus 38% who say they sympathize more with Israelis, an 11-point rise in the percentage of those with net sympathy for the Palestinians compared to last year. Republicans with net sympathy for Israelis grew by only one percentage point, with 78% supporting Israelis more.
Overall, it found that 54% of Americans sympathize with Israelis more than the Palestinians, but the trend shifts with younger generations. Forty-two percent of millennials sympathize with the Palestinians, while 40% sympathize with Israelis.
Gallup also noted that the recent percentages of Americans sympathizing with Israelis are the lowest since 2005.
Rudoren, of the Forward, says that while American Jews have "at least temporarily united" on opposing Israel's judicial overhaul, they will remain divided on the Israeli occupation of the West Bank and the ultra-Orthodox dominance of religious questions in the country, "assuming Israel survives this crisis as a Jewish and democratic state – and that's a serious if."
Netanyahu acted illegally by getting involved in judicial overhaul – Israel Attorney General
Israeli Prime Minister Netanyahu acted illegally by announcing Thursday that he would involve himself directly in his government's moves to change the country's judicial system, Attorney General Gali Baharav-Miara told him in an open letter Friday. "Last night you publicly announced that you intend to violate the ruling of the Supreme Court and act contrary to the opinion of the legal advisor to the government," she wrote. That statement, she said, "is illegal and contaminated by a conflict of interest."
Background: The letter comes after the Netanyahu government pushed through a law on Thursday effectively stripping the courts of the power to declare a prime minister unfit for office. Hours later, Netanyahu said in a speech to the nation that he would get personally involved in the controversial package of measures to overhaul the judicial system. Until then, the campaign had been publicly led by Netanyahu allies including Justice Minister Yariv Levin and Simcha Rothman, the chair of the Knesset's Constitution, Law and Justice Committee.
Why it matters: The move raises the stakes even further in a national controversy that has sent hundreds of thousands of demonstrators onto Israel's streets, caused military reservists to refuse to train, and prompted criticism from business and financial leaders, former military and intelligence commanders, and international allies including US President Joe Biden.
Saudi Arabia, Syria may resume consular services – Saudi State TV
Saudi Arabia and Syria are in talks to resume consular services between the two countries, Saudi state TV said on Thursday.
Background: Syrian President Bashar al-Assad and his Iran-allied regime had been accused of quashing anti-government protests in 2011. As the country fell into civil war, Saudi Arabia was among the countries that supported Syrian rebels hoping to unseat Assad. The countries then ended diplomatic relations in 2012. But when a deadly earthquake struck Turkey and Syria in February Riyadh sent relief planes that were the first Saudi aircraft to land in regime-held airports in more than a decade.
Why it matters: The resumption of diplomatic ties between Saudi Arabia and Syria would mark the most significant move bringing back the once-shunned Syrian leader back into the Arab fold.
Suspected Iranian-affiliated drone kills US contractor in northeast Syria
A US contractor was killed Thursday after a suspected Iranian-affiliated drone struck a facility housing US personnel in northeast Syria, the Pentagon said in a statement. The contractor was an American citizen, a spokesman for US Central Command said. Five US service members and an additional US contractor were also wounded in the strike. "The intelligence community assess the UAV (unmanned aerial vehicle) to be of Iranian origin," the Pentagon said. In response to the strike, President Biden authorized a precision airstrike "in eastern Syria against facilities used by groups affiliated with Iran's Islamic Revolutionary Guards Corps (IRGC)," Secretary of Defense Lloyd Austin said in the statement.
Background: The US maintains approximately 900 troops in Syria. The commander of US Central Command, Gen. Erik Kurilla, said earlier Thursday that Iranian proxies had carried out drone attacks or rocket attacks against US forces in the Middle East 78 times since the beginning of 2021, an average of nearly one attack every 10 days. The Biden administration has carried out airstrikes against militias affiliated with Iran on multiple occasions following previous attacks on US facilities in the region. In February 2021, Biden's first known military action in the White House was to carry out strikes against Iranian-backed militias after rocket attacks on US troops in Iraq. And in August, the US struck a group of bunkers used for ammunition storage and logistics support by Iranian proxies in Syria, after rockets landed near another US facility.
Why it matters: The number of casualties in Thursday's attack is unusually high. Kurilla told a House Armed Services Committee hearing earlier in the day that Iran "hides its hand" by using "Iranian proxies … That's either UAVs or rockets to be able to attack our forces in either Iraq or Syria." Asked if such attacks were considered an act of war, Kurilla said, "They are being done by the Iranian proxies is what I would tell you."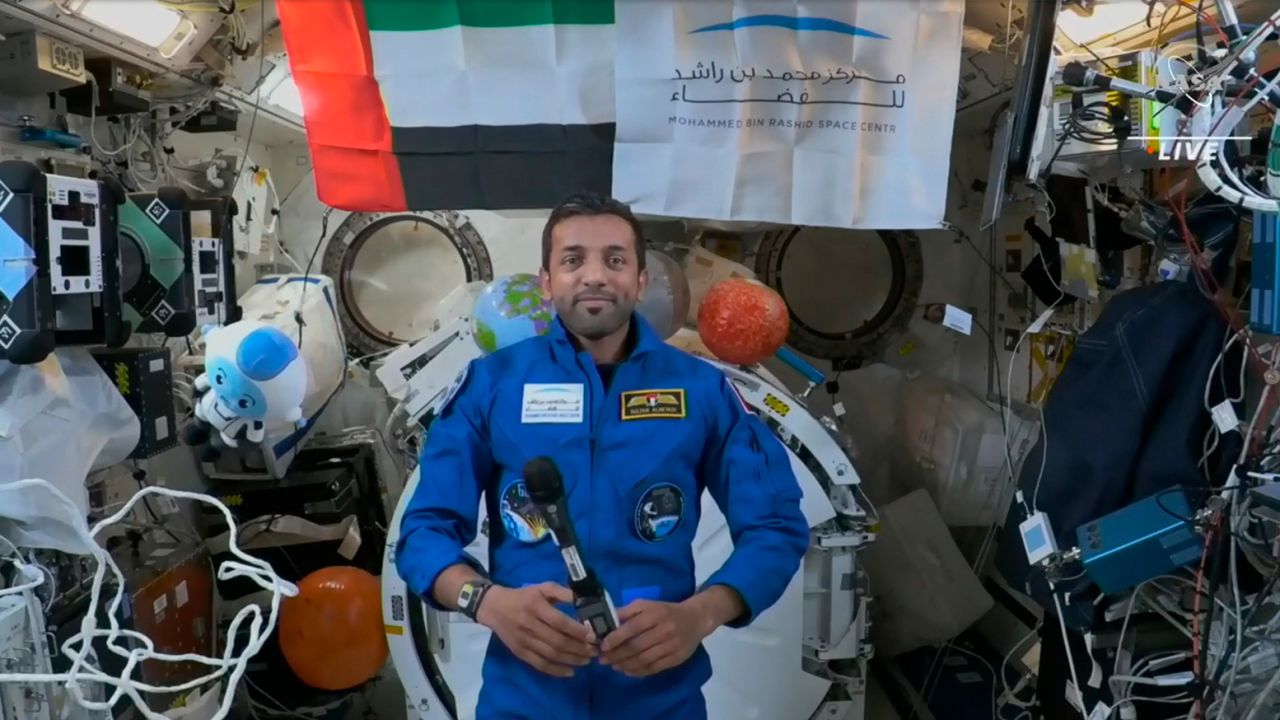 For centuries, a setting sun has signaled the end of fasting rituals during Ramadan, a cue to tuck into a delicious meal after a full day of abstaining from food and drink. But what if the sun's clockwork were to suddenly change, as it does for astronauts riding aboard the International Space Station? The orbiting laboratory whips around the Earth at about 17,000 miles per hour (27,600 kilometers per hour), giving passengers 16 sunrises and sunsets each day.
It's a question astronaut Sultan Alneyadi has been contending with since his arrival at the space station on March 3.
He's one of fewer than a dozen Muslim astronauts who have traveled to space, and at the end of his mission in about five months, he will have been the first astronaut from the United Arab Emirates to complete a long-duration stay on the station.
Alneyadi told reporters during a news conference in Dubai in February that he could fast according to Greenwich Mean Time, or Coordinated Universal Time, which is used as the official time zone on the space station.
Alneyadi explained that as an astronaut he fits the definition of a "traveler," excusing him from attempting to observe Ramadan at the same time as Earth-bound Muslims. "We can actually break fast," he said. "It's not compulsory."
Read the full story here.
By Jackie Wattles