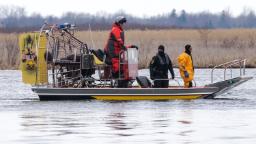 CNN
 — 

Police in Canada said Friday they have recovered eight bodies in Akwesasne, the Mohawk Nation territory that straddles the Canadian provinces of Quebec and Ontario along the banks of the St. Lawrence River.
Authorities said all of people were attempting to enter the US from Canada illegally and there's no threat to the public.
Six bodies were initially discovered in waters of Akwesasne during a Canadian Coast Guard air search for a missing person named Casey Oakes on Thursday afternoon, according to a statement from the Akwesasne Mohawk Police Service.
The bodies are those of six adults and two children: one under the age of 3 who had a Canadian passport, the other an infant who was also a Canadian citizen, Akwesasne Mohawk Police Chief Shawn Dulude said at a Friday news conference, according to CNN news partner CBC.
They are believed to have been a Romanian family and an Indian family, according to police.
Police and Immigration Canada are also working to contact next of kin, AMP Deputy Chief LeeAnn O'Brien said during the news conference Friday.
Authorities are continuing to search for Oakes but didn't confirm if the two situations are related, according to a statement.
There have been 48 separate incidents of people trying to cross the border since January, O'Brien added.