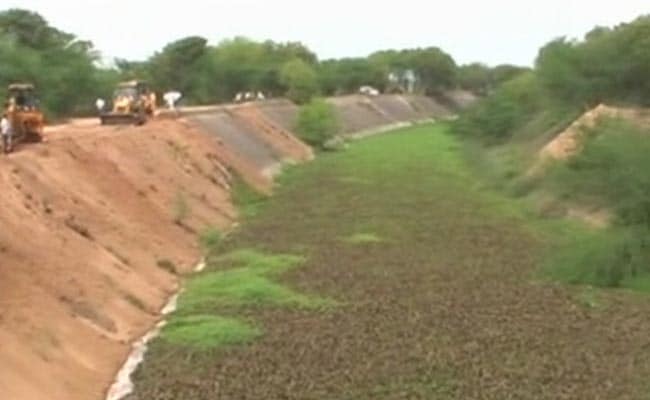 Chandigarh:
The Supreme Court on Wednesday reprimanded the Punjab government for ignoring a 21-year-old direction to construct its side of a canal linking the Sutlej and Yamuna rivers, and warned the ruling Aam Aadmi Party to comply with its orders on pain of further action. A bench led by Justice SK Kaul told the Punjab government it "has to accept maryada (decorum) of the Supreme Court".
The court told Chief Minister Bhagwant Mann's administration "… don't compel us to issue tough orders", and directed the centre to oversee talks between Punjab and the Haryana governments on this topic; the latter has completed construction of its half of the canal.
A bench that also included Justice CT Ravikumar and Justice Sudhanshu Dhulia also told the centre to take over and complete pre-construction land surveys and re-listed the matter for January.
"We are concerned with (non-)execution of a decree for construction of a canal (in the) Punjab portion. We would like the Union of India to survey the portion of land allocated… An estimate has to be made for extent of construction (needed)…" the court said.
At today's hearing, counsel appearing for the Punjab government blamed the delay on pressure from opposition parties and problems acquiring land from farmers.
"There may be political implications (but) something has to be done. Canal will have to be constructed in Punjab… do not compel us to issue tough orders," an irate top court replied.
Earlier, the Haryana side had said, "The only thing that remains is construction. Punjab, of course, has to co-operate. That is what federalism is about… we have to move forward."
"You (the two states) solve matter together… do not force us to issue strict orders," the court said, "We cannot get into it… you will have to find a solution." The court then turned to the centre's representative and asked, "Yes, Union of India, what are you doing?"
Today's hearing comes a week after Mr Mann met Union Home Minister Amit Shah in Amritsar and strongly opposed construction of the canal from his side. He called the canal as a "highly emotive issue" for Punjab and said building it may lead to law-and-order issues.
READ | Give Chandigarh To Punjab, No Spare Water To Share: Bhagwant Mann
Congress, AAP, BJP Respond
In a rare show of unity, the Congress and BJP have both backed the AAP government.
Congress leader Amarinder Raja Warring said, "We respect the Supreme Court but Punjab has no water to give to anyone. We cannot give water by killing rights of our people."
ਅਸੀਂ ਸੁਪਰੀਮ ਕੋਰਟ ਦੇ ਹਰ ਫੈਸਲੇ ਦਾ ਸਤਿਕਾਰ ਕਰਦੇ ਹਾਂ ਪਰ ਪੰਜਾਬ ਕੋਲ ਅਸਲ ਵਿੱਚ ਕਿਸੇ ਨੂੰ ਵੀ ਦੇਣ ਲਈ ਕੋਈ ਪਾਣੀ ਨਹੀਂ ਹੈ। ਅਸੀਂ ਆਪਣੇ ਲੋਕਾਂ ਦੇ ਹੱਕ ਮਾਰ ਕੇ ਕਿਸੇ ਨੂੰ ਵੀ ਪਾਣੀ ਨਹੀਂ ਦੇ ਸਕਦੇ।
ਮੇਰੀ @BhagwantMann ਜੀ ਨੂੰ ਅਪੀਲ ਹੈ ਕਿ ਵਧੀਆ ਤੋਂ ਵਧੀਆ ਵਕੀਲ ਆਪਣਾ ਪੱਖ ਰੱਖਣ ਲਈ ਸੁਪਰੀਮ ਕੋਰਟ ਭੇਜੇ ਜਾਣੇ ਚਾਹੀਦੇ ਹਨ।…

— Amarinder Singh Raja Warring (@RajaBrar_INC) October 4, 2023
Mr Warring appealed to Mr Mann to send "the best lawyers" to plead Punjab's case to the Supreme Court. "Earlier, due to this issue, Punjab saw a dark period, so it should be solved."
The BJP's Punjab chief, Sunil Jakhar, who was earlier a Congress leader, tweeted, "Let me reiterate – Punjab doesn't have a drop of water to share – period!"
In response to the court's rebuke, the AAP government underlined that point – that it "doesn't have enough water to spare for other states" – and that availability of water had to be reassessed.
"… the underground water level has changed in the last 70 years. A tribunal should reassess availability of water in Punjab… thousand acres of land (are) already (in) dark zone. Land has been denotified so we have neither land or water to spare for the canal," spokesperson Malwinder Singh Kang said.
"We will put forward our point in the Supreme Court and share it with the centre."
What Court Said Earlier
In the last hearing in this case – in July four years ago – the court ordered the Punjab and Haryana chief ministers (then Amarinder Singh of the Congress and Manohar Lal Khattar of the BJP, respectively) to meet and find an amicable solution to the dispute.
Sutlej-Yamuna Link Canal Row
The problem stems from a controversial 1981 water-sharing agreement drawn up Haryana was carved out of Punjab in 1966. For effective allocation, the canal was to be constructed and the two states were required to construct respective portions within their territories.
In 2004, the then Punjab government passed a law scrapping the SYL deal and similar pacts.
The Supreme Court hit back in 2016, striking down the law. Punjab, however, went ahead and returned the land on which the canal was to be constructed to the landowners.