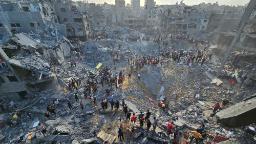 Jabalya refugee camp in northern Gaza, which was hit on Tuesday in an Israeli airstrike targeting a Hamas leader, was always known to journalists covering Gaza for the sheer number of children there.
Over several visits there over the years I found them to be curious and excited when strangers showed up. Crowding around our CNN teams, asking questions, trying their English and jumping in front of the camera. Often my TV producer, driver and fixer would have to keep the children busy and distracted as we attempted to report or record a shot on camera.
Like Gaza's other refugee camps, these crowded built-up areas have houses, shops, and apartment buildings jammed up against one another, the roads between them in many areas barely wide enough for a car to pass. The open-air markets were always busy.
Even in the best of times though, life was tough in Jabalya. Schools were so crowded classes were held in two shifts a day. The tap water wasn't fit for human consumption. Unemployment was high and most families were dependent on food aid provided by the United Nations. Yet one rarely got the feeling that people had given up hope.
Once when I was in Jabalya, after another round of fighting between Hamas and Israel in the spring of 2021, we stopped at a shawarma shop the day after the fighting ended. The shop had just opened and was doing a bustling business. Its owner, Amjad, greeted us heartily.
Two years later, in 2023, I was back after another reporting trip, and the shop had expanded. Amjad greeted us like long lost friends and snapped orders to the waiters to get our food.
Above our table was a television running on a loop an advertisement for a local school promising a top-quality education to ensure a shining future for the children of Gaza.
Yes, Jabalya was crowded and noisy and dusty — one of the poorer areas in Gaza — but it was a place where, despite the problems of Gaza, you always came away feeling that someday, somehow, the people there would be able to live a better life.
I can't go back right now with Israel and Egypt blocking entry into Gaza, but I fear that optimism against all odds may now have been shattered.