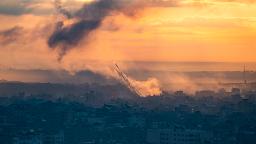 A US Marine rapid response force is headed to the waters off the coast of Israel and the Pentagon is preparing American troops for a potential deployment to the country, escalating the US' show of force in the region as it works to prevent the conflict between Israel and Hamas from widening any further.
A defense official familiar with the planning said the rapid response force, consisting of 2,000 Marines and sailors, is being sent. It will join a growing number of US warships and forces converging on Israel as the US seeks to send a message of deterrence to Iran and the Lebanese militant group Hezbollah.
On Sunday evening, US Secretary of Defense Lloyd Austin ordered that roughly 2,000 troops prepare for a potential deployment to Israel to help with tasks like medical and logistical support, multiple defense officials said.
Taken together, the moves are aimed at forestalling a wider regional war, officials said. But they also risk deepening the US' involvement in a conflict in which the Biden administration is trying to avoid direct military action.
Officials have stressed that the US has no plans to put American boots on the ground to fight in the war between Israel and Hamas, which Israeli officials have warned could be prolonged and difficult.
But the planning and movements offer a window into the kind of assistance the US might provide, including managing logistics away from the front lines and offering medical support. That could be particularly valuable if Israel launches a ground invasion of Gaza, which could be complicated and bloody, experts have warned.
The decisions also come as the US military has been steadily bolstering its presence in Middle East, including deploying a second aircraft carrier to the eastern Mediterranean Sea to join the USS Ford strike carrier group there, and sending Air Force fighter jets to the region.