Cooking oil is something we all use on a daily basis. It's difficult to imagine a day without it in our kitchen pantry, isn't it? While there are plenty of cooking oils available in the market, only a select few promise health and nutrition. One such cooking oil that has gained prominence in recent years is peanut oil. More and more people are switching to this oil and for all the right reasons. You'll easily find it in grocery stores and even in several people's homes. So, what makes it healthier than other cooking oils? How does it really benefit our health? To find the answers to all these questions, keep reading!
Also Read: Is Soybean Oil Not Good For Brain? Find What The Study Says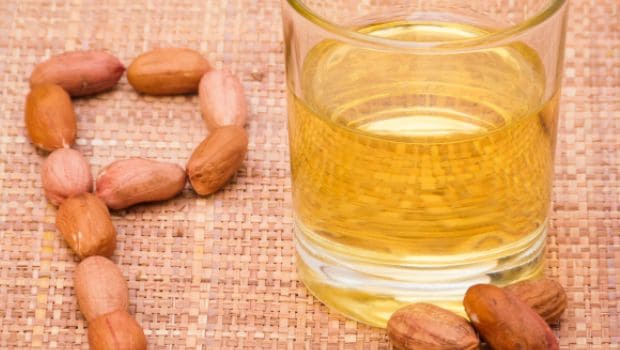 Is Peanut Oil Healthy? Here Are 5 Health Benefits Of Peanut Oil:
1. Good for Heart Health:
One of the major advantages of cooking with peanut oil is that it is great for your heart. This is because peanut oil is high in monounsaturated fats, which help reduce bad cholesterol levels in the body. A study published by the National Institutes of Health (NIH) showed that including peanut oil in your diet helped decrease the risk of cardiovascular disease in Syrian golden hamsters.
2. Aids in Weight Loss:
Oil often has a bad reputation for leading to weight gain. However, peanut oil offers the opposite, i.e., aiding in weight loss. It contains a specific fat called oleic acid that helps suppress the appetite. This way, you end up consuming fewer calories and thus losing weight. A study conducted by the Harvard T.H. Chan School of Public Health claims that those who consumed peanut oil had a better chance of reversing their metabolic rate.
3. May Improve Insulin Sensitivity:
Did you know that peanut oil can also help improve insulin sensitivity? This is because the monounsaturated fats present in this oil help slow down the absorption of sugar in the digestive tract. This does not cause any sudden spikes in blood sugar levels and thus improves insulin sensitivity. In one study by the NIH, diabetic rats who were fed peanut oil showed significantly lower blood sugar levels.
4. May Help Reduce Acne:
Peanut oil can also help reduce acne-related issues. This oil is enriched with antioxidants and also has antibacterial properties. Due to this, it helps combat inflammation of the skin and gives it a finer texture. But that's not all. Peanut oil also has anti-aging properties and can help reduce the appearance of fine lines and wrinkles. So, go ahead and include some peanut oil in your diet. You can even apply it topically.
Also Read: Is Ghee Better Than Olive Oil For Indian Cooking? Nutritionist Explains
5. Promotes Hair Growth:
Tired of investing in expensive hair care products? Well, stop doing so, as peanut oil can solve all your hair-related problems. Peanut oil is an excellent source of vitamin E, and this helps keep your hair shiny and healthy. It also helps strengthen the hair follicles and reduces the effects of any damage caused by using heat products. Some studies suggest it helps prevent dandruff as well.
Now that you know about the incredible health benefits of peanut oil, use it for cooking and see how it transforms your overall health.
Disclaimer: This content, including advice, provides generic information only. It is in no way a substitute for qualified medical opinion. Always consult a specialist or your own doctor for more information. NDTV does not claim responsibility for this information.