NEW DELHI: Heavy rain disrupted the toss for the highly anticipated
Indian Premier League
(
IPL
) final between the
Gujarat Titans
and
Chennai Super Kings
on Sunday. The downpour began just half an hour before the scheduled toss, prompting the ground staff to swiftly cover the playing surface and the bowlers' run-up areas with protective sheets.
LIVE UPDATES: IPL 2023 FINAL
Despite the initial efforts to shield the pitch, the rainfall intensified, accompanied by thunder and lightning. As a result, the passionate fans who had packed the stands were compelled to seek shelter from the inclement weather.
Significant water puddles formed near the centre strip, which remained exposed to the elements. The prospects of starting the match were uncertain, raising the possibility of a reserve day being utilised if a minimum of five overs could not be played before the cut-off time of 12:06 AM local time. And the cut-off time for start of Super Over is 12:56 AM. Should the game commence by 9:40 PM local time, no overs would be lost.
According to the IPL regulations, if the final is unable to proceed or gets washed out on the scheduled day, it can be rescheduled to the reserve day. However, in the event that unfavourable weather conditions persist on both days, the team that secured the top position during the league stage would be crowned the champions.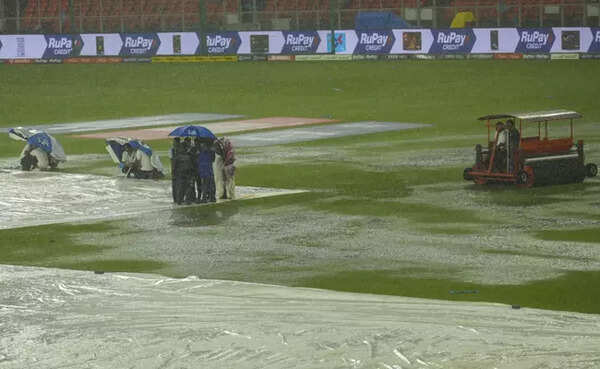 (PTI Photo)
The Gujarat Titans, the defending champions, finished at the summit of the points table after the completion of the 70-match league stage. They were the sole team to secure victory in 10 out of their 14 matches, amassing a total of 20 points. The Chennai Super Kings claimed the second position with 17 points to their credit. The cricketing world eagerly awaits a favourable weather forecast to witness the thrilling conclusion of the IPL.
(With inputs from PTI)