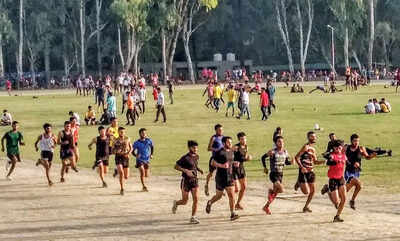 Army aspirants run on a dirt track in Dehradun. Hundreds of youths from Bijnor plan to travel to Delhi to protest at the Jantar Mantar on June 19
BIJNOR: Five years ago, young aspiring Army candidates from dozens of Bijnor villages worked hard to prepare a running track on the periphery of a 90 bigha agricultural land in Bankhpur village, 11km from the main city. On Saturday, they ran a tractor over it "out of sheer anger" at the Centre's short-term armed forces recruitment scheme, Agnipath.
Now hundreds of these youths plan to travel to Delhi to protest at Jantar Mantar on June 19. "We ran with vigour all these years, hoping to be recruited one day. This scheme has completely ruined us with no scope for our future. What is the use of this track now?" said Sumit Kumar, 25, from Nagali village.
Expressing similar displeasure, Sangam Kumar from Ugarawala village said, "A sugar mill had allowed us to build a running track on its land after a lot of persuasion. Youths from Bankpur, Sukeda, Kotwali Dehat, Shadipur Baruki, Nahtaur, and Bijnor would come here to practice. But now, we have ploughed a portion of the track because the Agnipath scheme has made it useless".
Parents also seemed disgruntled. Rajesh Kumar, 52, from Dargopur village, said, "I am a small farmer. My son has been shedding his blood, sweat, and tears running track for four years. We were hopeful that he would crack the Army exam and get a respectable job. But now the government has ruined his career".
Meanwhile, police are on high alert. Bijnor SP Dharamveer Singh carried out a march at railway stations and other public places on Saturday.
FOLLOW US ON SOCIAL MEDIA
FacebookTwitterInstagramKOO APPYOUTUBE