Serbian eyes record-equalling Slam No. 22; Greek ace targets maiden Major and No. 1 ranking
MELBOURNE: Stefanos Tsitsipas was engaged in an on-court interview with Jim Courier after the third seed had dispatched Russian Karen Khachanov 7-6 (2), 6-4, 6-7 (6), 6-3 to make his first Australian Open final.
The interaction ended a little abruptly when Tsitsipas, talking about going for his first Grand Slam title and the world No. 1 ranking, turned to the full house that appeared to be a sea of blue and white. "Let's do it, guys," the Greek called out to fans at the Rod Laver Arena, "Let's go!"
1/20
Rampant Djokovic to meet Tsitsipas in Australian Open final
The stands, draped in Greek flags, responded to the 6'4" Tsitsipas with an earnestness that turned mighty venue into a fortress. Melbourne has a Greek community of about 400,000 people, the largest Greek-speaking population outside Greece, so much so that Tsitsipas considers this his 'home Slam'
In Sunday's final, the third seed will take on Novak Djokovic, who is looking for a 10th title at Melbourne Park and a record-equalling 22nd Grand Slam title. Djokovic, momentarily distracted with his run-in with the chair umpire over when he was starting the shot clock, was broken twice as his unseeded American opponent Tommy Paul levelled at 5-all in the first set of the second semifinal.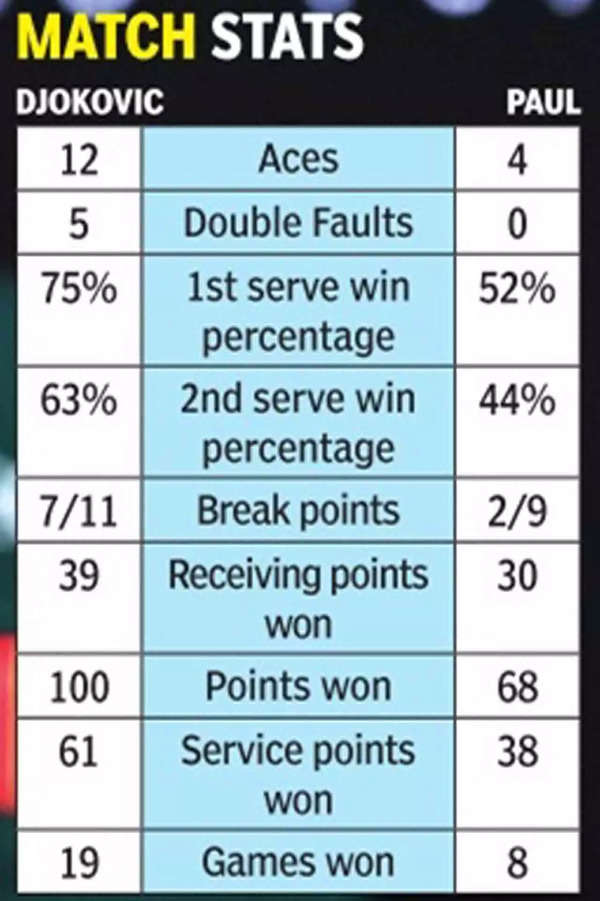 The Serb then bounced back for a 7-5, 6-1, 6-2 win to make his tenth final here. The long-haired Greek said the No. 1 ranking has been a childhood dream for him.
"I'm happy that this opportunity (first major title and No. 1 ranking) comes here in Australia and not somewhere else, because this is a place of significance," Tsitsipas said.
The 24-year-old pulled up for time violations and foot fault, regrouped quickly, refusing to relinquish his hold on the match.
"I'm playing great tennis. I'm enjoying myself. I see no downside or negativity in what I'm trying to do out there," he said. "Even if it doesn't work, I'm very optimistic and positive about any outcome, any opponent that I have to face. This is something that has been lacking in my game. I genuinely believe in what I'm able to produce. I strive for it every single day."
The title match, the 13th meeting of the duo, with Djokovic leading the head-to-head 10-2, including three straight wins after the 35-year-old came back from two sets down in the final of the French Open in 2021.
There is some time to go before the men's title clash, but the mind games had already begun. Tsitsipas put on a straight face when he said he had no recollection of the Roland Garros clash of two years ago, his first appearance in a major final.
"I won the match, my recollection of it is all positive, it was the first time I was coming back from two sets down," Djokovic said in his oncourt interview.