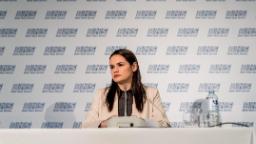 After a trial that took place largely behind closed doors, Tsikhanouski was convicted on charges including "organizing mass riots" and inciting social hostility, which critics say were politically motivated. Three others were also found guilty and handed prison terms of more than a decade.
Authorities alleged Tsikhanouski called for violence against the government and law enforcement, according to BelTA. The verdict can be legally appealed within 10 days.
Tsikhanouski, a popular blogger and activist, was arrested shortly after he declared his candidacy for president in May 2020.
His wife stood in his place, but went on to lose the disputed contest against Alexander Lukashenko, the strongman leader who has ruled Belarus for more than 25 years, in August that year. Her campaign and many international observers claimed the vote had been marred by widespread ballot stuffing and falsifications.
"The very existence of these people is a crime for the regime. They're repressed for the wish to live in free Belarus," she said Tuesday on Twitter.
Tsikhanouskaya added that her husband's sentence was the longest ever handed out to an individual in this situation.
"The dictator publicly takes revenge on his strongest opponents," Tsikhanouskaya said. "While hiding the political prisoners in closed trials, he hopes to continue repressions in silence. But the whole world watches. We won't stop."
After her husband's arrest, Tsikhanouskaya became the unlikely face of a protest movement attempting to topple Lukashenko, whose long tenure has earned him the nickname "Europe's last dictator."
Her campaign rallies in the run up to the August 2020 vote saw significant turnouts even in small Belarusian towns not known for their protest activity. About 63,000 people attended the largest event in the capital Minsk in July last year — the biggest demonstration there in the past decade.
Protests erupted
after official exit polls were released showing Lukashenko was headed for victory, despite the seeming widespread support for Tsikhanouskaya.
According to the official results, Lukashenko won the election with 80.23% of the vote to Tsikhanouskaya's 9.9 — but independent observers said there had been widespread fraud.
Tsikhanouskaya
fled
Belarus for Lithuania after publicly rejecting the preliminary election results. She and her children have been living in exile there ever since.
Tsikhanouskaya traveled to the US
this summer
to meet President Joe Biden and several officials in his administration to push for sanctions against the Lukashenko regime.